Ex-Disney employee reportedly makes theme park deals in China without company's consent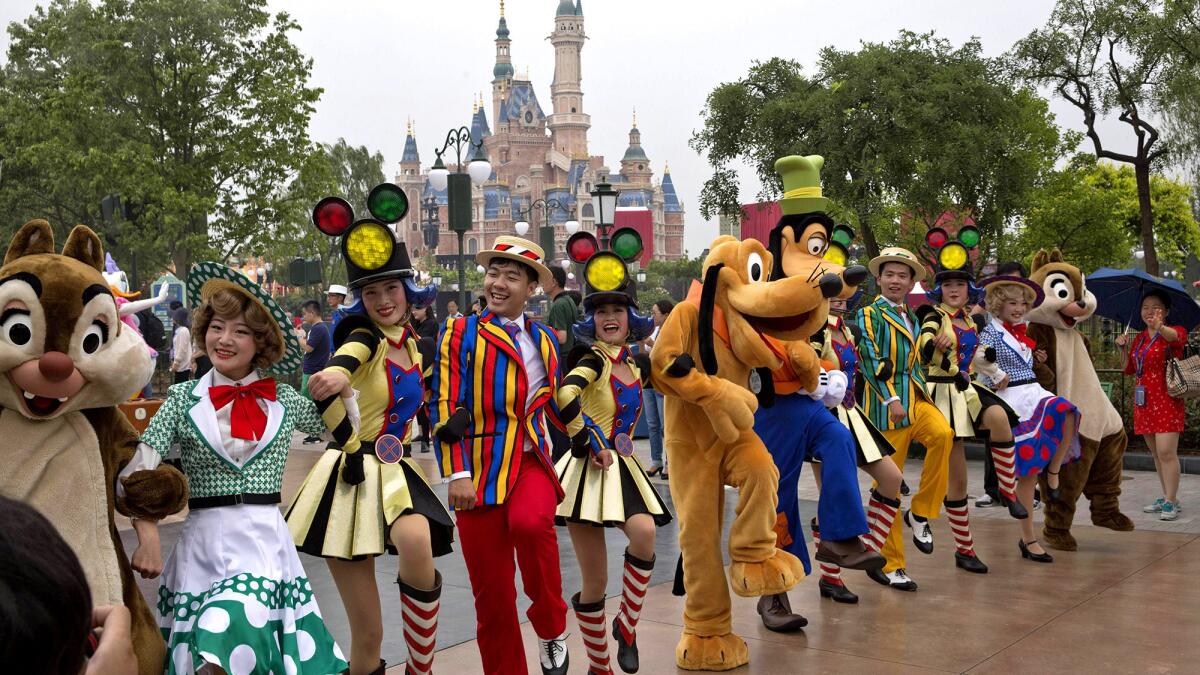 Reporting from Beijing —
China appeared to be planning for a wave of Disney theme parks: one in Zhengzhou, a transport hub in central China; another in Baotou, an industrial city known for its rare earths mining; even one in Hefei, the capital of Anhui, a province so poor it's sometimes called the "Appalachia of China."
But there was a catch: The Walt Disney Co. didn't know anything about them.
A former company employee, Meng Dekai, signed deals with several high-ranking Chinese officials — including the mayors of major provincial cities — to build Disney-related parks without the company's consent, Chinese media reported. Altogether, the deals involved 2,000 acres of land and an anticipated $4.3 billion of investment.
Meng had the title of International Special Project Director at Disney and resigned on March 29, according to a Thursday report in International Financial News, an online subsidiary of the state-run People's Daily newspaper.
A representative of Disney did not respond to a request for comment. Disney has launched an investigation into the case, a company representative told the New York Times.
The deals underscore the pitfalls for foreign companies operating in the world's second-largest economy, where local partners often operate with little oversight, and despite repeated government crackdowns, the business environment is plagued by corruption and fraud.
Chinese newspapers have reported on several deals connected with Meng, most in major provincial cities, raising some confusion over the apparent proliferation of Disney projects across the country. Meng is linked to 21 enterprises, all of which begin with the same Chinese character — Di — that Disney uses in its Chinese name, according to Tianyancha, an online database of Chinese companies.
Meng's first Disney-related project was in Ningbo, an industrial city in southeast China's Zhejiang province, in December 2009, according to the International Financial News. He opened a company branch office in the city, becoming its first legal representative.
The project is called Diqu Cultural Park and covers 93 acres, according to the Ningbo municipal government's webpage. "Its main functions are research and manufacturing for Disney's merchandise," it said.
In 2012, the government of Baotou, an industrial capital of northern China's Inner Mongolia Autonomous Region, signed a contract with one of Meng's companies — Diqu, which could translate to "Disney interesting" — to build a similar project.
Meng appears to have attracted scrutiny in late 2015.
Documents published by International Financial News showed that Disney signed a contract with the government of Henan — an impoverished, densely populated province in central China — on Nov. 19, 2015, agreeing to create a Disney branch in its capital Zhengzhou within three months. The agreement gave Disney a share of profits generated from Disney-authorized e-commerce platforms in the province.
Then, Meng allegedly went rogue. His company Dimei Investment — a name comprised of the Chinese characters for Disney and America — was registered five weeks later and soon entered into its own partnership with the Zhengzhou municipal government. In February, local officials announced the $435 million "Walt Disney Zhengzhou," leading to widespread speculation that the company was planning a fully fledged theme park in the city.
The park "would contain features such as a dream-like theme street and recreational center," the state broadcaster CCTV reported.
Yet on Feb. 13, Disney China denied that it had "any plans for construction" or major investments in the city.
According to International Financial News, local officials terminated the contract on March 15.
Dimei responded in a letter to the local government. "First of all, Dimei is Disney's partner, and is a Disney-authorized company," it said, according to the report. "Both parties had known this fact. We never intended to hide anything, or falsely state anything. Second, the construction in the agreement was Dimei's investment, unrelated to Walt Disney."
The status of the Baotou and Ningbo projects remain unclear.
Disney films and characters enjoy enormous popularity in China. Last June, the company opened a nearly 1,000-acre, $5.5-billion resort in Shanghai. The park has attracted 8 million visitors since its opening, Disney Chief Executive Robert Iger said at an annual shareholders meeting in early March.
Yet its popularity has also brought a scourge of copycats. Last May, visitors to a southeastern Chinese theme park operated by Dalian Wanda — China's largest commercial property company — found apparent employees dressed as Snow White, "Star Wars" Stormtroopers, and Captain America.
Another theme park in western Beijing, the Shijingshan Park, once featured a castle that resembles Disney's trademark Cinderella's Castle. Mickey Mouse, Goofy and other trademarked Disney characters roamed its streets. Chinese state media has reported that in recent years, the Disney-themed characters may have been removed.
Yingzhi Yang in The Times' Beijing bureau contributed to this report.
ALSO
How Chinese is Shanghai Disney?
Hong Kong Disneyland reports a 2016 loss as visitor slump worsens
Wanda Group hires former Disney executive in battle over Chinese theme parks
Inside the business of entertainment
The Wide Shot brings you news, analysis and insights on everything from streaming wars to production — and what it all means for the future.
You may occasionally receive promotional content from the Los Angeles Times.