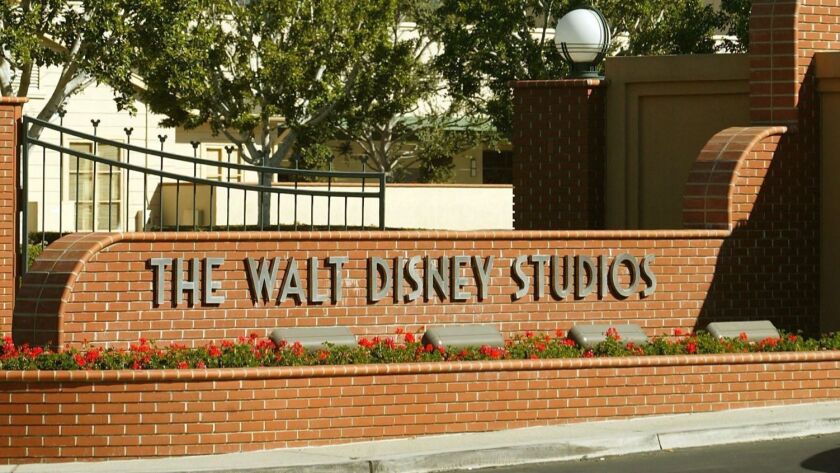 Walt Disney Co. must divest its stake in History, Lifetime, Crime + Investigation and Blaze television channels in Europe to win regulatory approval of its takeover of the 21st Century Fox entertainment assets.
The European Union in Brussels said Tuesday that it had conditionally approved Disney's $71.3-billion acquisition of Fox's Hollywood studios and television channels — removing one of the primary hurdles that Disney must clear on its path to completing an acquisition that is expected to change the face of Hollywood.
However, the commission stipulated that Disney must relinquish its ownership stake in the TV channels that it co-owns with Hearst Corp. in the European Union's jurisdiction. The commission was concerned the Burbank entertainment giant would have too much clout in the nonfiction programming arena if it owned a stake in History and Lifetime, as well as Fox's prominent nonfiction National Geographic channels.
"We are gratified by the decision of the European Commission to clear the transaction with the sole remedial measure being the divesting of our interests in Europe of the History, H2, Crime + Investigation, Blaze and Lifetime channels," Disney said in a statement.
The History and Lifetime channels are part of the A&E Networks joint venture between Disney and New York-based Hearst Corp. Each company owns a 50% stake, and Disney said it plans to keep its interest in the channels outside of Europe.
It was unclear Tuesday whether Hearst would be interested in buying Disney's stake in the channels in Europe — or if some other buyer, such as Comcast Corp., Viacom Inc. or Discovery might be interested.
A Hearst spokesman declined to comment.
The EU investigation centered on whether Disney-Fox would be too big a competitor in several areas, including the production and distribution of movies to theaters as well as the syndication market. Disney and Fox own two of the six major studios in Hollywood, and the consolidation is expected to have far-reaching effects. However, the EU found that other studios, including Sony Pictures Entertainment, NBCUniversal and AT&T's Warner Bros., were worthy competitors.
The EU was troubled, however, over the consolidation in nonfiction TV programming. The commission found that the Disney-Fox transaction would substantially reduce the number of owners of "factual channels," which broadcast documentaries and science-themed programs, in EU member countries.
The U.S. Justice Department in July also provided a quick approval of the deal with limited conditions, requiring Disney to sell Fox's 22 regional sports networks, including Prime Ticket and Fox Sports West in Los Angeles. Disney's investment bankers are soliciting bids for the channels, which must be sold within 90 days of the merger's closure.
"We continue to pursue clearance as quickly as possible in the jurisdictions that remain," Disney said.
Twitter: @MegJamesLAT
---