Why California fires didn't dominate cable news like hurricanes did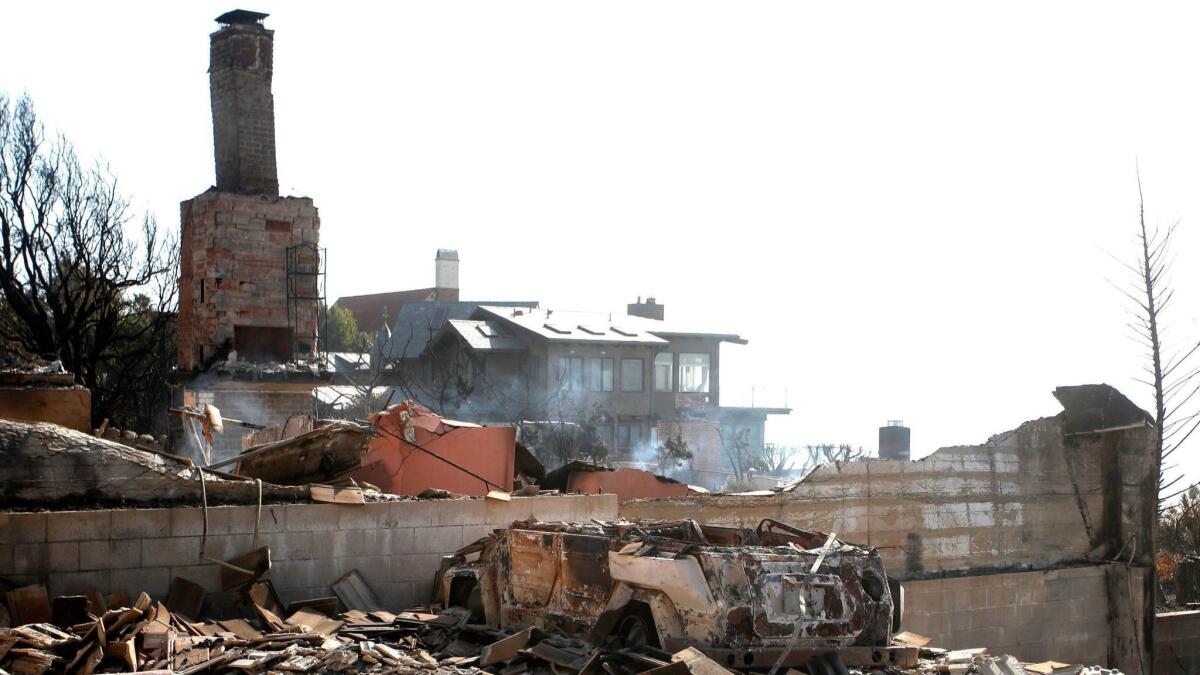 If you lived anywhere near the California wildfires that took at least 81 lives this month and destroyed more than 12,000 structures, a look out the window or a breath of air provided an immediate sense of the scale of the disaster.
But if you turned on 24-hour cable news, before getting an update on the worst fire in the state's history, you likely had to sit through the latest breakdown on the House races, the recount of the elections in Florida, more hints on special counsel Robert S. Mueller III's investigation of Russian meddling in the 2016 election and an analysis of the latest rant from President Trump.
The infernos that devastated the town of Paradise and leveled homes throughout Southern California — leaving 870 missing as of late Tuesday and destroying nearly 250,000 acres — did not get the kind of wall-to-wall coverage that is often standard on CNN, MSNBC and Fox News Channel when hurricanes hit the East Coast. Some West Coast residents expressed outrage and dismay on social media, accusing the channels of giving short shrift to the region's tragedy because it isn't in their backyard.
"If this was happening somewhere in or near the Boston-Washington corridor — and if the air in New York City and Washington was remotely as bad as the air in the Bay Area (where I live) — TV news would be on the story almost nonstop," Dan Gillmor, a professor at the Walter Cronkite School of Journalism and Mass Communication at Arizona State University, said in an email to The Times.
Based on an analysis of keywords from closed-captioning audio from the major cable networks over a 16-day period, the Washington Post found that wildfires were mentioned far less frequently than hurricanes were during the storms that occurred over the last two years.
Representatives at CNN and MSNBC had no comment on the Post analysis. Several news network executives who were not authorized to speak publicly on the matter acknowledged that the California fire coverage was competing with a heavy load of other news coming out of Washington last week.
"Fires take a proportional amount of coverage based on what else is going on," one executive said. "When there are fires in August, a typically slow news period, they get a lot of coverage. There is a lot of other stuff politically happening at this moment and the fires are the only other story that has gotten coverage of any note."
LIVE UPDATES: The latest on the California wildfires »
Although critics may have been unhappy with the volume of national coverage of the fires, there were still significant resources devoted to it.
Fox News had three correspondents on the fire story, including Los Angeles-based Jonathan Hunt, who has filed 30 reports on the disaster since Nov. 13. He covered one from the Malibu block where he used to live that saw several homes destroyed. MSNBC had several correspondents delivering live reports every hour and prime-time anchor Lawrence O'Donnell did his program from Los Angeles. CNN sent six correspondent teams into the field to report the story.
The magnitude of the wildfires was recognized by the three broadcast networks, which sent their New York-based evening news anchors across the country to cover the story. The programs had a collective average audience of 24.8 million viewers a night last week, according to Nielsen, with "ABC World News Tonight With David Muir" and "NBC Nightly News With Lester Holt" scoring their largest audience in several months.
Viewers were also able to find extensive coverage of the fires on local TV stations, which often provide video to the cable news channels and their websites.
There are also logistical reasons why hurricanes generally get a lot more TV airtime than fires. Hurricanes provide a narrative that news networks can prepare for in advance, as forecasters can predict the track and severity of a storm and the time when it will land. With several days to plan, networks are able to get personnel securely positioned along a coastline.
Hunt, who covered 10 fires and at least six hurricanes during his 16 years at Fox News, said it takes longer for fires to capture the country's attention because they are so unpredictable.
"With a fire, we're talking hours in terms of a warning," Hunt said. "It pops up much more suddenly as a national news story and the public has to catch up to it, as opposed to a hurricane where for days we're saying, 'It's coming, it's coming, it's coming, it's coming.' "
With 870 still missing in Northern California fire, officials fear rains will wash away victims' remains »
Close proximity to a fire can be also more dangerous than with a hurricane, limiting the ability of newsgathering operations to get continuous live pictures during their coverage. TV correspondents who stand up against high gusty winds in a hurricane are usually near a safe, secure location. When Hunt was in the Carolinas to cover Hurricane Florence in August, he reported a short distance from a solid, covered concrete parking lot where he could take refuge.
During fires, reporters' movements are restricted by firefighting personnel. "You have to go where they are, where they are telling you to go," Hunt said. "I think we're all aware that when you're playing with fire, it could kill you. When you're playing with wind, not so much."
Networks also devote more resources to hurricanes because they take aim at the more highly populated East Coast — often across several states — where the potential for casualties is extremely high. Even though the Camp fire was the deadliest in California history, it does not appear the final tally will approach the 3,000 lives lost in Hurricane Maria last year.
But the surprising severity of this month's fires may lead to some rethinking of how much time to devote to the disasters in the future.
"The general trend toward more violent natural disasters might spur news organizations to bake that into their planning in the years ahead," said Jonathan Klein, who oversaw CNN from 2004 to 2010. "It's a sad statement about the world, but it might be smart logistically."
Twitter: @SteveBattaglio
Inside the business of entertainment
The Wide Shot brings you news, analysis and insights on everything from streaming wars to production — and what it all means for the future.
You may occasionally receive promotional content from the Los Angeles Times.