Fox shares hit all-time high as Wall Street celebrates the prospect of a bidding war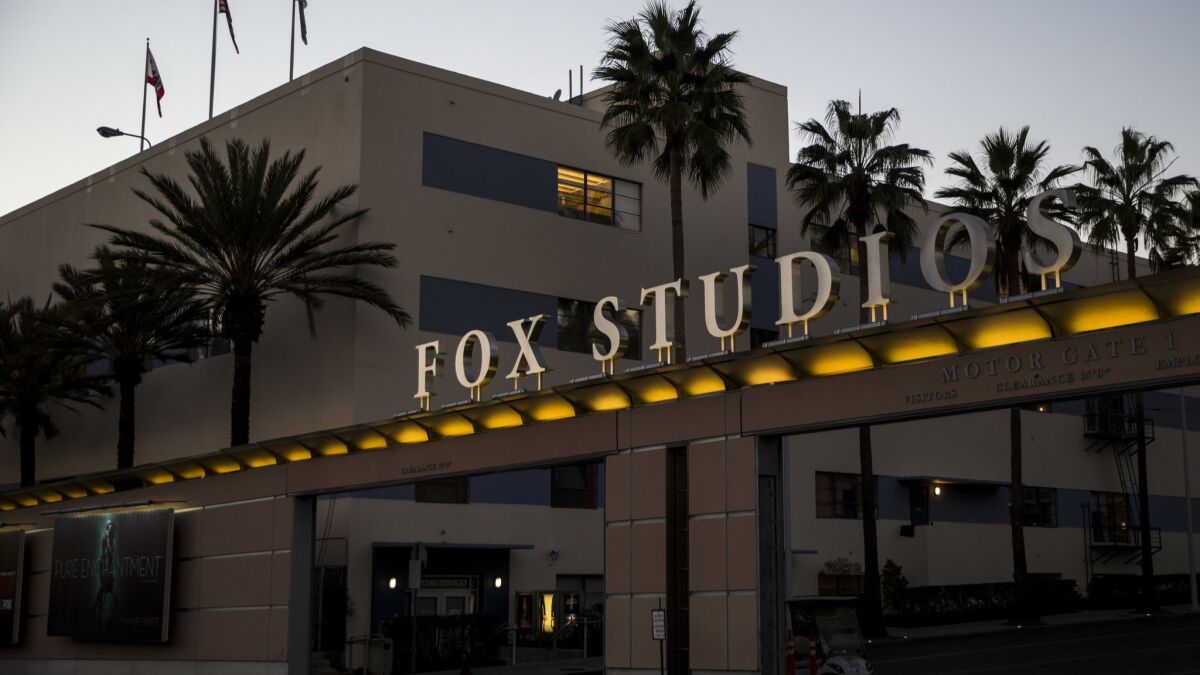 21st Century Fox stock soared Wednesday, climbing 7% to an all-time high — around $43.50 a share in midday trading — as Wall Street roots for a bidding war over key Fox assets.
The higher trading was sparked by speculation that Comcast Corp. was preparing to offer Rupert Murdoch's company at least $60 billion or more for the assets that are up for grabs, including FX, National Geographic, regional sports networks and Fox's prolific movie and television studios.
Comcast in December tried to buy the Fox assets, but Murdoch spurned the bid due to fears that Comcast would have a difficult time securing regulatory approval of the deal.
Some of those fears were allayed Tuesday with the landmark ruling by U.S. District Judge Richard Leon. After a six-week trial, the judge approved AT&T's $85.4-billion purchase of media company Time Warner, owner of CNN and HBO, saying the government had failed to prove its case that the tie-up would be anti-competitive.
A higher offer for Fox would put pressure on Walt Disney Co., which struck a $52.4-billion deal for the Fox assets in December. Disney thought it was a done deal — but that no longer may be the case.
"We think bids from Comcast or Disney could reach as high as $80 billion," said John Janedis, media analyst at Jefferies & Co. in a research note on Tuesday. That would value the portion of stock attributed to the assets that are for sale at about $42.50 a share, Janedis said.
Fox declined comment. Its board is scheduled to meet June 20.
Fox's stock has been on a tear since late October, when news of the talks with Disney first leaked. At that time, Fox's stock was trading around $25 a share. During the last year, Fox's return to shareholders, including dividends, has been more than 50%.
Comcast has already entered the fray — in Europe — by offering $31 billion to buy the London-based satellite TV service Sky. Disney also wants Sky because it has valuable sports rights and relationships with more than 22 million customers in five countries — Britain, Ireland, Germany, Austria and Italy. Disney Chief Executive Bob Iger has called Sky "a crown jewel."
Burbank-based Disney and Fox, which currently owns 39% of Sky, must figure out how to proceed on its campaign to consolidate Sky. Long before it was talking to Disney, Fox in December 2016 offered to buy the remaining 61% of Sky that it does not own. But that offer has languished for 18 months as Murdoch's company struggled to win approval from British regulators.
Comcast's bid for Sky is considerably higher than Fox's 2016 offer.
"We believe Disney will respond to a Comcast bid with a counter offer, as both companies view the Fox/Sky assets as key to competing globally," Janedis said. "Based on our merger model, we estimate Disney could pay as much as $80 billion (for the Fox assets) and still maintain an investment grade debt rating with the same deal structure."
Disney shares Wednesday also jumped 3% to more than $107 a share. A Disney spokesperson was not immediately available for comment.
Comcast shares, which already are down about 15% this year, were holding steady on Wednesday. Comcast declined to comment.
Inside the business of entertainment
The Wide Shot brings you news, analysis and insights on everything from streaming wars to production — and what it all means for the future.
You may occasionally receive promotional content from the Los Angeles Times.