HBO will be led by an outsider for first time in 4 decades as AT&T revamps WarnerMedia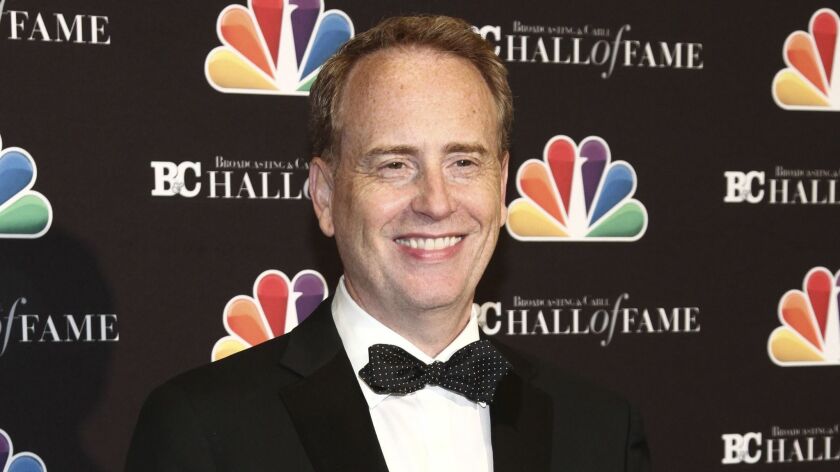 Eight months after buying Time Warner Inc. for $85 billion, AT&T Inc. is putting its stamp on the company in a sweeping restructuring.
The New York company, which has been renamed WarnerMedia, on Monday tapped Bob Greenblatt, a former NBC Entertainment chief, to run HBO as well as TNT and TBS, combining oversight of the two network groups. For the first time in four decades, HBO now has a leader who comes from outside the company.
Greenblatt, who left NBC in September after nearly eight years there, becomes chairman of WarnerMedia Entertainment. He joins the AT&T company as part of a long-anticipated reorganization that gives substantial new turf to CNN Worldwide President Jeff Zucker and Warner Bros. Chairman Kevin Tsujihara.
The WarnerMedia consolidation is expected to result in substantial savings — and job cuts.
It's a pivotal time for WarnerMedia, which is gearing up to launch a streaming service that will showcase HBO's premium programming and compete with Netflix Inc. and Walt Disney Co. Monday's dramatic overhaul is the first major shake-up of the Warner properties in more than a decade.
Greenblatt, 58, a longtime television executive and Broadway producer, will oversee HBO, Cinemax and the Turner channels — TBS, TNT and Tru TV — and he also will be responsible for programming for the new streaming service that WarnerMedia plans to launch by the end of the year. The streaming offering is a top priority for John Stankey, a longtime AT&T manager who is now chief executive of WarnerMedia.
"The opportunity to run these networks, Turner and HBO, to ultimately service that streaming platform just seems like the chance of a lifetime," Greenblatt said.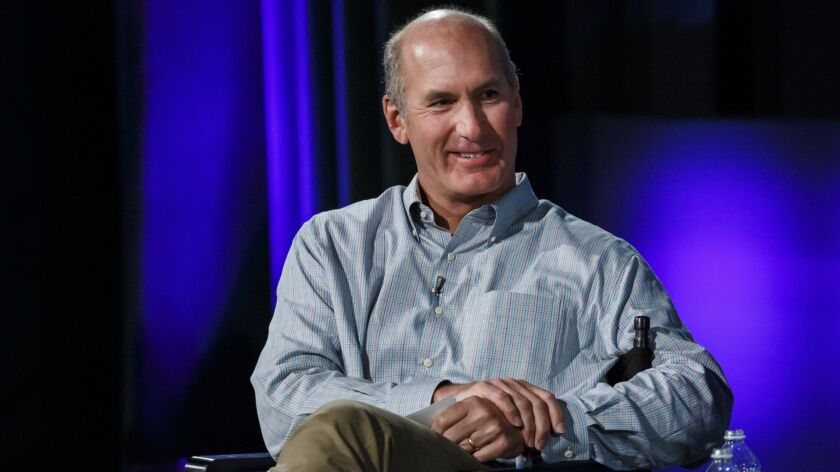 HBO has long been a premier destination, and Greenblatt must quickly ramp up production to churn out high-quality programs as "Game of Thrones" prepares for its final bow.
Greenblatt said he wants to preserve HBO's special qualities. "I love that network. I saw many years ago why HBO is the gold standard, and that remains today," he said in an interview, noting that he produced "Six Feet Under" for HBO more than a decade ago. "I really want it to be the great network that it has always been. And I certainly don't want to be the person who starts suddenly taking HBO down."
The corporate shake-up comes just one week after the Justice Department conceded defeat in its nearly 16-month campaign to derail the AT&T-Time Warner merger that President Trump had called bad for the American public.
Greenblatt is stepping into an unfamiliar corporation and replacing two executives who were instrumental in their networks' success: former HBO Chairman Richard Plepler and former Turner President David Levy. Both men, who were corporate mainstays for three decades, announced their departures last week. Greenblatt said he expects to keep their key lieutenants in place, including Casey Bloys, HBO's entertainment president, and Kevin Reilly, who runs TBS and TNT.
As part of the overhaul, Zucker becomes chairman of WarnerMedia News and Sports, and Tsujihara retains the film and television studio and picks up responsibility for children's and young-adult programming, internationally and in the U.S.
With the reorganization, Stankey has effectively selected his A-team. Turner International President Gerhard Zeiler becomes WarnerMedia's chief revenue officer.
In a statement, Stankey said the changes give the company "the right management team to strategically position our leading portfolio of brands, world-class talent and rich library of intellectual property for future growth."
Burbank-based Tsujihara, who has run the Warner Bros. television and film studio for more than five years, will be responsible for consumer products companywide — not just the studio -- and for all animation, including Cartoon Network and Adult Swim.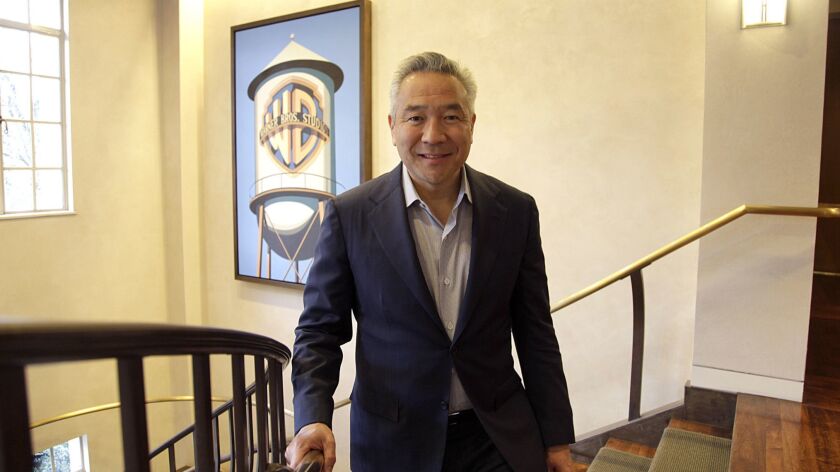 It's a vote of confidence for Tsujihara, who becomes the only division head from the Time Warner years to survive the AT&T takeover. He will continue to be in charge of WarnerMedia's gaming efforts and digital assets that were part of the AT&T-owned Otter Media, and manage a fan favorite: Turner Classic Movies.
In 2013, Tsujihara became the first Asian American to run a major Hollywood studio. He is the grandson of Japanese immigrants and the son of an egg farmer from Northern California.
"I'm looking forward to building the business," Tsujihara said in an interview. "Oftentimes, we think defensively, versus offensively, and this gives us the opportunity to be a little bit offensive with audiences that are super important to the business: young adults, millennials, kids. They really do, if you think about it, represent the life cycle of our business."
Zucker, who is based in New York, will continue to run CNN Worldwide. He also assumes responsibility for Turner Sports — including the Bleacher Report website — and the AT&T regional sports networks. AT&T hopes to use customized content to keep people subscribing to its cellphone plans, and Zucker's perch atop CNN and the sports outlets puts him in charge of two areas vital to that idea.
"I do not expect my role with CNN to be any different," Zucker said in an email to staff members Monday morning. "I will still call you in the control room and ask you about your banner. I will still email the digital desk and ask why we haven't published our write-thru yet, and I will still send questions at 4 a.m."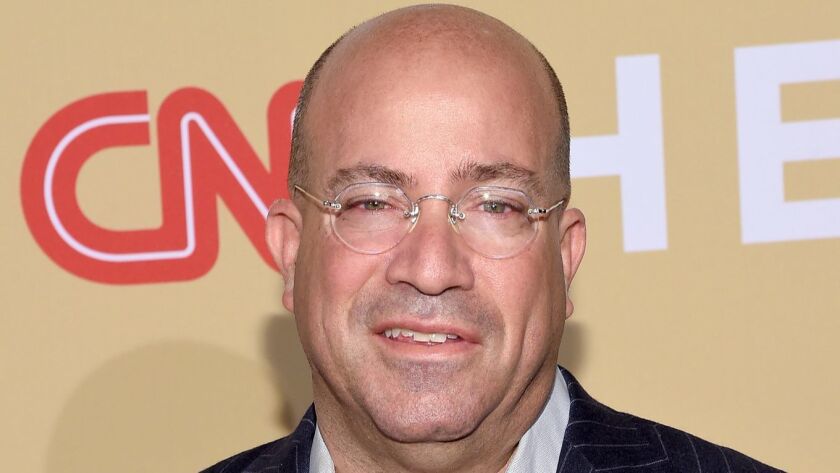 In his new role, Zucker will manage the company's partnerships with the NBA, NCAA and Major League Baseball. He has experience in that field: He was responsible for NBC's sports franchises when he was chief executive of NBCUniversal more than a decade ago. Zucker grew up in Miami, the son of a physician.
Zucker and Tsujihara are the highest-profile holdovers from the past regime.
Greenblatt, Zucker and Reilly are all veterans of NBC, which is owned by Comcast Corp.
For decades, Time Warner operated as a confederation of separate business units, including the Warner Bros. studio, Turner and HBO. That was a byproduct of the evolution of Time Warner, which came from consolidating companies — including Turner Broadcasting and the Warner Bros. studio — that were once stand-alone entities.
But now that WarnerMedia faces competition from larger and better-resourced technology companies, Stankey is looking to unify the company.
AT&T also is known for centralizing business units. When it bought satellite television service DirecTV in 2015, AT&T moved DirecTV's customer service department into its so-called shared services unit.
AT&T shares slipped 84 cents, or 2.7%, to $29.98.
Twitter: @MegJamesLAT
---
Inside the business of entertainment
The Wide Shot brings you news, analysis and insights on everything from streaming wars to production — and what it all means for the future.
You may occasionally receive promotional content from the Los Angeles Times.