Q&A: Warner Bros.' Kevin Tsujihara talks AT&T, self-driving Batman cars and the DC universe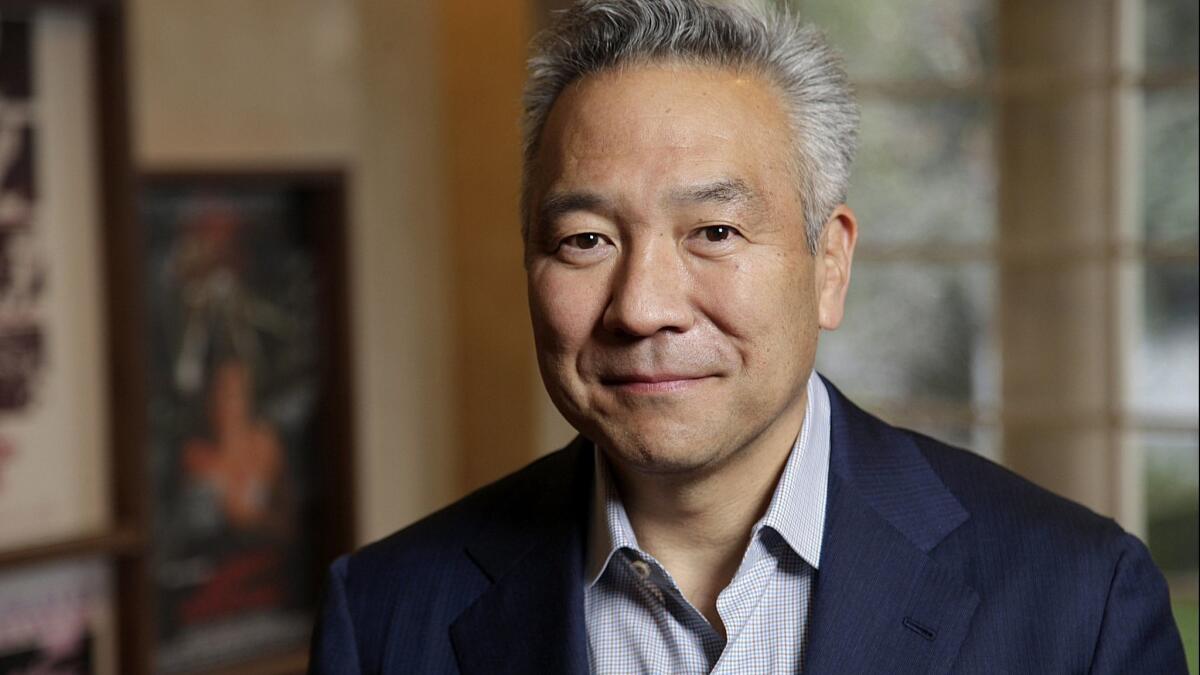 To say the entertainment industry has changed since Kevin Tsujihara became chief executive of film and TV studio Warner Bros. in 2013 would be an understatement.
Netflix Inc. has become a disruptive force in film and television. Walt Disney Co. is about to become an even bigger giant when it absorbs much of 21st Century Fox and launches its own streaming service. Warner Bros. itself, at nearly a century old, is adjusting to new ownership under Dallas telecom behemoth AT&T Inc., which bought Time Warner Inc. (now called WarnerMedia) for $85.4 billion last year.
Tsujihara, 54, appears unfazed. The studio is coming off a strong year at the box office, grossing $5.6 billion globally with hits including "A Star Is Born" (which won the Oscar for best original song) and "Crazy Rich Asians." The DC superhero film franchise made a comeback with "Aquaman," following the struggles of 2017's "Justice League." Warner Bros.' television division found success with "Manifest" on NBC and "The Kominsky Method" on Netflix.
Big challenges loom. AT&T and WarnerMedia are building a subscription streaming offering to launch late this year, relying on Warner Bros. content in a crowded market. Some of their franchise films have disappointed at the box office.
To remain competitive, Warner Bros. recently signed major deals with filmmakers and show runners including Greg Berlanti and Ava DuVernay. The studio also last year launched a new diversity policy, starting with Michael B. Jordan's upcoming film "Just Mercy."
Tsujihara spoke with The Times at Warner Bros.' headquarters in Burbank. This interview was edited for length and clarity.
How has life at the studio changed under AT&T?
Well, it's been seven months. I think we were really fortunate in that we had a record year in box office, we had a great year in television and we had a great year in consumer products and games. There's a difference in the cultures of AT&T and what was Time Warner, but [WarnerMedia CEO] John Stankey has done a very good job of trying to create a unique culture in WarnerMedia versus AT&T, and not trying to scramble the eggs completely.
What do you mean he hasn't tried to 'scramble the eggs'?
Our relationship with the creative community is unique, and we have to maintain what makes Warner Bros. special to them, because they're the lifeblood of what we do. They have choices, and they choose to work here. Clint Eastwood has been here for 50 years and made more than 40 movies here. One of the things we're trying to do is cement the foundation and the relationships with the people who are going to be the next generation of Clint Eastwoods.
AT&T isn't a typical owner of a Hollywood studio. What advantages do you see in that relationship?
You look at something like 5G. At first you think, 'Oh, that doesn't matter for a studio.' It actually could have a significant impact on our ability to deliver content. Another thing that's really exciting is the world of VR and AR. I don't think we've figured out exactly what that is going to be, but 5G is going to turbocharge the ability to deliver that experience.
What new technology projects are in the works?
The one that's the closest is this "Harry Potter: Wizards Unite" [augmented reality] video game project coming out this summer from Niantic, the maker of "Pokemon Go." That's a world where, clearly, 5G and faster connectivity with a mobile device is going to make that game better.
We think there are going to be entertainment opportunities in autonomous cars. I don't think I'd trust a self-driving car enough the moment I get it to watch a movie while it drives me home. But better connectivity within the car could make an entertainment experience really cool. At CES in Las Vegas, we had a BMW with a Batman experience that is beginning to scratch the surface of what you can do. In an Uber car, you would clearly want to do something fun in the 10 or 15 minutes you have to kill.
How will you balance making content for traditional channels and the new AT&T streaming service?
You can create content for a linear network that creates value for the direct-to-consumer offering. We're going to be making programming at scale for our current customers, including the linear networks, for a long time. It's about finding the right platform for the content. Some will go to HBO, some will go to Turner, some will go to Netflix and other streaming platforms and some will go to the direct-to-consumer platform.
Are you concerned about what it will cost to compete in streaming?
The thing you have to worry about is, are you evolving fast enough to anticipate the changes that are happening in the marketplace? Are you giving people what they want? Because if we don't do that, we won't maintain our relevance.
The question being asked on the theatrical side is … are those [movie release] windows still relevant to the consumer? Do they make sense to my 19-and-17-year-olds at home, especially when they see movies like "Roma" that are available on Netflix? We need to figure out how we can address some of those things and also maintain what is so special about going to a movie theater.
So what's going to happen to the traditional 90-day window between theatrical release and home viewing? This is a major issue for theaters.
Clearly we want the theatrical experience to continue and to maintain that incredible social experience. Our balanced, diverse state allows us to do things that get into the zeitgeist like "Crazy Rich Asians" that's very difficult to do on a streaming service. We want to maintain that, but we also want it to evolve. If consumers want to be able to experience it in the home sooner, then they should have that option as well. That's where we'd like to see the movie business go.
The DC universe is a key franchise for Warner Bros., but results have been mixed. How has your strategy changed?
The upcoming slate, with "Shazam," "Joker," "Wonder Woman 1984" and "Birds of Prey," feels like we're on the right track. We have the right people in the right jobs working on it.
The universe isn't as connected as we thought it was going to be five years ago. You're seeing much more focus on individual experiences around individual characters. That's not to say we won't at some point come back to that notion of a more connected universe. But it feels like that's the right strategy for us right now.
What finally clicked?
What Patty Jenkins did on "Wonder Woman" illustrated to us what you could do with these characters who are not Batman and Superman. Obviously, we want to get those two in the right place, and we want strong movies around Batman and Superman. But "Aquaman" is a perfect example of what we can do. They're each unique and the tone's different in each movie.
J.K. Rowling's "Fantastic Beasts" sequel did not do as well as expected. What happened?
The second film didn't perform as well as the first, but I think we know what we need to do to get the third film hopefully even better than the first one. And J.K. Rowling is really working hard now on that third script, and we're going to get it right. She has an incredible vision of where she wants to go with this that is incredibly exciting.
The hardest part of the franchise is you have such a big core fan base. That fan base really knows the lore and they want to go deep into these characters. But what you don't want to do is intimidate people. You want to be able to create a stand-alone movie that's enjoyable for someone who isn't steeped in the lore.
Your thoughts on "Lego Movie 2," which also underperformed?
It didn't do as well as tracking would've suggested, which was a little puzzling. The first movie was so fresh and so different. We need to continually rethink the experience, but the Lego brand is incredibly strong. On the game side, it's been an incredible franchise. We acquired [Lego video game maker] TT Games 12 years ago, and it really was a cornerstone of everything we've done in games.
What else are you looking to reboot? People always ask about "The Matrix."
We have incredible franchises on the features side such as "The Matrix." We'd love to work with George Miller on furthering the "Mad Max" franchise. We feel there's a big opportunity on the Looney Tunes and Hanna-Barbera side as well. We need to invest and build those franchises up. We think that, despite their age, they still maintain a special place in kids' hearts.
I'm really excited about "Space Jam 2." We signed Bugs Bunny, and that was a tough negotiation [laughs]. We have a "Tom and Jerry" movie. We have a lot of stuff in development around those beloved characters on the movie side that we want to augment on the TV animation side.
Get our L.A. Goes Out newsletter, with the week's best events, to help you explore and experience our city.
You may occasionally receive promotional content from the Los Angeles Times.