In Hollywood, Asian American actors see few lead roles, and pay discrepancies when they land one
Korean American actor Edward Hong has played characters in dozens of TV shows and movies over the years, including as "Math Olympian Dude," "Chinese Man #2" and, in a top-rated network sitcom, "Male Night Nurse."
Soon, he will appear in the independent film "Please Stand By" as the "Cinnabon Guy."
"In Hollywood, there are a lot of opportunities, but it is always for small roles with one-liners," Hong said in an interview. "If you want to be a store owner, the nail salon lady or the IT-tech guy, those are the parts, but rarely do we get a chance to be the main character."
He's not bitter, he said, just realistic about the plight of being an Asian American actor in Hollywood.
Decades of racist caricatures — think Mickey Rooney playing the buck-toothed Mr. Yunioshi in "Breakfast at Tiffany's" — have given way to an industry that is more inclusive, but where leading roles remain scarce. This week served as a stark reminder that even those who have reached some of the highest levels in the entertainment industry still face obstacles. Two prominent actors — Daniel Dae Kim and Grace Park — quit CBS' "Hawaii Five-0" amid claims they were paid less than their white counterparts.
The controversy has motivated actors to be more vocal about what they say have been decades of inequities.
"The path to equality is rarely easy," Kim wrote in a message on Facebook, thanking fans for supporting him on "Hawaii Five-0."
Two years after the #OscarsSoWhite campaign shined a harsh light on Hollywood's hiring and casting practices, some progress has been made. The film and TV industries have shown a heightened awareness of diversity and greenlighted more films with diverse casts. Television programs headlined by minorities, such as Fox's "Empire" and ABC's "black-ish," have turned in strong ratings performances. Netflix's "Master of None" stars the popular comedian Aziz Ansari, whose parents emigrated from India.
There are few other Asian Americans in leading roles beyond ABC's "Fresh Off the Boat," loosely based around the experiences of an Asian immigrant family in the 1980s, ABC's "Designated Survivor," which depicts a determined FBI agent played by Maggie Q and AMC's martial arts drama "Into the Badlands," which stars Daniel Wu as a talented warrior.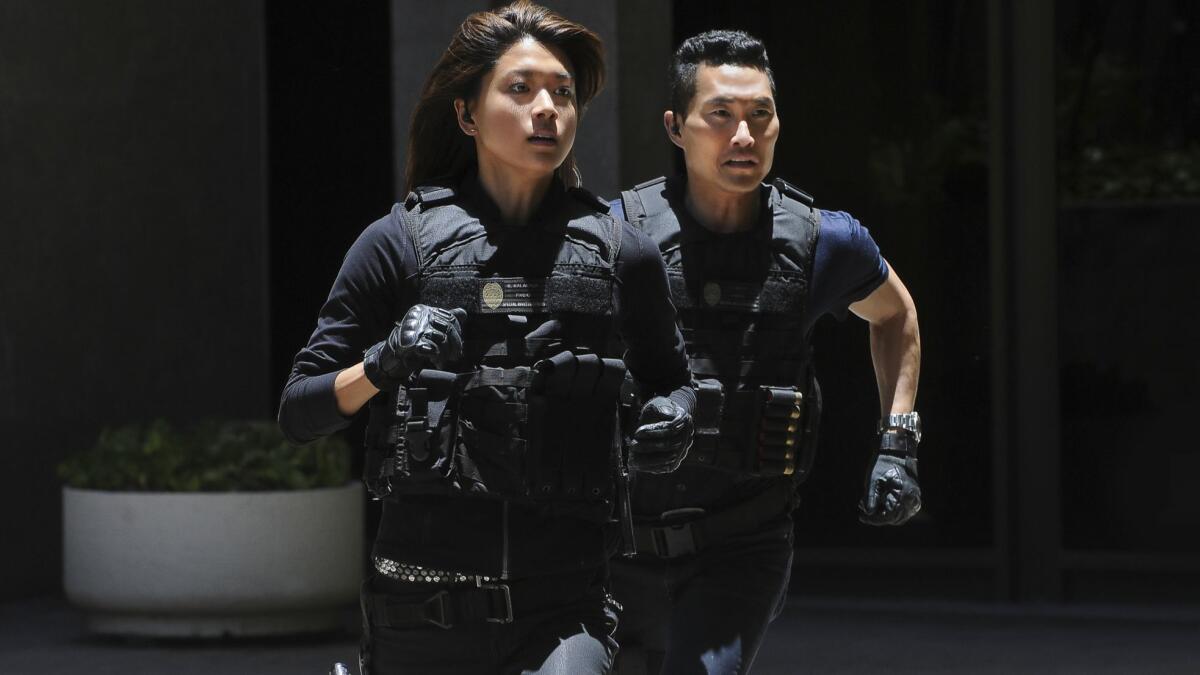 But problems persist, particularly for Asian Americans. Filmmakers have tried to fend off charges of "whitewashing" even as they continue to rely on white actors to portray Asians on screen. Netflix's upcoming adaptation of a Japanese manga, "Death Note," stirred controversy when a producer, in an interview with Entertainment Weekly, said the production searched for Asian actors but "couldn't find the right person," in large part because actors from Asia "didn't speak the perfect English."
That came after an outcry over Scarlett Johansson's casting as the heroine in "Ghost in the Shell," this year's remake of a classic Japanese anime. In Marvel's "Doctor Strange" last year, Tilda Swinton played the Ancient One, a character that is an Asian man in the original comics. Even the starring role in the big-budget Chinese period action film "The Great Wall" went to Matt Damon.
"There is a bias against Asian Americans," said Nancy Wang Yuen, a sociology professor at Biola University who studies race and ethnicity in film and television. "I feel like we are invisible in society. We are nondescript and in a way dehumanized by not existing in scenes or having speaking roles. We are just part of the backdrop."
Asian actors have been getting more work these days, in large part because of the flow of money from China. Movie studio executives hoping to enhance a film's financial prospects in China, the world's second-largest film market, have rounded out their casts with Asian faces. But those are often background roles.
"The Chinese actors say: 'We are just flower vases. We don't speak; we just stand there and look pretty,' " Hong said.
Asian Americans say they face unique challenges because of ingrained stereotypes, including a perception that Asians are not complainers and thus will show up and dutifully do the work. "We are always the model minority," Hong said.
The Chinese actors say: 'We are just flower vases. We don't speak; we just stand there and look pretty,' "
— Edward Hong, Korean-American actor
Several people interviewed said part of the problem is that Asians don't fit the studio chiefs' vision of a leading man.
"I don't believe people in showbiz are inherently racist," said Christine Toy Johnson, a New York-based actress who has a recurring role on FX's "The Americans" and recently appeared in guest spots on CBS' "Madam Secretary" and USA's "Mr. Robot."
"There are different lenses with which we see things," she said.
Ren Hanami, chairwoman of the SAG-AFTRA guild's Asian Pacific American Media Committee, said she believes the problem is "systemic."
"Most of the heads of studios are white men, and there will be some women and people of color," Hanami said. "And then you have the creators of the show — most come from writing and Ivy League schools. All the people making those decisions are writing about themselves."
USC's Media, Diversity and Social Change Initiative last year found that just 28.3% of all speaking characters were from underrepresented racial and ethnic groups — a much lower percentage than the population at large. Asian Americans were particularly invisible. At least half of movies and TV shows, including on streaming services, "fail to portray one speaking or named Asian or Asian American on screen," the USC report found.
Hollywood executives are "still stuck in a mid-20th century mindset," said Chris Tashima, an L.A.-based actor and Oscar-winning short-film maker. "It's the default for the creators of content to think 'white' when they're thinking of stars."
"Why aren't there any Asian American stars? You need to cast the person for it to happen," Tashima said.
CBS has been blistered by criticism before for its formula of casting white men in lead roles, then building shows around them. Although "Hawaii Five-0" boasts a large and diverse cast, the network considered Kim and Park supporting actors to the show's two white leading men, Alex O'Loughlin and Scott Caan.
Both had major acting credits before landing their parts on "Hawaii Five-0," a 2010 reboot of the popular 1960s detective show that consistently ranks in the top 20 in ratings. Kim was a fan favorite on ABC's "Lost," and Park, a Canadian actress, was a main character on "Battlestar Galactica."
"CBS promoted 'Hawaii Five-0' from the outset as an ensemble show with four co-stars, and it was clear that the two Asian American co-stars played absolutely crucial roles in the series," said Daniel Mayeda, an entertainment attorney at Leopold, Petrich & Smith. "Without them, there is little to distinguish 'Hawaii Five-0' from any other cop show on the air."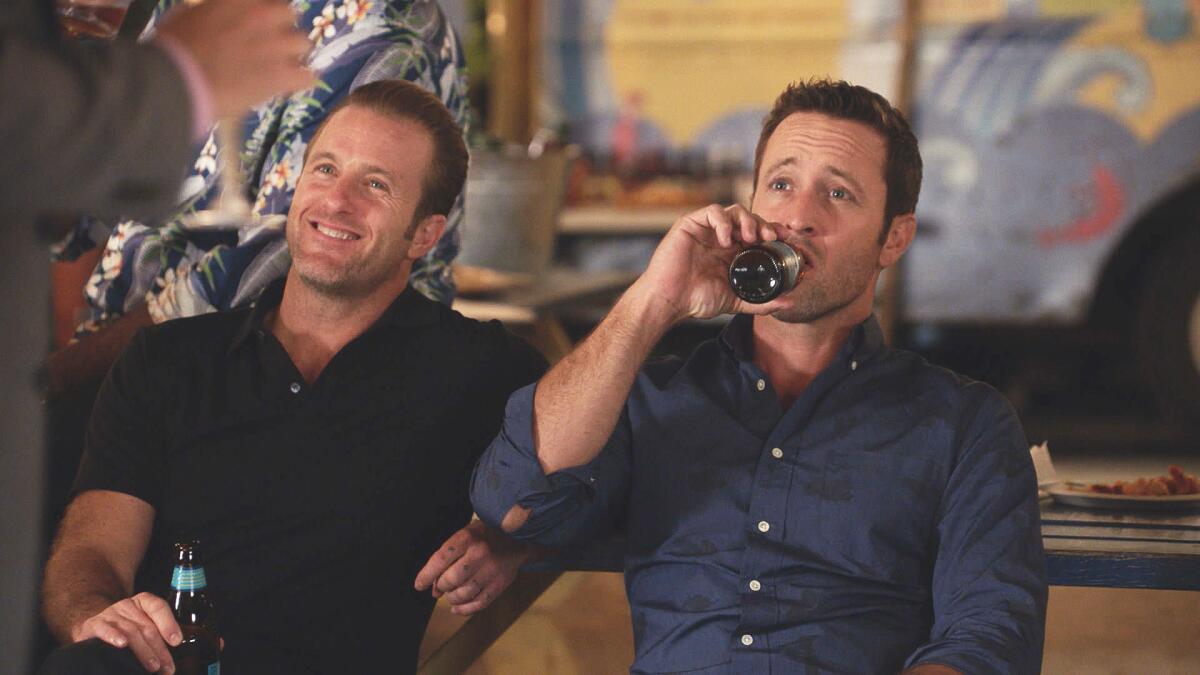 Contract renegotiations stalled this spring when the television studio, CBS Productions, tried to lock in deals to bring the actors back for the show's eighth season, which begins production next week. Both refused after being offered less money per episode than O'Loughlin and Caan.
This week, CBS and producers rejected the notion that Kim and Park were treated unfairly. Kim, for example, was offered a huge jump in salary — to about $195,000 an episode, which was $5,000 an episode less than what Caan and O'Loughlin receive, according to a person close to the production who was not authorized to divulge details of the sensitive negotiations. Kim also was offered a new production deal on CBS' lot in Studio City. His pay before the offer is not known.
"Daniel and Grace have been important and valued members of 'Hawaii Five-0' for seven seasons," CBS said in a statement. "We did not want to lose them and tried very hard to keep them with offers for large and significant salary increases."
Kim and Park declined to comment.
Peter Lenkov, co-creator and executive producer of "Hawaii Five-0," on Thursday stressed that the show was proud of its large and inclusive cast.
"The truth is this: Both actors chose not to extend their contracts," he said. "CBS was extremely generous and proactive in their renegotiation talks. So much so, the actors were getting unprecedented raises, but in the end, they chose to move on. No one wanted to see them go — they are irreplaceable."
Park, who lives in Vancouver when not shooting the show in Hawaii, had asked to dramatically reduce the number of episodes she appeared in, according to the knowledgeable source. "After being away from her family for seven years, I understood Grace's decision to leave," Lenkov said.
Critics on social media said the studio's insistence it had offered the actors significant raises illustrates they had been underpaid for years.
There is little hard data proving Asian Americans in Hollywood are systematically underpaid. The Screen Actors Guild and American Federation of Television and Radio Artists said it doesn't track compensation beyond union minimums because the information is often kept under wraps by the studios, agents and individual actors.
Experts said this week's furor over the "Hawaii Five-0" salary gap, and Kim's taking a stand on the issue, could mark a turning point.
"Five years ago, this wouldn't have gotten this kind of attention," said Janet Yang, producer of "The People vs. Larry Flynt" and "The Joy Luck Club." She and others credited the #OscarsSoWhite controversy for encouraging Asian Americans to stand up for their rights.
"More people are emboldened now," Yang said. "The African American community has led the conversation for so long, and now it's expanded to other minorities."
Social media and the rise of niche entertainment channels, YouTube and streaming services such as Netflix also have spurred traditional Hollywood players to be more inclusive.
"Because you have so many platforms where people can tell stories from underrepresented faces and voices, audiences are driving all these decision-makers to reevaluate all the things they greenlight," said Adam Moore, SAG-AFTRA's national director of equal employment opportunity and diversity.
Johnson, the actress, couldn't recall auditioning for a lead in any pilot in the 20 years before "Fresh Off the Boat." "That tells me a lot about where we are," said Johnson, though she says there's still room for improvement.
Tashima, the Oscar-winning filmmaker, agreed. "Growing up, I always felt second-rate because I wasn't like the kids you saw on TV," he said. "I'm seeing a lot of change now. It's not as much as we want."
Twitter: @MegJamesLAT
Twitter: @DavidNgLAT
ALSO
Having a Moment: Pop culture can't get enough pro wrestling
Disability organization condemns 'Blind' film for casting Alec Baldwin in lead role
In push to diversify, movie academy invites the largest class ever with 774 new members
---
UPDATES:
7:10 p.m. This article was updated to include mention of the AMC program, "Into the Badlands," which features Daniel Wu.
This article was originally published at 3 a.m.
Inside the business of entertainment
The Wide Shot brings you news, analysis and insights on everything from streaming wars to production — and what it all means for the future.
You may occasionally receive promotional content from the Los Angeles Times.