Dustin Hoffman scores win in legal fight over $3-million deal with Paul Manafort's son-in-law
Dustin Hoffman has notched a victory in his legal fight over a $3-million investment he made with Jeffrey Yohai, a real estate developer who is the son-in-law of Paul Manafort, the former chairman of Donald Trump's presidential campaign.
"The Graduate" star and his actor son Jacob Hoffman invested with Yohai in a Hollywood Hills homesite where he planned to build a modern mansion. But a Yohai-controlled company that owns the property filed for bankruptcy protection in December, imperiling the venture.
On Wednesday, the entity the Hoffmans used to invest with Yohai — a limited liability company called DJ Blue Jay Way — successfully petitioned a U.S. Bankruptcy Court judge in Santa Ana to convert the Chapter 11 case to a Chapter 7 liquidation. That move paves the way for appointment of a trustee who will sell the residential property, possibly allowing the Hoffmans to recover their investment.
The Blue Jay Way deal foundered as companies controlling three more of Yohai's Los Angeles-area properties also filed for Chapter 11 protection in December.
Other notable investors have also backed Yohai's L.A. real estate ventures: Manafort, his wife Kathleen and daughter Jessica — who is married to Yohai but filed for divorce in March — invested $4.7 million in the developer's L.A. projects, according to court filings.
The Times first reported the unlikely connection between the Hoffmans and the Manaforts in March.
Manafort, a longtime Republican political consultant, has come under intense scrutiny for his work for powerful Ukrainians with ties to the Russian government. Manafort stopped working for Trump last summer in part over his business in Ukraine. He has also become a key figure in several investigations into potential ties between the Russian government and the Trump campaign. Financial transactions involving Manafort and Yohai, including those in California, are being investigated by the FBI, said a person familiar with the matter. The New York Times first reported the federal inquiry.
Manafort, his wife and daughter declined to comment. Representatives of Yohai and the Hoffmans did not respond to requests for comment. A spokeswoman for the FBI in Los Angeles said she could not "confirm or deny the existence of an investigation."
$3-million real estate deal with Paul Manafort's son-in-law goes south for Dustin Hoffman and son »
The Hoffmans could recoup some or all of their $3 million investment with Yohai via proceeds from the sale of the Blue Jay Way property. However, two lenders — Genesis Capital and RS Lending Inc. — would be repaid before DJ Blue Jay Way. The two lenders are owed about $6.4 million in total, according to court filings.
"The Hoffmans are unfortunately in a very bad position," said Loyola Law School professor Dan Schechter, a bankruptcy expert. "They might get something at the end of the day, especially if this [property] is aggressively marketed."
A modest, 3,056-square-foot home is currently situated on the quarter-acre Blue Jay Way lot, which is located in the coveted Bird Streets neighborhood, named for its avian-themed roads and lanes. Property values in the enclave, famed for the so-called jetliner views it affords, have soared in recent years as developers have constructed increasingly opulent homes on streets that wind through the hills.
Amid the bankruptcy, the Blue Jay Way property was listed for sale for $9.995 million, but reduced by $1 million in May, according to real estate services firm Redfin. The property comes with architectural plans and permits so that a buyer could construct an 11,000-square-foot house on the site. At the current asking price, however, it looks to be a tough sell, said Stephen Shapiro, chairman of Westside Estate Agency.
"It's a very strong market, and if it hasn't sold, it's too much," he said.
Yohai acquired the property for $7.5 million in July 2015 — about a month after his company received the investment from the Hoffmans' entity, according to court filings. Jacob Hoffman and Yohai became friends while students at New York University in the 2000s, according to two people with knowledge of the matter.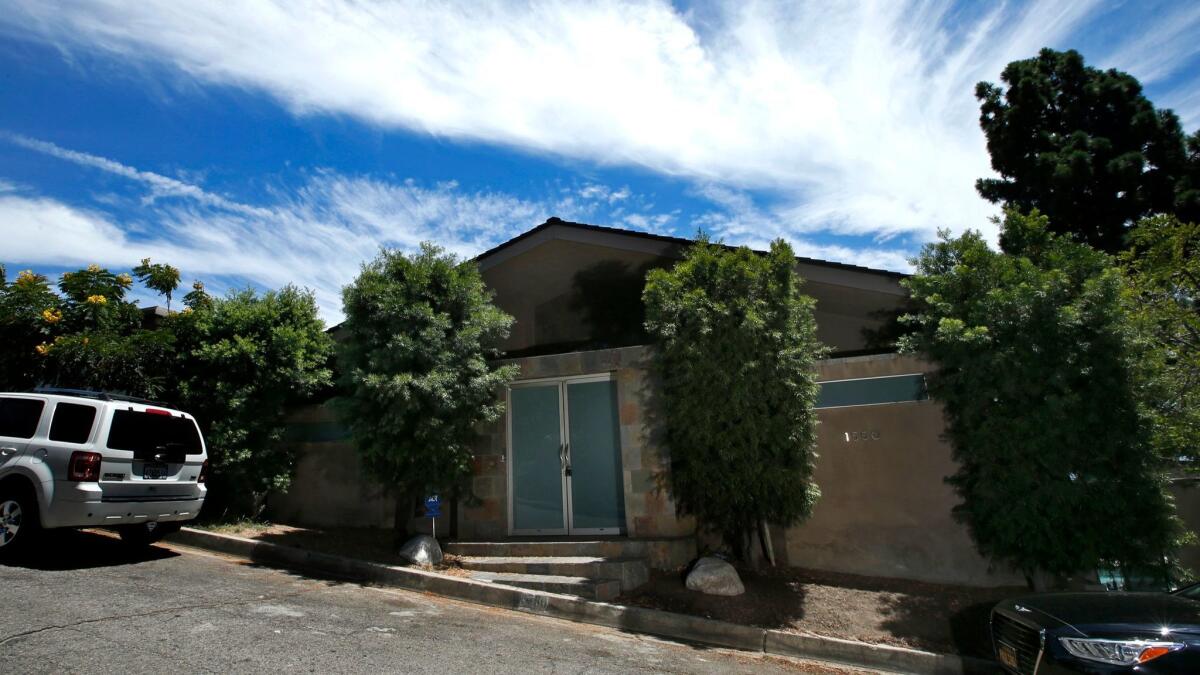 The Hoffmans' company expected that the existing house would be torn down and replaced by a "luxury residence … having an ultimate sale price of approximately $30 [million]," it said in a court filing. But the property went into default in August after Yohai's company fell behind on its mortgage payments, and a notice for a trustee's sale was filed in November.
Earlier this month, attorneys for DJ Blue Jay Way argued that since Yohai's company filed for bankruptcy protection, the developer has made "little-to-no progress in the case at all," save for hiring a real estate broker who had been unable to sell the property, according to court documents. Also, Yohai's company did not comply with a plan to make monthly payments to lender Genesis, DJ Blue Jay Way said in a filing.
In April, Genesis sued Yohai and Jessica Manafort, alleging that they breached guarantees tied to real estate loans, including the unpaid loan on the Blue Jay Way property. Genesis is seeking damages of $21.2 million, according to its complaint. Jessica Manafort has not responded to the allegations; Yohai has filed a general denial of the claims.
The bankruptcy conversion wasn't the only real estate-related legal ruling involving Yohai's business this week. Also on Wednesday, a federal judge in New York dismissed on jurisdictional grounds a case brought against Yohai by one of his investors. Fashion photographer Guy Aroch claimed in a lawsuit last year that he invested $2.9 million in two of Yohai's residential projects, including a condominium, but never got his money back.
Instead, according to the suit, Yohai allegedly "used most or all" of Aroch's investment for "personal travel; lavish purchases; and/or speculative ventures outside the investment mandates." The lawsuit alleged that Yohai defaulted in October on a promissory note.
In a December filing, Yohai argued that Aroch's lawsuit included "extremely derogatory" allegations and asked the court to throw out the case.
On Thursday, Aroch filed an amended version of the suit in New York state court. He and his attorney, Joshua Abraham, declined to comment.
Inside the business of entertainment
The Wide Shot brings you news, analysis and insights on everything from streaming wars to production — and what it all means for the future.
You may occasionally receive promotional content from the Los Angeles Times.