Cinema group boss talks Netflix, windows and Saudi Arabia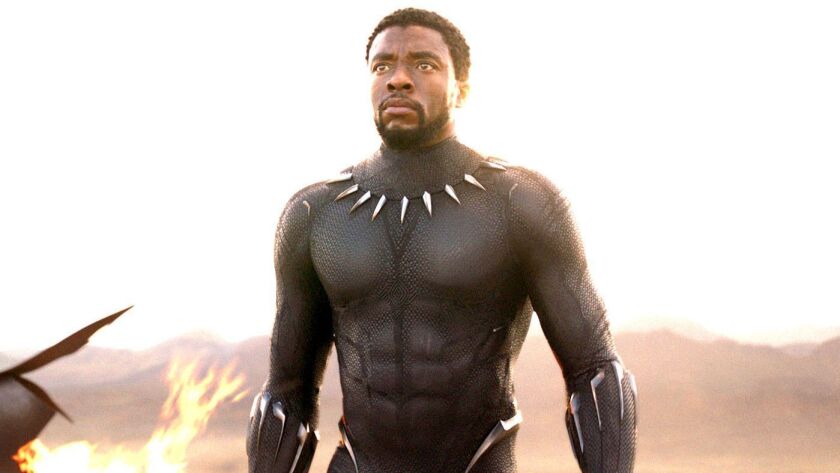 Amid rising competition from Netflix and other streaming services, the head of the cinema trade group made an impassioned defense of delaying the release of movies for home viewing.
In Tuesday remarks at CinemaCon, the exhibitors' annual trade show in Las Vegas, National Assn. of Theatre Owners President John Fithian acknowledged that sweeping changes are coming to the movie business because of online streaming. Walt Disney Co. and AT&T's WarnerMedia are both preparing to launch streaming platforms next year, which are expected to include movies.
But he also called on the industry to protect the traditional business practice of putting movies exclusively in theaters for nearly three months before making them available for home viewing.
"We understand that some movies will continue to go straight to the home and skip theatrical; there is nothing revolutionary about that idea," Fithian said at the Colosseum at Caesars Palace. "All we ask is that powerful movies in all genres … be given the time to reach their full potential in theaters before heading to the home."
The audience, packed with executives from large cinema chains and mom-and-pop theaters, applauded.
Fithian noted that the growth of streaming players such as Netflix and Amazon is disrupting parts of the industry. Still, he said, the best way to showcase a film is the old-fashioned way: in a theater.
"In this new climate, it's important to ask, how does any given movie stand out against endless choices in the home?" he said. "Everyone in this room knows the answer to that important question — a robust theatrical release provides a level of prestige to a movie that cannot be replicated."
This year's CinemaCon comes as the industry is riding high after a strong year at the box office.
RELATED: Hollywood sails to a box-office record, thanks to 'Black Panther' and other hits »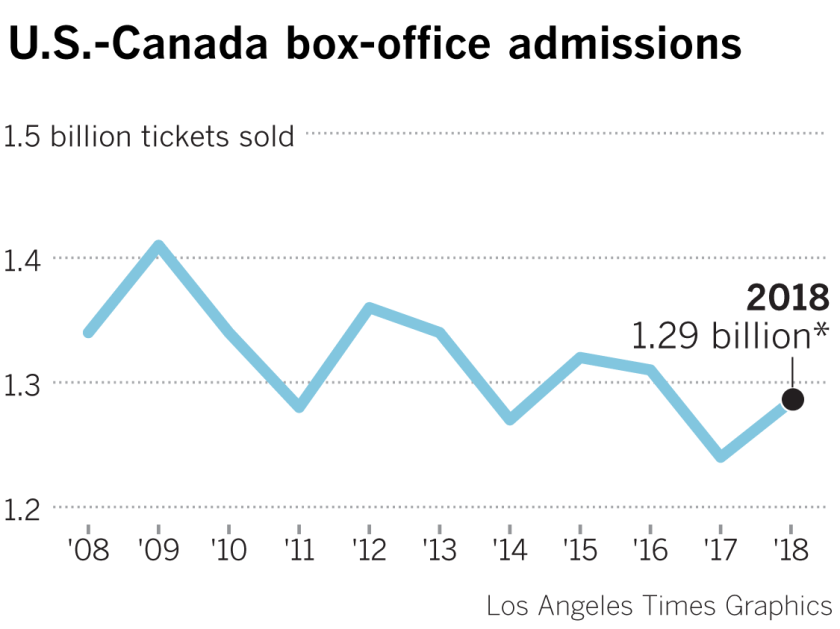 The Motion Picture Assn. of America said last month in its annual survey that worldwide box office ticket sales rose slightly by 1% to $41.1 billion for 2018. The domestic box office reached a record high in 2018, with $11.9 billion in tickets sold in the U.S. and Canada, up 7% from the previous year, thanks to a string of box office blockbusters in 2018, including Walt Disney's "Avengers: Infinity War" and "Black Panther." The number of tickets sold rose 5% to 1.3 billion in 2018 but is still down from the highs seen a decade ago.
Industry leaders interpreted the data as a sign that theaters and streamers can thrive simultaneously.
"Box office receipts and attendance rebounded in a big way after a lot of doom and gloom talk in 2017, confirming yet again the enduring importance of moviegoing in our culture," Fithian said.
The box office got off to a comparatively slow start this year, with 2019 ticket sales down 16%, according to Comscore. Hits such as Jordan Peele's horror-thriller "Us" and Disney's "Captain Marvel" have helped the industry make up some ground. Theaters are expected to get a huge boost when "Avengers: Endgame" premieres later this month.
The sweeping changes affecting the industry were on full display at CinemaCon.
MPAA Chairman and Chief Executive Charles Rivkin gave Netflix a rare shout-out on the CinemaCon stage, noting that the Los Gatos, Calif.-based streaming giant had recently joined the ranks of the major legacy studios as the newest member of the Washington lobbying group. Rivkin cited Netflix's inclusion in the MPAA as an example of how the movie business is evolving.
Netflix in January joined Disney, Fox, Warner Bros., Universal, Sony and Paramount in the organization, whose duties include advocating legislation, fighting piracy and assigning parental-guidance ratings to feature films. The decision was seen as a coming-of-age moment for the company, which has sometimes gone to blows with cinema owners because of its resistance to traditional theatrical releases.
"Here is what I know. We are all stronger advocates for creativity and the entertainment business when we are working together — all of us," Rivkin said.
The MPAA also played a video in tribute to its longtime rating leader, Joan Graves, who is retiring this spring. She suffered a fall from the CinemaCon stage after the leaders acknowledged her contributions. She was escorted from the Colosseum and taken to a hospital for treatment, but an MPAA spokesman said she did not sustain serious injuries.
In a news conference after the presentation, Fithian addressed questions about exhibitors' plans to expand in Saudi Arabia, which lifted a 35-year ban on movie theaters in late 2017. That move spurred deals with exhibitors including AMC Theatres and Vue.
Saudi-Hollywood deals appeared to cool after the murder of Washington Post contributor Jamal Khashoggi. Talent agency owner Endeavor moved to return the Saudi sovereign wealth fund's investment in the company. British exhibitor Vue International's CEO in October said the company was putting the brakes on its Saudi plans until there was more clarity about the situation.
But Fithian said cinema owners' efforts to grow in the desert kingdom are proceeding as planned, despite the deep political tensions. He said three exhibitors had told him this week that expansion plans were moving forward.
"Obviously the assassination of a journalist is a tragic and awful human rights violation," he said. "Governments have to address that and governments are addressing that. But I don't think there's the same kind of role for industries."
Twitter: @rfaughnder
---
Inside the business of entertainment
The Wide Shot brings you news, analysis and insights on everything from streaming wars to production — and what it all means for the future.
You may occasionally receive promotional content from the Los Angeles Times.