J.J. Abrams nears massive deal with WarnerMedia as race for Hollywood talent heats up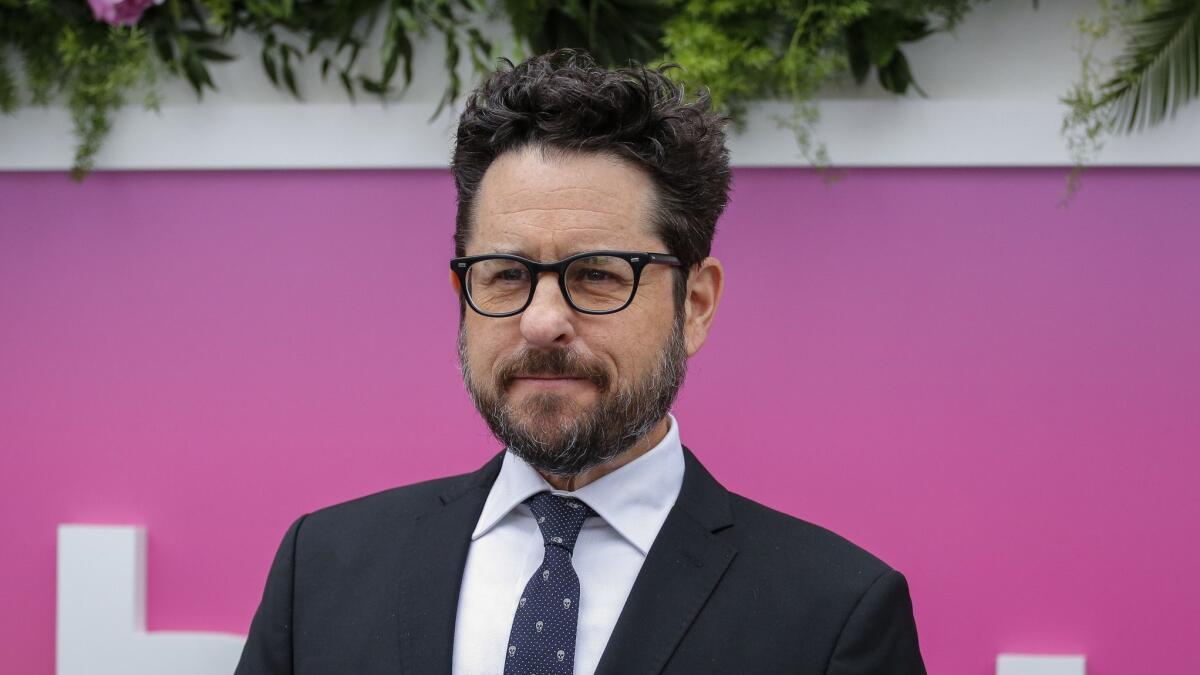 Director and producer J.J. Abrams, known for hit movies such as "Star Wars: The Force Awakens" and TV shows including "Alias," is nearing a massive production deal with WarnerMedia, the parent company of Warner Bros. and HBO.
Abrams is in the advanced stages of negotiations with the AT&T-owned media and entertainment giant, according to people familiar with the matter who were not authorized to comment.
The long-anticipated pact, which is not yet finalized, would end months of speculation in Hollywood over where Abrams would take his production company, Bad Robot, after a long stretch making films for Viacom Inc.'s Paramount Pictures. Bad Robot, which Abrams runs with his wife, Katie McGrath, already makes TV shows with Warner Bros., including "Castle Rock" on Hulu.
Representatives for WarnerMedia and Bad Robot declined to comment.
Details of Abrams' new arrangement have not been revealed, and it is unclear when it will be announced. But sources have estimated that the multiyear agreement will be worth about $500 million, making it one of the richest deals for a producer. The pact reflects an ongoing arms race in Hollywood as studios try to lock down top-tier directors and showrunners to compete with deep-pocketed tech rivals.
The Hollywood Reporter and Deadline reported earlier Monday that WarnerMedia had won the battle for Bad Robot's business.
Multiple studios had been courting Abrams in recent months. Comcast Corp.'s NBCUniversal, streaming giant Netflix Inc. and Apple Inc. all met with Bad Robot, said the people who spoke on condition of anonymity because the discussions were private.
But WarnerMedia, led by AT&T executive John Stankey, has long been considered a front-runner. WarnerMedia — which owns Warner Bros., HBO and networks including CNN and Cartoon Network — has a broad range of businesses that could boost Abrams' franchises, including theme park attractions, toys and video games.
WarnerMedia is solidifying its talent roster as the company prepares to compete with Netflix and Disney in the growing streaming space. The company is also preparing a much-anticipated streaming service that is expected to compete directly with Netflix and Disney's upcoming Disney+.
The likely Bad Robot deal underscores how film and TV studios are increasingly willing to offer vast sums to creators of hit shows and movies as the competition for talent ramps up between streaming companies such as Netflix and the traditional industry players. Studios are counting on big-name talent to create hit shows and movies that will not only boost traditional box office sales and TV ratings but also draw subscribers to streaming services.
A year ago, Warner Bros. Television extended its deal with "Riverdale" producer Greg Berlanti for six years. "This Is Us" creator Dan Fogelman in May landed a giant deal with 20th Century Fox Television, which is owned by Walt Disney Co. Netflix has wooed big-name producers including Shonda Rhimes, Ryan Murphy and Barack and Michelle Obama. Chris Miller and Phil Lord recently scored a five-year, nine-figure pact to produce shows for Sony Pictures Entertainment.
The Bad Robot deal also comes as WarnerMedia is searching for an executive to replace Warner Bros. Chief Executive Kevin Tsujihara, who stepped down in March after revelations that he'd had an inappropriate relationship with an actress. McGrath, who is co-CEO of Bad Robot and a co-founder of Time's Up, was reportedly among those who raised concerns to management about Tsujihara's continued leadership of the Burbank studio.
Abrams would be a major asset for WarnerMedia. On the TV side, he's known for producing such innovative hits as "Lost" and "Alias." For Warner, he was executive producer of the Stephen King-inspired series "Castle Rock" and the HBO sci-fi series "Westworld." He and Jordan Peele are working on the HBO series "Lovecraft Country."
In film, Abrams has a strong track record with high-concept science fiction efforts, including the surprise hit "Cloverfield" and "Super 8," which owed an enormous debt to the movies of his idol and mentor Steven Spielberg. For Paramount, Abrams also produced "Mission: Impossible — Ghost Protocol," "Mission: Impossible — Rogue Nation" and "10 Cloverfield Lane."
However, the Paramount partnership, which began in 2006, was not without its issues. Bad Robot's most recent Paramount movie "Overlord," the World War II-set zombie movie released in November, performed dismally at the multiplex. Also, Paramount executives were upset when Abrams went to make the 2015 blockbuster "Star Wars: The Force Awakens" for Disney, which grossed more than $2 billion at the global box office.
Most recently, Abrams has done particularly well with reboots of well-known intellectual property, successfully relaunching the "Star Wars" franchise for Disney in 2015 with "The Force Awakens." A decade ago, he revived the "Star Trek" franchise for Paramount.
His next movie is Disney's "Star Wars: The Rise of Skywalker," which is set to conclude the nine-movie arc that began with 1977's "Star Wars." "The Rise of Skywalker" hits theaters in December.
Inside the business of entertainment
The Wide Shot brings you news, analysis and insights on everything from streaming wars to production — and what it all means for the future.
You may occasionally receive promotional content from the Los Angeles Times.