Leslie Moonves, one of America's highest-paid CEOs, probably will walk away with nothing after claims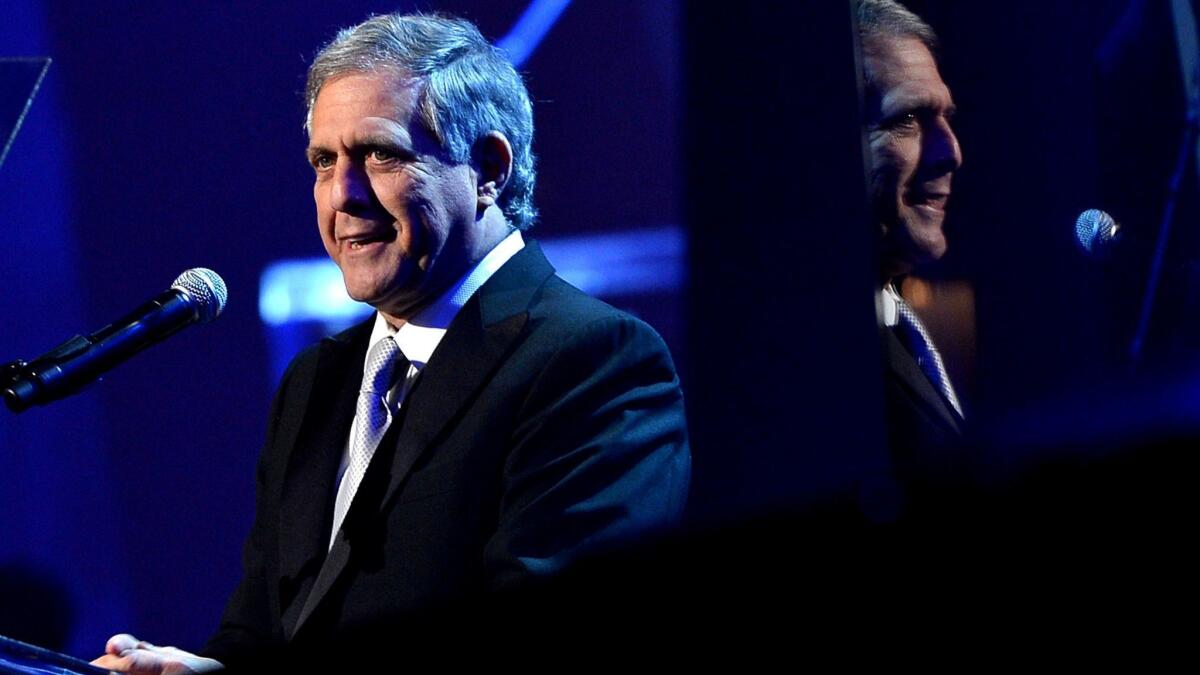 For more than a decade, Leslie Moonves was one of America's highest-paid executives.
The former CBS chairman and chief executive collected nearly $70 million last year, and his lucrative employment deal guaranteed him an extraordinarily generous payout — as much as $140 million — should he exit the company on his own terms.
But it is doubtful that Moonves, 69, will collect a penny of severance.
"He is in an untenable legal position," C. Kerry Fields, a business law professor at USC Marshall School of Business. "He's tainted goods right now."
Since August, two high-powered New York law firms have been investigating Moonves' alleged misconduct, including how the former CEO — who was fired in September — struggled for months to contain a widening sexual harassment scandal. Lawyers have interviewed more than 350 people in the probe, which is also reviewing CBS' workplace climate, according to a person familiar with the situation who was not authorized to comment. Separately, the New York County's district attorney's office and the New York City Commission on Human Rights have opened investigations into Moonves' conduct.
More questions emerged this week when the New York Times uncovered new details that Moonves had offered roles on CBS shows to several actors in an effort to silence those who knew about his past sexual encounters. The paper also reported that Moonves deleted text messages from an iPad that he used for work in an attempt to destroy his communications with longtime Los Angeles talent manager, Marv Dauer, who was seeking parts for his clients on CBS shows.
Dauer represented actress Bobbie Phillips, who has accused Moonves of sexually assaulting her during a 1995 meeting in his Warner Bros. offices in Burbank, when he was in charge of the bustling TV studio, according to the New York Times report. Dauer kept the text message exchanges with Moonves after they began communicating late last year when the #MeToo movement galvanized women to speak up about past mistreatment by powerful men.
"CBS can't pay Moonves a $120-million severance," Jeffrey Sonnenfeld, an associate dean at the Yale School of Management, said in an interview. "There should be no severance coming his way. And CBS' board should try to claw back some of his past pay — although I doubt that they will do that."
People close to the matter say the investigators — Nancy Kestenbaum and Mary Jo White — have been looking into whether Moonves was candid with investigators who were hired to review the sexual harassment allegations. The two lawyers are expected to deliver a report to the CBS board in the next few weeks, according to knowledgeable people.
Then, CBS' board will determine whether Moonves should be fired for cause.
CBS and a representative of Moonves declined to comment. Phillips' attorney could not be reached. Dauer declined to comment.
It is extremely rare for companies to deny severance payouts to departing CEOs, corporate governance experts said Thursday. However, Sonnenfeld said that if investigators determined Moonves destroyed evidence and offered parts on CBS shows in exchange for silence, that would likely be considered cause for termination.
"If the board doesn't consider this a dereliction of duties and misconduct, then I don't know what would qualify as cause," Sonnenfeld said. "This is over-the-top abuse of power."
Companies typically calculate how much they will spend in litigation costs if they deny a departing executive their severance package, said Charles Elson, director of the John L. Weinberg Center for Corporate Governance at the University of Delaware. Then boards fashion a settlement agreement with the executive to avoid a costly, and often protracted, legal fight.
"There is always litigation around these things," Elson said, adding that CBS should take "a tough line."
"This is not just about him, this is about others down the line," Elson said. "I always believe that it is worth it not to settle because you don't want to set a precedent."
In September, as CBS ousted Moonves, the board reserved $120 million for a possible severance package, according to a regulatory filing. The two investigators were only a few weeks into their review of his conduct. After they deliver their report next month, CBS' board will have 30 days to decide whether Moonves should be fired for cause. The company must inform Moonves of its decision by Jan. 29, according to the regulatory filing.
"In the event the board determines that the company is entitled to terminate Mr. Moonves's employment for cause under his employment agreement and Mr. Moonves does not demand arbitration … the company will have no further obligations to Mr. Moonves," CBS said in the filing.
In addition, CBS agreed to provide Moonves with office services and security for up to two years to facilitate him serving as a "transition" advisor to the company. Those payments, too, are in doubt.
Under Moonves' contract, which was due to expire in 2021, Moonves was eligible to receive as much as $140 million in severance. But amid the scandal, CBS' board in September said that it would take $20 million from his possible payout and donate it to organizations that promoted the #MeToo cause and safe work environments.
CBS is expected to decide which groups get the money in mid-December.
The September shake-up further weakened Moonves' hand because of a separate settlement agreement that demanded the resignations of six board members who had been aligned with him. Those board members were replaced by younger individuals who don't have an allegiance to the longtime television chief.
CBS plans its annual meeting with shareholders on Dec. 11, when the reconstituted board is expected to be ratified.
The New York Times exposed the fraught relationship between Moonves and Dauer, 75, who represented a cadre of daytime soap opera stars in the 1990s and early 2000s.
But Dauer's business had fallen on hard times, and he looked to his old friend, Moonves, for help securing work for his clients. Dauer told the New York Times that he reached out to Moonves in December, when Hollywood was reeling from sexual harassment allegations. After the outreach, Moonves attended Dauer's 75th birthday party and suggested he would find work for Dauer's clients, according to the report.
But the proposed CBS roles for Dauer's clients were not as big or lucrative as the manager had hoped. And Phillips, the actress, didn't want to participate, the report stated.
"While there was no deliberate extortion, it certainly seems unseemly," Fields, the USC professor, said of the dealings between Dauer and Moonves. "The loss, or destruction of evidence, and the fact that he was trying to reward these people with acting jobs, certainly suggests culpability on Moonves' part."
Twitter: @MegJamesLAT
Inside the business of entertainment
The Wide Shot brings you news, analysis and insights on everything from streaming wars to production — and what it all means for the future.
You may occasionally receive promotional content from the Los Angeles Times.