Roman Polanski extradition request rejected by Poland's top court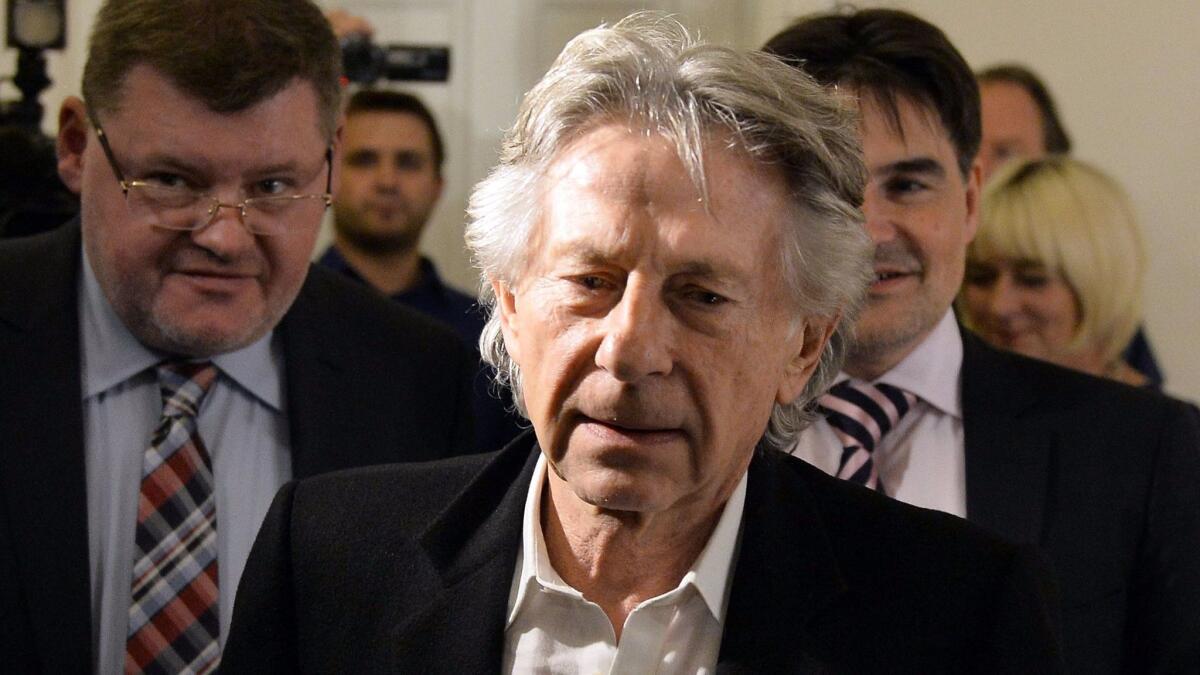 Director Roman Polanski scored a key legal victory in Poland on Tuesday when the country's top court rejected an extradition request from the U.S. stemming from the filmmaker's 1977 Los Angeles case in which he pleaded guilty to having sex with a minor.
The Polish Supreme Court in Warsaw ruled to uphold a lower Krakow court's decision in October of last year to deny the U.S. Justice Department's request to hand over the 83-year-old director, whose body of work includes such acclaimed films as "Rosemary's Baby," "Chinatown" and "The Pianist."
The high court's decision was confirmed by Polanski's U.S. attorney, Harland Braun.
In its decision last year to deny the U.S. its extradition request, the lower court noted numerous irregularities in the original case, including alleged unethical behavior by L.A. Superior Court Judge Laurence Rittenband.
But the ruling was appealed by Poland's justice minister, Zbigniew Ziobro, who has suggested that Polanski's celebrity status had influenced the lower court's decision. Ziobro is part of Poland's current hard-line conservative administration that rose to power in 2015.
Poland's supreme court said in a release Tuesday that the lower court's ruling didn't constitute a "flagrant violation of the law" and that the new ruling is final and ineligible for further appeal.
The new decision means that Polanski, who resides primarily in France and is a citizen of France and Poland, is free to travel to Poland without fear of being arrested and sent back to the U.S. Though the director was born in Paris, he grew up in Poland, where as a young boy he survived the Holocaust before going on to become an accomplished filmmaker.
Poland's ruling also means that American officials have virtually exhausted their options in a four-decade attempt to bring the Polanski back to the U.S. In 2010, Switzerland declined the U.S.'s request to extradite Polanski after he was arrested in Zurich the year before on his way to a film festival. The director spent several months in prison and under house arrest.
Polanski remains a fugitive from U.S. justice, having fled the country in 1978 in the midst of his highly sensationalized statutory rape case.
The filmmaker was arrested the year before in Beverly Hills and eventually pleaded guilty to unlawful sex with a minor. As part of a bargain, Judge Rittenband sentenced him to a 90-day psychiatric evaluation in a Chino prison. Polanski was released after 42 days after officials determined that he didn't pose a risk to society.
But Polanski fled the country when Judge Rittenband, facing intense media pressure, appeared to renege on the deal with the possible intention of sending him back for more jail time.
Because of Polanski's fugitive status, the case remains unresolved despite the director's numerous efforts to have it dismissed. Polanski's U.S. attorney said that Tuesday's win in Poland has significant implications for the L.A. case.
"It's important for us," said Braun in an interview, adding that he is hoping to conclude the nearly 40-year-old case sometime early next year. He is arguing that Polanski should be sentenced to time served, as he has already exceeded the custody time he was originally required to serve when counting time spent in jail and house arrest in Switzerland in 2009 and 2010.
"I'd like to see Roman come here, be sentenced as promised, and then get on with his life," Braun said. He also said that he wants the court to recognize Samantha Geimer — the victim who was 13 years old when the crime took place but who in recent years has voiced her support for the dismissal of the case against Polanski.
The L.A. district attorney's office declined to comment.
Polanski has continued to make movies in Europe and won an Academy Award for best director in 2003 for "The Pianist." He is currently working on a new movie in France titled "Based on a True Story," starring Eva Green and his wife, Emmanuelle Seigner.
Twitter: @DavidNgLAT
---
UPDATES:
Dec. 7, 1:50 p.m.: This article was updated with a no-comment reply from the L.A. district attorney's office.
Inside the business of entertainment
The Wide Shot brings you news, analysis and insights on everything from streaming wars to production — and what it all means for the future.
You may occasionally receive promotional content from the Los Angeles Times.