Rupert Murdoch, and sons, begin their goodbyes to 21st Century Fox
Rupert Murdoch's handoff to his older son is nearly complete.
On Wednesday, the 87-year-old media baron choreographed a coda for 21st Century Fox — the company he has spent decades shaping into a global media juggernaut.
In what was expected to be the company's last meeting with shareholders, Murdoch offered only a brief welcome before turning over the podium — in the dimly lit Darryl F. Zanuck Theater on the Fox lot in West Los Angeles — to his oldest son.
Lachlan Murdoch, who shares the title of executive chairman with his father, noted it was "likely [the] final such meeting" because the family is selling much of the company to Walt Disney Co., a deal that is expected to be completed in January or February. The $71.3-billion deal is expected to transform both Disney and Fox, which will become a much smaller television company focused on news and sports.
Rather than reciting Fox's financial performance, Lachlan Murdoch paid tribute to his father, saying the maverick newsman from Australia built companies that "defied conventional wisdom and succeeded where others failed."
"It began with my father's unwavering belief in the power of innovation and consumer choice, " Lachlan Murdoch, 47, told the sparse crowd in the theater and others listening to an audio feed. "He has always had a passion for engaging audiences with stories and experiences that endure — but perhaps the most enduring story is his own."
Rupert Murdoch has spent 65 years assembling an empire that Wall Street now values at $97 billion. It began with a single Australian afternoon newspaper, the Adelaide News. Murdoch inherited the tabloid from his father, a celebrated Australian war correspondent, who died in 1952 when Rupert Murdoch was in England attending Oxford University.
Over the years, he amassed newspapers on four continents, dozens of television stations, satellite TV systems, and, in 1985, the 20th Century Fox movie studio in Los Angeles from oilman Marvin Davis. The studio's hits included such blockbusters as "Titanic" "Home Alone," and "Ice Age."
In 1986, after gaining U.S. citizenship, Murdoch launched the Fox broadcast network, which churned out "The Simpsons," "Married… With Children," and eventually "Ally McBeal" and "American Idol." Then came the purchase of book publisher Harper & Row, which became HarperCollins, cable channels FX and Fox News Channel, followed by the purchase of the Wall Street Journal. Wall Street didn't approve of the newspaper purchase but Murdoch possessed super-voting stock, allowing him to run the company as he saw fit.
"People who know him know that he is a journalist at heart with unbounded curiosity, which combined with his unique business instinct, has formed the foundation of this company," Lachlan Murdoch said.
Rupert Murdoch's long run has been impressive, agreed former cable television executive Leo Hindery.
"There are only two people in the industry who had super-votes and the vision and courage to define the industry," said Hindery, who ran the former cable companies AT&T Broadband and TCI. "And those two guys are Rupert Murdoch and [cable magnate] John Malone. And Rupert was the first one to have a global vision."
Now, Rupert Murdoch is midway through a dramatic downsizing of his corporate dominion. He orchestrated the sale to Disney because he feared that Fox lacked the scale to successfully compete against such technology giants as Google, Facebook and Netflix.
As his son spoke, Rupert Murdoch quietly studied a briefing book atop a long rectangular table — draped in black. He sat alongside seven other corporate directors, including his younger son, James Murdoch.
The younger Murdoch, Fox's chief executive for the last three years, did not speak during Wednesday's 20-minute shareholders' meeting, which included a reelection of board members. He has already announced that after the Disney sale is completed, he will branch off from the family business to pursue his own ventures. James Murdoch, 45, has not revealed his future plans.
The sale of much of Fox to Disney provided a graceful exit for the aging mogul and helped solve a delicate issue of corporate succession, according to people close to Rupert Murdoch who are not authorized to speak publicly.
James Murdoch struggled for years to become his father's successor, working at Fox for more than two decades. He oversaw far-flung parts of its international portfolio, including satellite TV operations in India and Britain, before joining his father in New York.
Rupert Murdoch instead chose his older son, in part, because a power-sharing arrangement proved awkward and his views — including on politics — were more in sync with Lachlan Murdoch's. Lachlan Murdoch had spent nearly a decade in Australia, overseeing his own projects after leaving his father's company, then known as News Corp., in 2005 to strike out on his own. But he returned to the corporate fold in 2014.
Lachlan Murdoch will become chairman and chief executive of a new company, Fox, which will be made up of the assets that aren't part of the sale to Disney. Those include the New York-based Fox News Channel and its sister Fox Business Network, Los Angeles-based Fox broadcast network, two national cable sports channels, including FS1, and Fox's chain of TV stations, including KTTV Channel 11 in Los Angeles. Longtime Murdoch lieutenant John Nallen will serve as chief operating officer.
Hope Hicks, President Trump's former communications director, will become Fox's chief communications officer.
"Fox will be America's media company, offering programming the country wants most," Lachlan Murdoch said. That includes live sports programming on the Fox network and FS1 and Fox News.
Disney will swallow the prolific 20th Century Fox television and movie studios, their vast libraries, along with the FX channels, National Geographic channels, Fox's stake in the streaming service Hulu and the TV operations in India and Latin America. The Burbank entertainment giant also is seeking a buyer for the 22 Fox regional sports networks, which were supposed to be part of the deal but the U.S. Department of Justice refused to allow Disney to own the sports channels because it also owns ESPN.
The Disney deal more than doubled the Murdochs' wealth, which is concentrated in a family trust. The family also will become one of the largest shareholders of Disney.
The Murdochs also will continue to control publishing company News Corp., which owns the Wall Street Journal, New York Post, Times of London and dozens of publications in Murdoch's native Australia, a growing digital real estate information business and HarperCollins.
"Defying expectations and performing well is at the core of who we are," Lachlan Murdoch said from the podium. He thanked the small crowd and returned to his seat at the table.
Rupert Murdoch then leaned over and gently patted his older son on the back.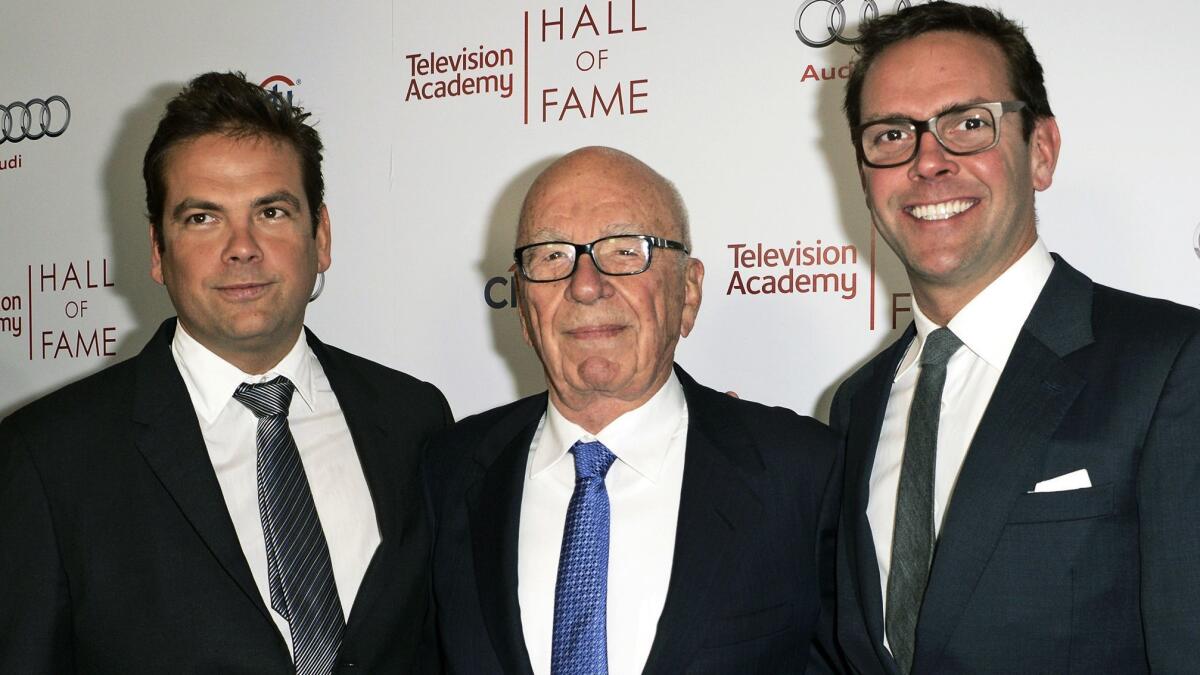 Twitter: @MegJamesLAT
Inside the business of entertainment
The Wide Shot brings you news, analysis and insights on everything from streaming wars to production — and what it all means for the future.
You may occasionally receive promotional content from the Los Angeles Times.