Hollywood grows wary of Saudi deals after journalist's disappearance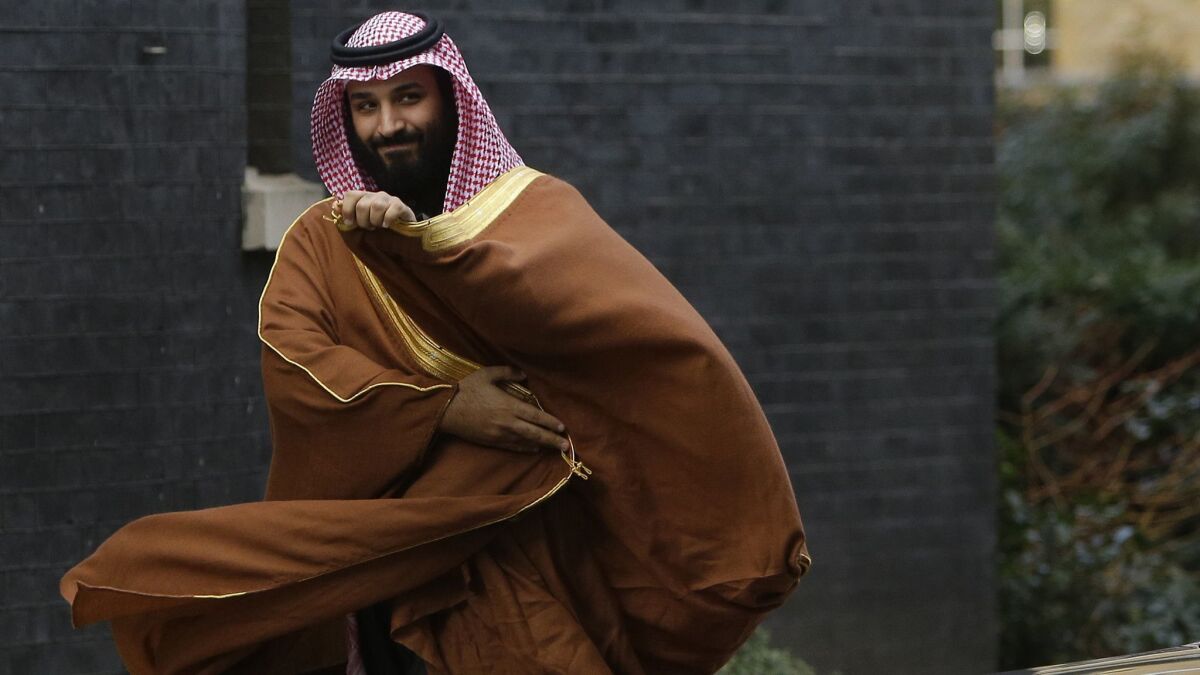 A mere six months have passed since the entertainment industry opened its arms to Saudi Arabia's crown prince, Mohammed bin Salman.
The royal heir apparent received the red-carpet treatment in April, meeting with studio chiefs and media tycoons, and dining with the likes of Rupert Murdoch, Brian Grazer and Dwayne "The Rock" Johnson.
Much of Hollywood had hoped the conservative desert kingdom, which had only recently legalized movie theaters after a nearly four-decade ban, would be the next big market for American entertainment — and a new source of much-needed capital after China curtailed its investments in the U.S. film and TV business.
Mohammed had carefully cultivated the image of a reformer by allowing women to drive and promising to rein in the notorious religious police.
But the entertainment industry's dreams collided with harsh realities this month as world leaders demanded answers about the fate of Jamal Khashoggi, the U.S.-based dissident Saudi journalist. Khashoggi has not been seen since he walked into the Saudi Consulate in Istanbul, Turkey, on Oct. 2. Turkish media reports have said he was killed and dismembered in the consulate. Saudi officials have disavowed any knowledge of what happened to Khashoggi.
Now, film industry figures are reevaluating their ties with the autocratic monarchy in the wake of the gruesome controversy, which blatantly contradicts the image of an increasingly modern and reformist Saudi Arabia.
"It's absolutely going to have a profound impact," said Schuyler Moore, a prominent Los Angeles entertainment industry attorney at Greenberg Glusker. "There's no question. Everyone was lined up on the tarmac to make films there and make financing deals. That party, overnight, is going to be over."
In the most significant casualty yet, media company and talent agency Endeavor, which helped lead the charge to court Saudi investment in entertainment, is looking to extract itself from a major deal with the kingdom's sovereign wealth fund, a person familiar with the matter said Monday.
Early this year, the investment vehicle backed by the Saudi government negotiated an investment of at least $400 million for a less than 10% stake in Beverly Hills-based Endeavor, run by agent Ari Emanuel. The New York Times and Hollywood Reporter earlier reported that the company was reassessing the transaction.
An Endeavor spokeswoman declined to comment. Speaking at the Mipcom conference in Cannes, France, Emanuel said he was personally "really concerned" about the situation concerning the missing journalist.
"We're monitoring the situation," he said.
Endeavor would be the latest media company to distance itself from Saudi Arabia. Multiple entertainment and Silicon Valley leaders have decided to drop out of the upcoming three-day investment conference nicknamed "Davos in the Desert" in Riyadh, the Saudi capital. Viacom Inc. Chief Executive Bob Bakish, STX Entertainment CEO Robert Simonds, Uber Technologies Inc. CEO Dara Khosrowshahi and Los Angeles Times owner Dr. Patrick Soon-Shiong have all backed out.
Studio executives initially hoped the kingdom would invest some of its substantial cash hoard in American movies, TV shows and entertainment companies. The idea was that an influx of cash from Saudi royals might help make up for the slowdown in investment from China, which has become a less reliable source of funds because of a regulatory crackdown in the country.
Meanwhile, cinema companies salivated over Saudi Arabia's untapped potential market for multiplexes, which theater owners said could eventually generate $1 billion in annual box-office revenue. Saudi Arabia has more than 30 million people, many of whom are young, highly educated, tech-savvy and largely deprived of entertainment options.
Despite its outwardly liberal values, the U.S. entertainment industry in the past has been willing to overlook political misdeeds or human rights abuses for access to a big new market and piles of money. Few spoke up last month when the Chinese government detained movie star Fan Bingbing as punishment for tax evasion, for which the "X-Men: Days of Future Past" actress eventually issued a groveling apology.
But the imbroglio in Saudi Arabia could be too much to stomach, experts said.
"It felt like things were moving in the right direction in Saudi Arabia, but it only takes one incident like this to turn things around," said Dennis Rice, head of film marketing and distribution consulting firm Visio Entertainment. "Hollywood is fickle and has a reputation for being very forgiving, but this … flies in the face of the image of the kingdom working more progressively with the Western world, including the entertainment industry."
Many show business insiders were already skeptical of the crown prince's promise to bring the country into the 21st century and turn Saudi Arabia into an entertainment hub. Questions swirled over how theaters and studios would address rigid social norms in Saudi Arabia, including the separation of unrelated men and women in public places.
After Mohammed and his dignitaries toured L.A. in the spring, it quickly became clear that Saudi Arabia was not interested in becoming another "dumb money" investor in the movie business. Instead, the government was looking for ways to use entertainment projects, including theme parks, to support massive shopping and tourism developments that would help Saudi Arabia reduce its dependence on oil.
Indeed, despite the hype, few entertainment deals materialized from Mohammed's U.S. tour, which also included visits with Amazon CEO Jeff Bezos and President Trump.
At a swanky April event at the Four Seasons Hotel in Beverly Hills, Saudi dignitaries announced a handful of deals, including pacts to bring Cirque du Soleil, "The Marvel Experience" and "Disney on Ice" events to the country, but little else came to fruition. Representatives of those projects declined to comment for this report.
And it's unclear where cinema expansion plans stand. Movie theater chains including Leawood, Kan.-based AMC Theatres and Boca Raton, Fla.-based luxury theater brand IPic Entertainment announced plans to open dozens of cinemas in the country. AMC in April unveiled its first new commercial theater in Saudi Arabia, with a flashy event and a screening of "Black Panther." AMC declined to comment and IPic did not responded to requests for comment.
Expanding the kingdom's cinema business "was going a lot slower than expected" even before Khashoggi's disappearance, said one entertainment industry executive who did not want to comment publicly. "The Saudis were unrealistic in their initial time period."
Twitter: @rfaughnder
---
UPDATES:
6:38 p.m.: This article was updated with additional reaction to the death of Saudi journalist Jamal Khashoggi.
This article was originally published at 1:15 p.m.
---
Inside the business of entertainment
The Wide Shot brings you news, analysis and insights on everything from streaming wars to production — and what it all means for the future.
You may occasionally receive promotional content from the Los Angeles Times.