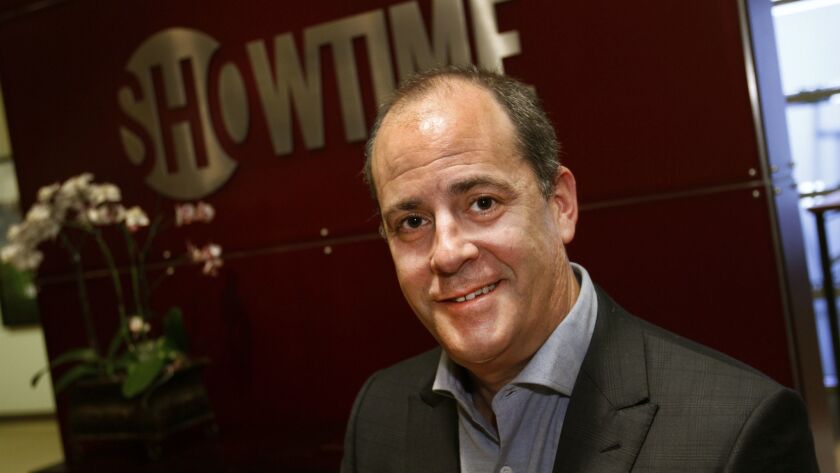 CBS' premium cable channel Showtime is fighting the cord-cutting tide.
Showtime President David Nevins said Monday at the Television Critics Assn. press tour in Beverly Hills that the channel is now at an all-time high in the number of subscribers with 25.5 million. Much of that growth is coming from subscribers to Showtime's stand-alone, or "over-the-top," streaming service, making it available to broadband internet users who may not have cable or satellite.
Showtime does not break out the number for those kinds of subscribers. But CBS touted the growth in its recent earnings call. The services for Showtime and CBS All Access, which carries broadcast network programming and originals, are on track to reach 8 million subscribers in 2019, a year ahead of the company's projection, and is expected to hit 16 million by 2022.
Nevins said the number of cable and satellite subscribers taking Showtime has remained steady even though the number of pay TV homes has been declining in recent years. The growth is coming from customers signing up for the over-the-top service, he said.
Streaming has reduced the price barrier that had limited Showtime's distribution (it still remains far behind premium cable leader HBO, which has around 54 million subscribers). For years the consumers had to buy an expensive pay TV subscription to get the service.
"Streaming has allowed Showtime to go from being a luxury item to a bargain," Nevins said.
The streaming service will be available in every Hilton and Marriott hotel room. Showtime is also about to enter partnerships that make it widely available to college students.
Showtime has recently generated buzz and new subscribers with its series "Who Is America?" from renegade comic Sasha Baron Cohen. The show has made headlines as conservative politicians including Sarah Palin and former Vice President Dick Cheney have been pranked by Cohen, who conducts on-camera interviews while disguised as bizarre characters.
"I know that doing a show with him is a risk and I'm glad it's a risk we took," said Nevins, who indicated that he is eager to order another season of the program.
Politics has been working well for Showtime in the age of Trump, so the network is getting in deeper with two new documentary series. One is from Los Angeles Lakers star LeBron James and Maverick Carter, on the public role of athletes in the current polarized political era. The other, from Emmy- and Oscar-winning filmmaker Alex Gibney, surveys the history of conflicts between the FBI and the White House.
The title of James' film — "Shut Up and Dribble" — refers to remarks made by Fox News host Laura Ingraham in February when she criticized James and other NBA players after the champion Golden State Warriors declined an invitation to the White House.
Trump has been highly critical of NFL players who protested police brutality by kneeling during the playing of the national anthem at games. He has made a habit of taking shots at African American pro athletes on Twitter.
Gibney's series, "Enemies: The President and the FBI," looks at the history of conflicts between the law enforcement agency and the White House. The film will include Trump's firing of FBI director James Comey.
The programs join a roster that also includes "Our Cartoon President," a brutal comic send-up of the Trump White House that is executive produced by "Late Show" host Stephen Colbert.
Nevins doesn't think his network has reached the saturation point on the topic. "Being part of the zeitgeist is part of our brand," he said.
In other programming announcements, Nevins said the next season of the long-running drama "Homeland' will be its last.
Nevins declined to comment about the status of CBS Corp. Chief Executive Leslie Moonves, who faces sexual harassment allegations. But he stood up for the record at his division, which became part of CBS in 2006.
"Who we are, what we do and what we stand for in our daily operation really matters," he said. "There is nothing more important than having a strong, safe and inclusive environment."
Twitter: @SteveBattaglio
---