Sony Pictures gets a $1-billion 'wake-up call' amid a slump at the box office and in DVD sales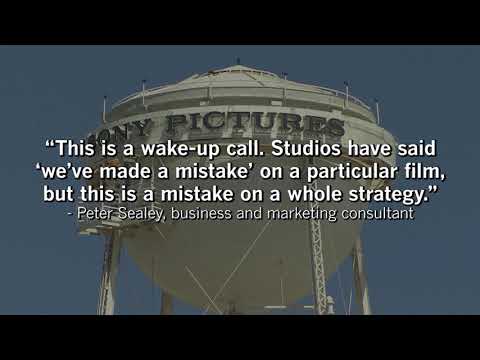 The disclosure comes weeks after Sony Pictures Entertainment announced Chief Executive Michael Lynton will step down from a job he has held for 13 years.
Sony Corp.'s decision to take a nearly $1-billion write-down on its movie business is an extraordinary step for a major Hollywood player that highlights the deepening financial challenges facing the nearly century-old Culver City studio.
The Tokyo-based tech and entertainment giant said Monday that it decided to take the impairment charge after evaluating the future profitability of the movie business, which has lagged its competitors in recent years as it tried to recover from a massive 2014 cyberattack. The non-cash charge will be recorded as an operating loss during the company's fiscal third quarter that ended in December.
The disclosure comes just two weeks after the company said Sony Pictures Entertainment Chief Executive Michael Lynton will step down from a job he has held for 13 years. Executives at the Tokyo parent company had become increasingly frustrated with the performance of the studio under Lynton, who also ran the TV and music businesses. Sony in November reduced its full year profit forecast for the film and TV studio by 23% to about $250 million.
Although studios occasionally announce write-downs for individual films that bomb, as Viacom did for "Monster Trucks" last year ($115 million) and Disney did for "The Lone Ranger" in 2013 ($190 million), it's rare for a media conglomerate to declare an impairment charge for an entire studio.
"This is a wake-up call," said Peter Sealey, a Sausalito, Calif., business and marketing consultant. "Studios have said 'we've made a mistake' on a particular film, but this is a mistake on a whole strategy."
Investors reacted negatively to the write-down, which was announced before Sony reports earnings Thursday. Sony's shares, which trade in the U.S. as American depository receipts, fell 3.5% to $29.44 a share on Wall Street.
In a memo to employees, Sony Corp. CEO Kazuo Hirai and Lynton, who will stay with the company for a few months to help with the leadership transition, said the write-down was primarily due to the dramatic downturn in the DVD business. The company lowered its outlook for film profits through 2020, citing declines in DVD and other home entertainment operations.
Home entertainment sales declined 7% to $12 billion in the U.S. last year, according to Digital Entertainment Group, as consumers increasingly turned to streaming outlets such as Netflix. It's not the first time declining physical media sales have hurt Sony Corp., which was a major backer of the Blu-ray disc format that didn't take off as expected.
To help offset part of the loss at Sony Pictures, Sony said it will sell 13% of its shares of healthcare technology company M3 Inc. to Goldman Sachs in a deal worth about $318 million.
Sony's problems have revived speculation that the Japanese parent company would sell the studio, several years after Hirai fought off efforts by activist investor Daniel Loeb to spin off part of the entertainment business. Hirai and Lynton told employees that there are still no plans to sell its movie business, which Sony has owned since buying Columbia Pictures for $3.4 billion in 1989.
"We ... take the fact of recording a substantial impairment charge very seriously," Hirai and Lynton said. "But make no mistake; Sony Corp's commitment to SPE remains unchanged…. Sony Corp sees SPE as a very important part of Sony group, and will continue to invest to achieve long-term growth and increased profits in this space."
Some analysts, however, expect Sony Pictures will be sold eventually.
"They're very vulnerable, despite what Kazuo Hirai says," said Jeffrey Cole, director of USC Annenberg's Center for the Digital Future. "I just don't see Sony being able to commit the resources long term that keep them competitive."
Hirai told employees earlier this month that he would spend more time on the Culver City lot and set up an office there to oversee the leadership transition. Lynton will serve as chairman of the board at social messaging service Snapchat, which is preparing for an initial public offering.
Hirai added that the company plans to turn around the studio by growing its global business, increasing its stable of intellectual property and "realizing a culture of financial responsibility." The company also aims to expand its successful television segment, which makes such shows as "Better Call Saul" and "The Blacklist."
Lynton's replacement has not been named and Hirai has not started interviewing candidates, according to people familiar with the matter who were unauthorized to comment. A leading theory is that he might put Sony Playstation leader Andrew House in charge of the studio. Sony has increasingly relied on the popular video game division as its more traditional electronics businesses have faltered.
The write-down puts more pressure on the studio's motion picture chief, Tom Rothman. He replaced Amy Pascal almost two years ago after the hack that revealed embarrassing private emails of Sony executives. Rothman previously ran 20th Century Fox and joined Sony to helm its TriStar division before getting promoted to run the whole movie studio. Executives privately say many have chafed under his hard-charging management style.
Like many studios, Sony has turned to China to shore up its finances. Real estate and entertainment conglomerate Dalian Wanda Group in September agreed to invest an undisclosed amount into Sony's films, but a major slowdown in China's box office could make that deal less meaningful to Sony.
Sony Pictures ranked fifth out of the six major studios last year in box-office market share, with disappointments that included the "Ghostbusters" reboot, "Da Vinci Code" sequel "Inferno" and the space drama "Passengers," starring Jennifer Lawrence and Chris Pratt. The studio's upcoming movies include potential winners such as the animated sequel "Smurfs: The Lost Village" and "Spider-Man: Homecoming," co-produced with Disney's Marvel Studios.
Still, this year's releases contain some big gambles, including the long-awaited Stephen King adaptation and potential franchise "The Dark Tower," which is set for July with stars Idris Elba and Matthew McConaughey, and the computer animated comedy "The Emoji Movie," due out in August. In December, Sony will try to revive "Jumanji," more than two decades after the original, with star Dwayne Johnson.
---
UPDATES:
5:50 p.m.: This article was updated with additional details, including reaction from analysts.
This article was originally published at 8:20 a.m.
Inside the business of entertainment
The Wide Shot brings you news, analysis and insights on everything from streaming wars to production — and what it all means for the future.
You may occasionally receive promotional content from the Los Angeles Times.