TCA 2018: HBO kicks off a summer press tour full of industry changes and angst — but there will be a 'Deadwood' movie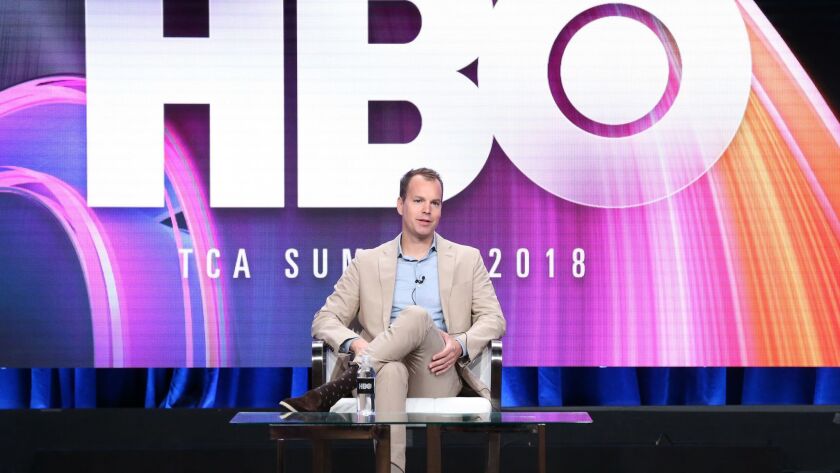 Once again, HBO hopes to pave the way for the art form known as television. Not just in programming, though with "Game of Thrones" ending its epic run early next year, the network must find a new signature show, but also in coping with the demands of a new corporate parent and the realities of a more competitive market.
Just last month, AT&T took ownership of HBO and other TV and movie businesses that previously were part of Time Warner Inc. The new brass, longtime AT&T executive John Stankey, immediately made it clear that he wants HBO to ratchet up its programming pipeline — a challenge that faces many networks but has just lately become real to HBO.
So it was only fitting HBO's entertainment president Casey Bloys kicked off this year's Television Critics Assn. summer press tour in Beverly Hills. And he did so with immediate reassurances that HBO will remain HBO.
"I don't want to change anything about the process. … I don't want to change our culture in any way," Bloys said to an audience of about 150 writers who packed the ballroom at the Beverly Hilton. "I don't want it to feel like a factory."
Echoes of that uncertainty, and wariness, likely will shape the larger narrative of the two-week conference in which all the major television networks, including CBS, NBC, ABC and Fox, and now streaming services Netflix, Hulu and Amazon.com, introduce their new shows and seasons.
As its Golden Age morphed into Peak TV with no real summit in sight, television is undergoing something of an existential crisis. Legacy networks continue to grapple with a loss of audience and talent to new platforms including Netflix, Hulu and Amazon — Facebook Watch debuted at this year's TCA 15 original productions, including "Anderson Cooper: Full Circle," "Big Chicken Shaq," with Shaquille O'Neal and "Queen America," a drama set in Tulsa, Okla., starring Catherine Zeta-Jones.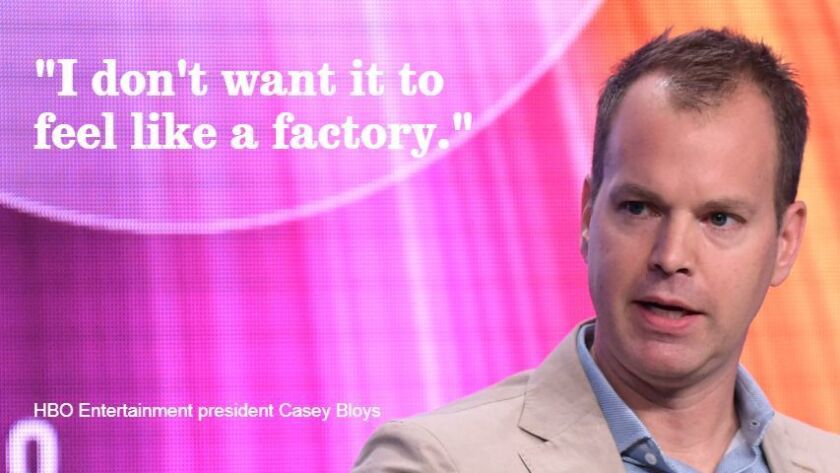 And there is expected to be more churn in executive offices and ownership.
By this time next year, for example, Hulu likely will be part of the Walt Disney Co. instead of owned by a consortium of media companies. Control of the streaming service is part of the spoils that Disney has agreed to buy from Rupert Murdoch's 21st Century Fox. That proposed $71-billion takeover — which Fox and Disney shareholders are expected to approve on Friday — also will bring the prolific Fox television and movie studios and FX cable channels to Disney.
Top Fox television executives, including Peter Rice and Dana Walden, are expected to move over to Burbank to run Disney's television operation, which has been scrambling to attract new producers and writers after the ABC television operation lost its most important producer, Shonda Rhimes, who went to Netflix.
Even television's most stable network — CBS — is facing behind-the-scenes turmoil. This fall, a Delaware judge could help determine the fate of longtime CBS boss Leslie Moonves. Widely considered television's most successful executive, Moonves is locked in a battle with Shari Redstone, the controlling shareholder of CBS and Viacom. Unless the two sides settle, the judge is expected to define how tight of a grip Redstone will have over CBS' board.
Even those TV programmers without current corporate or courtroom angst find themselves on uncertain cultural ground, struggling to navigate the #metoo movement and how best to respond to an insensitive — or racist — tweet or comment behind closed doors. Amazon fired top entertainment executives last year for creating a hostile work environment and "bro culture"; newly installed former NBC and Fox studio executive Jennifer Salke has been tasked with bringing a blockbuster to the platform after Amazon founder Jeff Bezos said last year he wanted Amazon to have its own "Game of Thrones."
Last week, Paramount Pictures fired the head of its television unit, Amy Powell, after she allegedly made a racially insensitive remark (Powell has denied the allegations) and ABC sacked its biggest star, Roseanne Barr, in May after she compared a former Obama administration official to an ape on Twitter. The Disney owned network is trying to pick up the pieces of a reboot of "Roseanne," which was one of the most popular TV shows of the 2017-2018 television season, with a spinoff to be called "The Connors."
On Wednesday, Bloys set a tone of calm and carefully curated reveals. When asked why HBO moved forward with "The Deuce," which stars James Franco, who has denied allegations by several women that he used his status and offers of career help to initiate sexual relationships, Bloys said the network took such allegations seriously, and noted that HBO cut ties with Russell Simmons and political analyst Mark Halperin after each was accused of sexual harassment.
"When the Franco issue came up, we talked internally, we read the L.A. Times article... and talked to [exec producers] and people on the set," Bloys said. "We all felt comfortable moving forward with the second season."
Bloys also cast AT&T's takeover of HBO and other Time Warner businesses as a good thing. For the last two years, while the industry experienced rapid change, HBO did not receive an increase in programming budget even as competitors, particularly Netflix, began to outspend them to attract top talent.
Netflix earlier this month earned the distinction of garnering the most Emmy Award nominations with 112, breaking HBO's 17-year streak. Bloys congratulated Netflix's management on Wednesday but said that HBO's haul — 108 nominations — was still a point of pride.
He also confirmed, after more than a decade of speculation, that a "Deadwood" movie was indeed happening. The critically-acclaimed, cult favorite drama from David Milch ran for three seasons on HBO before its end in 2006. There was promise of a two-hour movie in place of a fourth season, but it failed to get off the ground until now. Production is expected to begin in October, with the hope that it will air next spring.
But he sidestepped questions about what will be HBO's next juggernaut hit.
"We've been doing this for a long time and I think we will be OK," said Bloys, who has been with HBO 14 years. "There is no next 'Sopranos,' no next 'Game of Thrones,' but there is the next great show."
He also downplayed speculation that AT&T's demands for more programming from HBO will mean a reduction in quality. The issue attracted attention after a recording of Stankey's first town hall meeting was leaked, revealing that the new boss had warned the HBO troops to brace for a "tough year."
"There are no plans to dilute the HBO brand in favor of a volume of programming. No one has come to us and asked us to not do what we do — which is curate excellence," Bloys said. "No one is asking us to take pitches of a 'Love Boat' reboot."
Yvonne Villarreal contributed to this report.
---
Inside the business of entertainment
The Wide Shot brings you news, analysis and insights on everything from streaming wars to production — and what it all means for the future.
You may occasionally receive promotional content from the Los Angeles Times.