VidAngel, a start-up that cleaned up movies for streaming, must pay $62.4 million to studios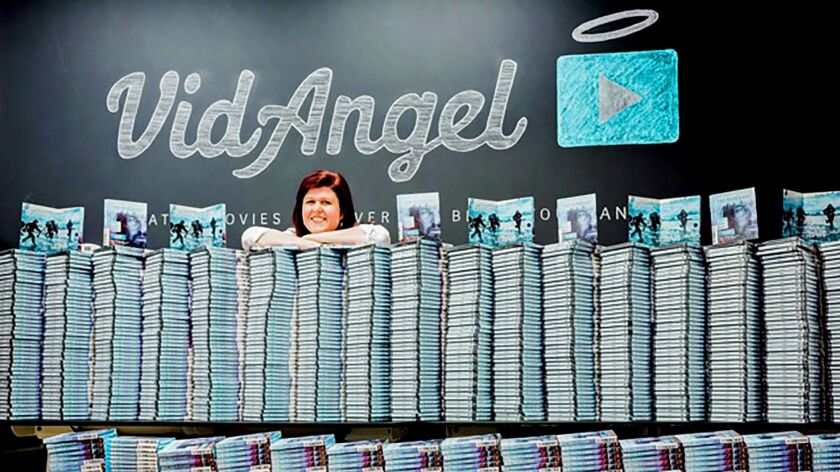 VidAngel, a start-up that filtered profanity and violence from Hollywood movies for online streaming, must pay $62.4 million in damages to studios that accused it of copyright infringement.
A California federal jury on Monday awarded the studios, led by Walt Disney Co. and Warner Bros., $75,000 per infringed work, VidAngel Chief Executive Neal Harmon posted on the company's website.
The verdict marks a major victory for the major entertainment companies, which sued VidAngel in 2016 for illegally ripping DVDs and streaming them without a license. The award marks one of the highest per-work judgments ever in a massive infringement case, according to the studios' lawyers.
"The jury today found that VidAngel acted willfully, and imposed a damages award that sends a clear message to others who would attempt to profit from unlawful infringing conduct at the expense of the creative community," the studios said in a joint statement.
The verdict is a devastating blow to VidAngel, which gained support from many families and religious leaders who say there's too much sex, violence and foul language in feature films.
VidAngel, founded in Provo, Utah, by brothers Neal and Jordan Harmon, relied on a quirky business model to stream movies without studios' permission. Instead of obtaining licenses, it purchased thousands of DVDs and Blu-rays to make them available to stream through its website. It allowed customers to stream filtered versions for $1 each, a huge discount to other options including iTunes and Google Play.
Users could purchase a new movie for $20, and, after they watched it, could sell back the movie for a $19 credit, meaning the consumer actually paid only $1.
VidAngel executives argued the firm was protected from piracy accusations by a 2005 law called the Family Movie Act, which says consumers can tweak movies for personal viewing. The studios countered that VidAngel used its filtering mission as a clever way to circumvent the law.
VidAngel was dealt a major legal setback in December 2016, when a federal judge granted a preliminary injunction against the company and said the studios were likely to prevail on the merits of their case. In 2017, VidAngel sought bankruptcy protection from creditors.
"We disagree with today's ruling and have not lessened our resolve to save filtering for families one iota," Neal Harmon said in a statement. "VidAngel plans to appeal the District Court ruling, and explore options in the bankruptcy court."
---
Inside the business of entertainment
The Wide Shot brings you news, analysis and insights on everything from streaming wars to production — and what it all means for the future.
You may occasionally receive promotional content from the Los Angeles Times.