21st Century Fox will investigate L.A. radio host's sexual harassment claim against Fox News anchor Bill O'Reilly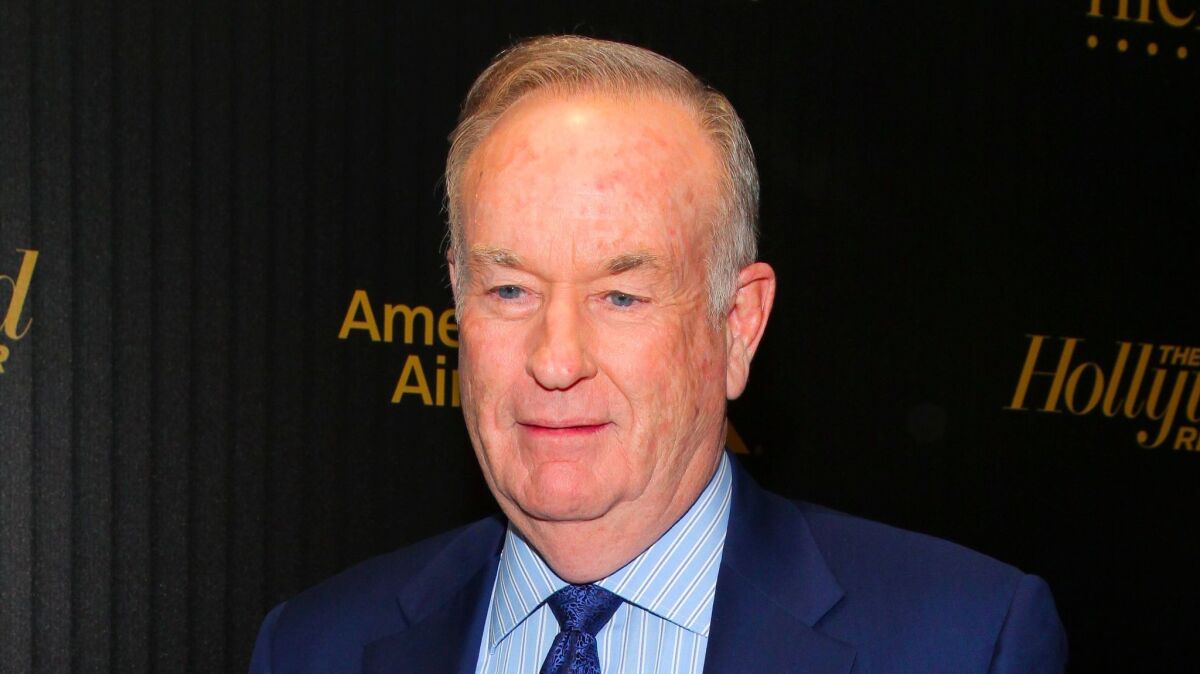 A Los Angeles radio personality formally complained that she was sexually harassed by Fox News host Bill O'Reilly, putting further pressure on the embattled TV star and triggering an investigation by the network's parent company, 21st Century Fox.
Lisa Bloom, the lawyer representing KFI talk radio host Wendy Walsh, said Monday that she and her client spent two hours being interviewed over the phone by attorneys representing 21st Century Fox over Walsh's claim about O'Reilly. Walsh notified the company last week that she was denied an opportunity to become a contributor to Fox News because she rebuffed O'Reilly's sexual advances.
A representative for 21st Century Fox confirmed that the company is having the incident investigated by Paul, Weiss, the law firm that fielded harassment complaints at Fox News last year following the lawsuit filed by former anchor Gretchen Carlson.
Carlson sued former Fox News chief Roger Ailes in July, alleging that he sabotaged her career after she rebuffed his sexual advances and complained about a hostile work environment. The suit led to the ouster of Ailes, who denied the allegations, and Carlson received a $20-million settlement. Fox News has subsequently faced a barrage of claims from women who alleged that they were mistreated by current and former Fox News employees.
Although Walsh has not filed a lawsuit, her claim was part of a recent New York Times report that said O'Reilly and Fox News paid a total of $13 million to settle claims of sexual harassment and other bad behavior toward women at the company. That news has decimated the advertising support for "The O'Reilly Factor" as dozens of sponsors have instructed Fox News to move their commercials out of the program.
O'Reilly acknowledged the settlements made between 2002 and 2014, but denied the merits of all the sexual harassment claims made against him. The payouts occurred, he said, to spare his children from negative publicity that would be caused by any prolonged legal battles. He said his fame makes him a target for lawsuits.
Bloom and Walsh called 21st Century Fox's corporate hotline last week to formally issue the complaint with the company. A video of them making the call Wednesday is posted on YouTube.
Bloom orchestrated the call in response to statements by O'Reilly and Fox News that said no complaints against the anchor were ever made to the company's human resources hotline.
"21st Century Fox investigates all complaints and we have asked the law firm Paul Weiss to continue assisting the company in these serious matters," a representative said in a statement.
Bloom said she is also working on a formal request to the New York State Division of Human Rights to initiate its own independent investigation of Walsh's claim, but reiterated that her client is not looking to sue O'Reilly.
"We do not intend to file a lawsuit," Bloom said. "Dr. Walsh is not seeking any money."
Walsh, a TV news correspondent turned psychologist, occasionally appeared in a regular segment on "The O'Reilly Factor" in 2013. She claims O'Reilly reneged on a commitment to get her a position as a paid contributor at Fox News after she rejected his advances at a dinner meeting at Hotel Bel-Air in which they discussed her future at the cable channel.
"At the beginning of the dinner, he made a point of telling me his best friend was Roger Ailes and they wanted to offer me a job as a contributor on his show," Walsh said in her call to 21st Century Fox. "At the end of the dinner he said, 'Let's get out of here,' and I thought he meant, 'let's go to the bar and continue talking about my career and to get more career advice.' But he started walking in a different direction and when he turned around to find me he said, 'Let's go to my suite.'"
After Walsh declined, she said, they went to the bar, where O'Reilly allegedly became hostile, insulted her and told her to "forget about any career advice I gave you, you're on your own."
Walsh said O'Reilly barely acknowledged her when she returned to appear on "The O'Reilly Factor." Shortly thereafter her appearances ended.
Fox News has said that Walsh was dropped from "The O'Reilly Factor" because the program's ratings declined when she appeared. Cable news executives often use minute-by-minute Nielsen ratings to determine the appeal of segments and guests.
The accusations of Walsh and others against O'Reilly have wiped out most of the advertising on "The O'Reilly Factor," which attracts more viewers nightly than any other program on cable news. Advocacy groups such as the National Organization for Women have called for the dismissal of the combative commentator, who is paid $18 million annually by Fox News.
Fox News has stood by O'Reilly, as it can financially withstand the impact of the advertiser defections by placing the commercials in other programs on the channel. No advertiser has announced plans to remove its entire ad budget from the Fox News Channel in response to the O'Reilly controversy.
But eventually, the fallout over the matter will have a cost.
On Friday, "The O'Reilly Factor" had only seven national commercials. Six of them were "per inquiry" ads, which means payment for them is usually based on how many people call a toll-free number to purchase the product or service being advertised.
To read the article in Spanish, click here
Twitter: @SteveBattaglio
ALSO
Trump backs Fox News host Bill O'Reilly, but advertisers keep fleeing
Fox News faces another sexual harassment claim as Mercedes and Hyundai pull ads from 'O'Reilly Factor'
Scandal, sexism and the role of women at Fox News
---
UPDATES:
6:35 p.m. April 10:This article was updated with additional details on Fox's investigation into Wendy Walsh's claim of sexual harassment.
This article was originally published on April 9 at 10:30 p.m.
---
Inside the business of entertainment
The Wide Shot brings you news, analysis and insights on everything from streaming wars to production — and what it all means for the future.
You may occasionally receive promotional content from the Los Angeles Times.