Must Reads: Movie studio seeks a behind-the-scenes role in L.A. schools to help fix Hollywood's inclusion problem
Sixth-grader Christian Lopez proudly displayed the latest drawing of his comic book character, El Taco, in front of his classmates at Palms Middle School.
The overhead projector lit up the classroom's screen with his image of the muscular crime fighter, who wears a blue lucha libre mask and an outfit with the green, white and red colors of the Mexican flag. El Taco, he said with a smile, uses lettuce and hot sauce to defeat his enemies.
"His power is he can manipulate any taco topping," the 11-year-old told the class. "He's representing my Hispanic heritage — and my love for tacos."
Christian, who wants to be an animator or architect when he grows up, was one of the many Palms students who drew on their personal stories to create the kinds of superheroes rarely seen on the big screen. They drew inspiration from immigrant parents and grandparents, and echoed harsh experiences with divorce, lost loved ones and bullying.
The superhero project is part of a new school initiative crafted by movie and TV studio Warner Bros. to encourage young people from predominantly Latino and African American communities to find and hone their creative voices.
As Hollywood grapples with persistent criticism over its lack of diversity, major studios are experimenting with new ways to recruit underrepresented students. Warner Bros. this year tested two new programs to encourage middle and high school students from 16 schools across L.A. to consider careers in the film business. In partnership with nonprofit group Ghetto Film School and mentorship program Young Storytellers, the classes teach the basics of filmmaking and storytelling, such as how to make compelling characters and use visuals to advance a plot.
"It's almost a business imperative," said Christopher Mack, head of scripted content at Warner Bros.'s Stage 13, a newly formed digital video studio focused on multicultural viewers. "In 10 years, the audience is going to be more diverse than ever, and if we can't create content for that audience, we become irrelevant."
Movements such as #OscarsSoWhite have long chastised studios for not giving more opportunities to people of color. A recent UCLA review of 200 films said that 14% of film leads were nonwhite in 2016. There have been some notable exceptions, such as Disney's "Black Panther," the global blockbuster that grossed $1.3 billion worldwide with a predominantly black cast and an African American director.
In a system that has historically been dominated by white men, there are significant barriers to entry in the entertainment industry, including limited access to prestigious film schools and a "pay-your-dues" culture of internships and entry-level work that can make the business impenetrable for low-income people. And while unionized crew members enjoy generous benefits and wages, it's still difficult to break into such careers without connections.
But one of the biggest problems, executives say, is that kids from diverse backgrounds often don't even consider the entertainment business as a viable career option.
Classes such as the ones devised by Warner Bros. aim to demystify the industry for young people, exposing them to its many facets and not just the glamorous gigs in front of the camera. If a student shows an aptitude for math, for example, that could lead to a career as a line producer. A child who wants to be a lawyer could be guided into the lucrative field of entertainment law.
"This is all about providing exposure to career pathways in Los Angeles," said Los Angeles Unified School District arts director Rory Pullens. "We've got to start exposing them to this potential workplace for them."
At Palms Middle School last month, sixth-grade students were busy drawing superhero characters as part of an exercise to unleash their creative potential.
Zaire Brashear invented a superhero named Salvation, who hails from Chicago, like most of Zaire's family. The character, who can fly and control dark matter, is locked in a bitter conflict with his brother after their mother leaves them, a story line loosely based on Zaire's own childhood.
Another student, Jacob Myrow, based his character Black Samurai on his African American and Japanese lineage. His character's armor, emblazoned with a yin-and-yang symbol, was inspired by his grandfather's samurai collection.
Palms student Melanyah Lewis, 11, created a female superhero named Black Leo inspired by her Jamaican heritage.
Her character, she said, was born in Kingston, Jamaica, and moves to the United States with her twin sister after their uncle, who raised them, dies in a car crash. (Melanyah's own beloved uncle died several years ago.) Black Leo wears the colors of the Jamaican flag and uses her telekinetic powers and shape-shifting abilities in a mission for world peace.
"I thought, if I were to use my culture, it would be a different kind of hero," she said.
Melanyah, who lives in Inglewood, wants to pursue a career as an actor or go into internal medicine. The project, she said, sparked new ideas about where a potential entertainment career could lead.
"If my superhero is known by a lot of people, maybe I could play her in a TV show or movie," Melanyah said.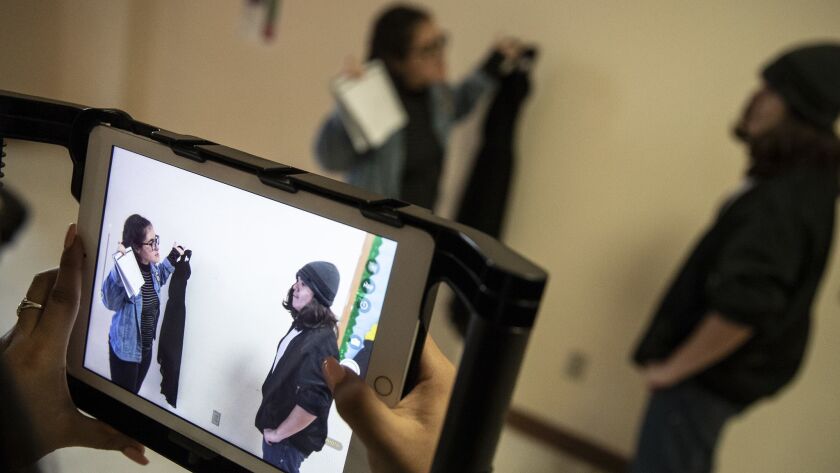 In a recent midday class at East Los Angeles Performing Arts Magnet at Esteban E. Torres High School, students scrambled to complete their filmmaking projects by making last-minute shots and edits on their tablets.
The students had spent weeks learning about the basics of storyboarding, script-writing and camera angles. In groups of five, they created 1-minute films, using 20 still shots. Dialogue was forbidden for the project, so they had to convey their stories and emotions with images and sound effects.
At the end of the session, April Gonzalez's group played its finished work for the class. Titled "The Hungry, Moody, Broody Teens," the film humorously depicted a group of friends coping with lousy school cafeteria food. Their video earned enthusiastic applause and laughter from their classmates.
"We're all really excited about it, because we have experience now," said April, a first-generation Mexican American born in South Los Angeles. "This was the first time I've ever attempted to put together a film with a crew."
Multiple studios have responded to the inclusion problem by ramping up programs for up-and-coming creative people, including writing and directing workshops, meant to foster talent from underrepresented communities. Companies including Warner Bros., Universal, Sony and CBS all have writing or directing workshops for untapped voices, as well as internships.
But much more needs to be done, experts and advocates say. Filmmakers such as "Selma" director Ava DuVernay have criticized studio diversity programs as modest efforts, saying companies need to more actively hire women and nonwhites for staff jobs. DuVernay in February announced a partnership with L.A. Mayor Eric Garcetti and "Lego Movie" producer Dan Lin to fund 150 entertainment internships for women, people of color and members of low-income households.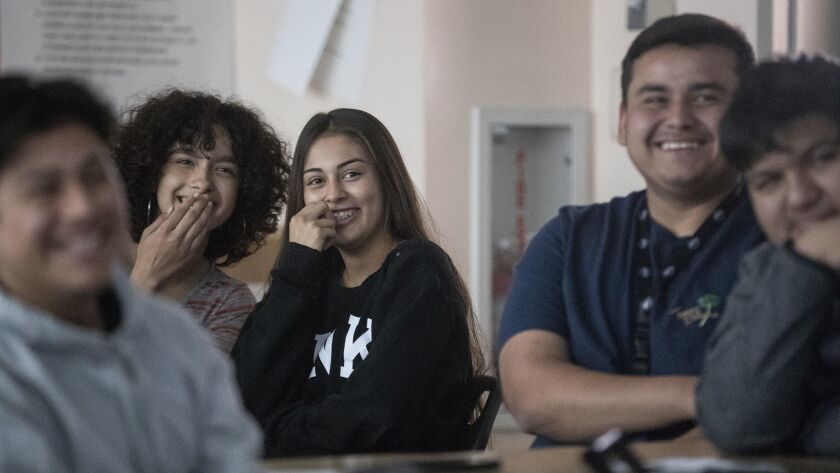 "The only way this works is over the long haul," said Stosh Mintek, executive director of Ghetto Film School Los Angeles, based in MacArthur Park. "It has to be built over time."
Warner Bros. acknowledged that the school programs are a first step. Executives say they want the classes to provide an early spark for young people who might take an interest in the craft. The studio plans to expand the programs next year and eventually reach tens of thousands of students.
"Once the seed is planted in the kids, how do you move them forward?" Stage 13's Mack said. "I think we will figure out a way."
The first goal is to encourage young people such as April and her classmates to continue working toward their desired careers, Mack said.
April attended a red carpet event at Warner Bros. last month after her team's short film was chosen to represent its school. The students dressed up in their best outfits, snapped photos on the red carpet, and got to visit a film set.
At the event, she received encouraging feedback from Lin, the "Lego Movie" producer who also produced Warner Bros. films including "It." After that, she was starstruck and ready to do more. She plans next year to apply for Ghetto Film School's 30-month program, which offers mentoring from filmmakers and studio executives. She said she wants to learn more about film editing and sound design.
"When I got home that night, I was super inspired," she said. "I wanted to try a lot of different things."
---
Inside the business of entertainment
The Wide Shot brings you news, analysis and insights on everything from streaming wars to production — and what it all means for the future.
You may occasionally receive promotional content from the Los Angeles Times.