Miramax bid for Weinstein Co. throws wrench into sale process, sources say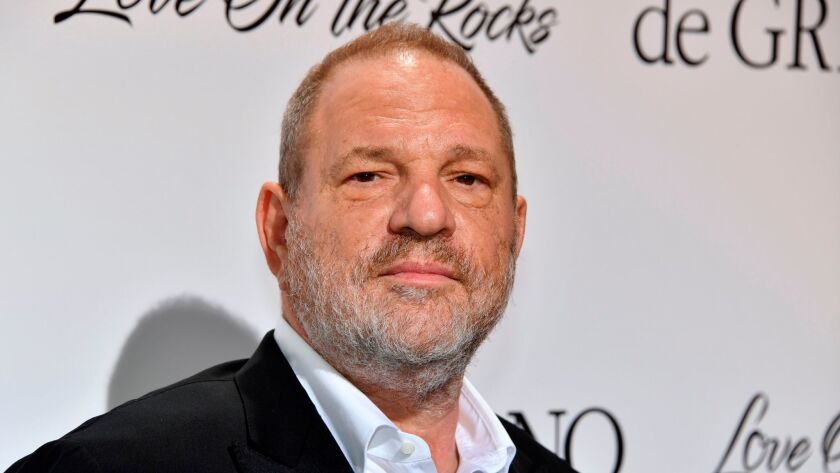 An attempt by Qatar-owned film company Miramax to buy Weinstein Co. has thrown a wrench into plans to sell the struggling studio to a group of investors led by former Obama administration official Maria Contreras-Sweet, according to people familiar with the matter who were not authorized to comment.
Weinstein Co. has been in negotiations to sell its assets to Contreras-Sweet, who is lining up investors said to include Ron Burkle's Yucaipa Cos. and Lantern Asset Management to back the deal. Such an agreement would set up a fund to compensate women who say they were sexually abused by Harvey Weinstein, oust his brother Bob Weinstein and pay the brothers nothing, according to people familiar with the terms.
But Harvey and Bob Weinstein — who co-founded Weinstein Co. in 2005 and own about 46% of the business — have been trying to steer the company toward a deal with Miramax, two people familiar with the negotiations said Tuesday. They built Miramax into an indie powerhouse before the studio became a shell of its former self.
The brothers founded Miramax in 1979, naming it after their parents Miriam and Max. They sold the studio to Walt Disney Co. in 1993 and left in 2005 to form Weinstein Co., ending a contentious relationship with the parent company. Miramax, now known mostly for its substantial film library, is owned by Qatar-based broadcaster BeIN Media Group.
A BeIN Media spokeswoman confirmed the bid on Wednesday. In a statement, she said neither of the Weinstein brothers would be involved in the company's management if a deal is reached.
"Should BeIN be successful in bidding for the Weinstein company there isn't a scenario that Bob and/or Harvey Weinstein would return to the management of the company," the spokeswoman said in a statement. "No one from Miramax or BeIn has had any conversations with the Weinstein brothers during this bidding process."
Representatives for Weinstein Co. and Harvey Weinstein did not have an immediate comment. Terms of the Miramax bid were not disclosed.
A source familiar with Contreras-Sweet's bid said the Weinsteins' pursuit of a sale to Miramax has caused talks with her coalition to stall. The Miramax bid further complicates a process that has dragged on since Weinstein Co.'s board put the company up for sale in October, shortly after allegations against Harvey Weinstein first surfaced. Weinstein was fired by the board Oct. 8.
"There have been no [meetings] for over a week and there are no meeting[s] planned at this time," the person familiar with Contreras-Sweet's bid said in an emailed statement.
Sources said last week said that Weinstein Co. was close to a deal with Contreras-Sweet, who was head of the Small Business Administration from 2014 to 2017 under President Obama. Now it appears that a deal may still be weeks, not days, away.
Others close to the negotiations downplayed the effect of the Miramax bid. Two people close to Weinstein Co. said the talks with Contreras-Sweet remain on track.
Contreras-Sweet's offer would be valued at less than $500 million, including the assumption of hundreds of millions of Weinstein Co. debt, according to one person familiar with the matter. The proposal, laid out in a 96-page asset purchase agreement, would give Contreras-Sweet's consortium control of Weinstein Co.'s assets and install a majority female board of directors.
The Contreras-Sweet deal was first pitched in November as a way to keep the company whole and retain employees while moving forward under a different name and compensating alleged victims. The proposal won the early support of lawyer Gloria Allred, who is representing many of Weinstein's accusers.
Contreras-Sweet has an influential backer in Burkle, who has previously been connected with the Weinsteins. In 2010, Burkle teamed with Harvey and Bob Weinstein in a failed attempt to buy Miramax, the brothers' previous company, from Walt Disney Co. He has invested in movies with the Weinsteins, including "Our Idiot Brother" and "The Iron Lady."
Dozens of women have accused Weinstein of sexual harassment and assault. Weinstein has denied all allegations of nonconsensual sex.
Bids for New York-based Weinstein Co. came due in December and attracted interest from a handful of players, including New York-based production company Killer Content and Santa Monica-based studio Lionsgate. Most bids would require the company to go through Chapter 11 bankruptcy to protect the buyers from the mounting legal liabilities.
In a strongly worded statement issued Monday, Killer Content blasted the sale process for a lack of transparency, saying the only way to protect victims is likely through a Chapter 11 bankruptcy process.
"Our first commitment is to survivor justice, and as such, we believe that the sale should not be an optical rebranding of management or name," Killer Content said. "Only a true dismantling of pernicious practices can advance the healing process for our industry and beyond."
---
UPDATES:
Jan. 17, 5 p.m.: This article was updated with a statement from a Miramax spokeswoman.
Jan. 16, 4:20 p.m.: This article was updated with additional details.
This article was originally published at 12:10 p.m.
---
Inside the business of entertainment
The Wide Shot brings you news, analysis and insights on everything from streaming wars to production — and what it all means for the future.
You may occasionally receive promotional content from the Los Angeles Times.