They avoided a strike, but negotiations between writers and studios were a true Hollywood thriller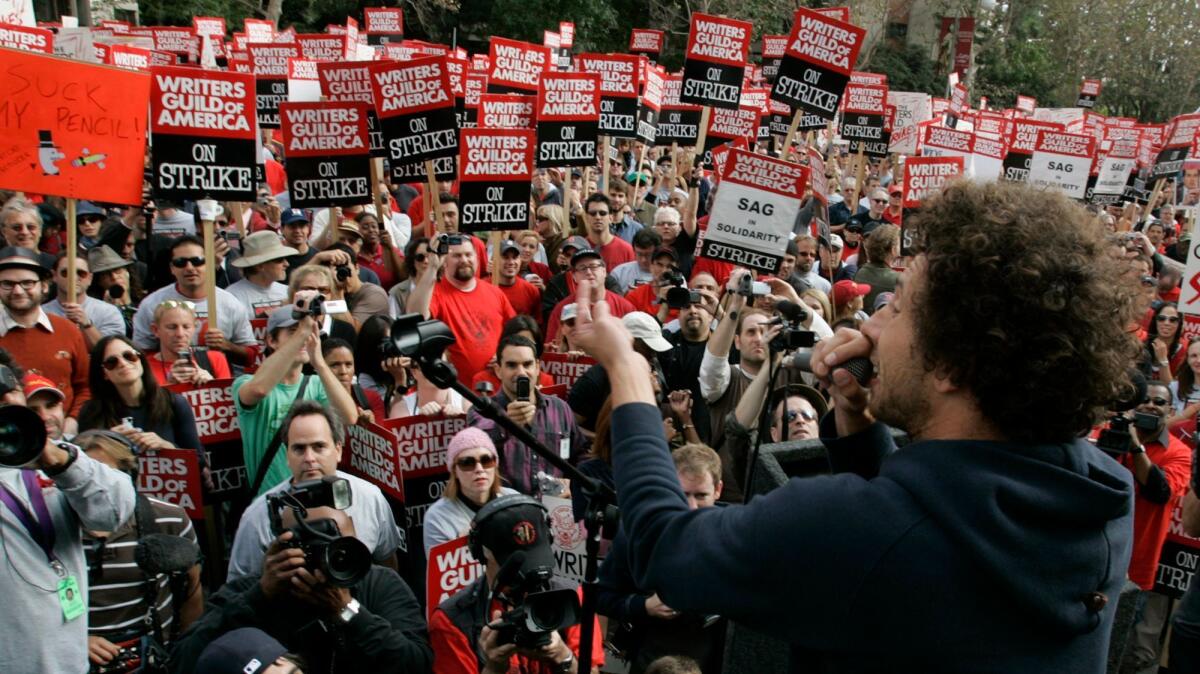 It was a pulse-pounding climax that a Hollywood screenwriter might have conceived.
Early Tuesday morning, the Writers Guild of America reached a tentative agreement for a new film and TV contract with the major studios, narrowly averting a potentially devastating strike. The finale even came with a third-act plot twist — an intervention from studio executives, who normally take a less hands-on approach to union talks.
Major studio heads including CBS' Les Moonves and Warner Bros.' Kevin Tsujihara took part in a conference call Sunday, just one day before the strike deadline. The call is believed to have played a crucial role in paving the way for certain studio concessions that eventually led to a breakthrough in the sometimes contentious negotiations.
The compromises reflect a growing acknowledgment among top media executives that the TV industry has changed dramatically with the rise of streaming services and other forms of digital disruption — and that those changes haven't always benefited writers.
"We were very sympathetic to them on all of their issues," said one high-level executive who was not authorized to comment on the negotiations. "It wasn't the studios who did this to the writers, it was just that the world had changed."
As the demand for content has grown in the "golden age" of quality television, writers have seen their stature in the industry rise, though not their compensation. Writers complained that their incomes had been eroded by the move toward shorter TV seasons on shows like Amazon's "Bosch" and Netflix's "Orange Is the New Black." Many TV scribes are paid per episode and are constrained by their contracts from working on more than one series per season.
"Studios knew there had to be some give because they're making a ton of money and it's really a great period for TV," said John Eisendrath, writer and executive producer for "The Blacklist." "There's this weird disconnect between how well the business is doing and how well writers are doing."
The agreement Tuesday addressed some of those concerns. The guild said it negotiated about $15 million in increases for residuals for shows on streaming services and secured more pay for writers who spend more than about two-and-a-half weeks working on a TV episode.
The new deal also includes compromises on other key sticking points, notably the guild's employer-funded healthcare plan, which has been facing mounting deficits. The guild said in a memo to members Tuesday that the deal includes increases in contributions that "should ensure [the plan's] solvency for years to come" for the union's nearly 13,000 members. Other contract gains included improvements in minimum pay as well as a 15% increase in pay-TV residuals and job protection for parental leave.
"It came right down to the wire," said one person close to the talks who was not authorized to comment. "We didn't get everything we wanted and they didn't get everything they wanted, which is usually the result of a successful negotiation. We made real and substantial gains for writers in a number of areas."
The major media companies had a powerful motive to reach a deal. A strike probably would have encouraged more viewers to abandon traditional TV for streaming options like Netflix and Amazon. Networks would be forced to program more reality TV programs to fill their schedules.
"I think there was a concern of where we would be pushing broadcast viewers to if there wasn't fresh content for a long period of time," said Stacey Lynn Schulman, executive vice president at the TV station consulting firm Katz Media Group.
TV network executives also worried that labor troubles could dampen enthusiasm for traditional TV during the upfront ad sales market this month, when the networks take orders for the bulk of their advertising time for the coming season.
A walkout would have heavily disrupted TV and movie production nationwide and buffeted Los Angeles' entertainment industry, which employs about 240,000 people.
News of a deal brought widespread relief among many producers and vendors who had been making contingency plans.
"It was great to wake up and find out there was an agreement," said John Davis, the television and film producer who is working with Sony Pictures on shows including NBC's "The Blacklist" and "Timeless," and ABC's "Dr. Ken."
He said all of his shows would have been disrupted if the writers had gone on strike.
"I am not spending the day figuring out how long I can stay open — now we are moving forward," said Corri Levelle, owner of Sandy Rose Floral Inc., whose prop house provides flowers to productions. "We are already seeing orders coming in for next week."
The cliffhanger announcement came after several weeks of negotiations with the Alliance of Motion Picture and Television Producers, the bargaining organization that represents major Hollywood studios, networks and independent producers.
Little was accomplished during the first month of negotiations, which began in mid-March. The guild's "strategy was not to engage on the money issues until the very end," said one of the executives who asked not to be quoted by name.
Moonves and Tsujihara took leadership roles early on in the talks, meeting April 9 with writers at the alliance's headquarters in Sherman Oaks. The purpose of that meeting was to do a reset because things were getting testy.
The goal, largely achieved, was to avoid what happened in the days leading up to the last WGA strike in 2007, when the two sides engaged in verbal warfare, making it difficult for them to work out a deal. That impasse led to a 100-day strike that paralyzed large swaths of Hollywood.
There were tense moments, however. The sides broke off talks twice in the weeks leading up to Monday's deadline. At one point, each side accused the other of walking away from the table first. Guild members overwhelmingly voted to approve a strike authorization in late April.
The strategy appeared to work: The companies recognized that guild leaders had the strong support of their members and would not hesitate go on strike if they didn't get the deal they wanted, according to several people inside the companies who were not authorized to speak about it publicly.
"Sometimes the threat of a strike can focus both sides on solutions," said Bill Mechanic, producer of "Hacksaw Ridge" and former head of Fox Filmed Entertainment.
On Sunday, the heads of the major studios took the unusual step of holding a conference call among themselves to discuss the lack of progress just one day before the strike deadline. The purpose of the call, which was strained at times, was to see how far the companies would go to compromise with the writers.
"The key for both sides was to stand united," one executive said. "None of us wanted a strike but we couldn't capitulate on all of their issues."
They made some major concessions, including increasing contributions to the guild's health fund and offering higher streaming residuals.
Still, as late as Monday afternoon, prospects for a truce looked grim. Several white vans were standing ready at the WGA's offices in L.A. to take picket-line volunteers and strike captains to the studios and other points. New strike signs were stacked in a meeting room, waiting to be stapled to wooden staffs, while strike T-shirts in boxes marked "women" and "men" were stacked tall in another room.
"Some unions like to play brinkmanship and take the negotiations to the very last minute," said labor attorney Scott J. Witlin, a partner at Barnes & Thornburg in Century City.
More than an hour and a half past the midnight deadline, the two sides announced an agreement early Tuesday. The studios agreed to contribute $80 million more to the health plan, a significant increase from a previous $60-million offer.
But the union didn't get everything it wanted, including a demand for compensation parity across all entertainment platforms.
A new agreement with the WGA could cost the biggest entertainment companies $100 million to $125 million in total for each year of a new three-year contract, according to a Moody's report.
As Hollywood recovers from the stress of the WGA negotiations, another labor dispute could be on the horizon in a matter of weeks. SAG-AFTRA, which represents actors and other performers, is expected to begin its own contract talks with the studios this month.
Times staff writers Stephen Battaglio, Jeffrey Fleishman and Daniel Miller contributed to this report.
ALSO
Fox News Co-President Bill Shine resigns amid criticism of his handling of sexual harassment claims
Ryan Seacrest is Kelly Ripa's new co-host on 'Live'
NBCUniversal earnings soar, boosted by hit movies and Universal Studios crowds
---
UPDATES:
6:30 p.m.: This article was updated with additional reaction to the deal.
2:35 a.m.: This article was updated with additional details on the contract.
This article was originally published at 1:20 a.m.
Inside the business of entertainment
The Wide Shot brings you news, analysis and insights on everything from streaming wars to production — and what it all means for the future.
You may occasionally receive promotional content from the Los Angeles Times.