7 Images
Behind the Scenes of 'Pushing Daisies'
The much-talked-about new ABC drama "Pushing Daisies" focuses on a pie-maker played by Lee Pace, lower left, who is able to resurrect the dead. Also in the cast are, continuing clockwise, Swoosie Kurtz, Ellen Greene, Kristin Chenoweth, Chi McBride and Anna Friel.
(Justin Stephens / ABC)
On set, show creator Bryan Fuller, left, consults with cast members Chi McBride and Anna Friel. "The goal with the show," Fuller says, "was to do something that I wanted to watch — something that was fun and sweet and romantic. And also a little ghoulish."
(Annie Wells / LAT)
Directing the second episode, Paul Edwards, left, coaches Anna Friel, who portrays the pie-maker's back-from-the-dead childhood sweetheart, and Chi McBride, playing a private eye who makes use of the baker's unusual talent.
(Annie Wells / LAT)
Anna Friel gets an assist to her feet after the filming of a close-up that involves pulling fellow actor Chi McBride out of a morgue window.
(Annie Wells / LAT)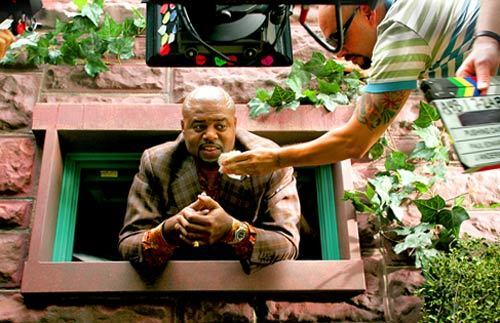 Actor Chi McBride gets a makeup touch-up from David De Leon before a morgue window close-up.
(Annie Wells / LAT)
Stagehands grab Chi McBride's hands as the actor prepares for a close-up in which he struggles out of a morgue window.
(Annie Wells / LAT)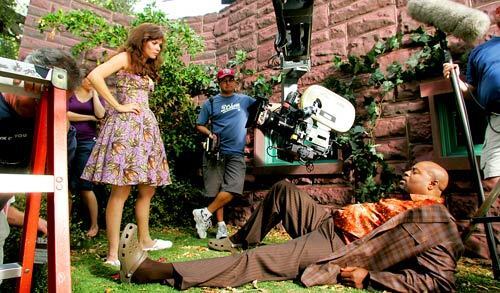 Between takes, actors Anna Friel and Chi McBride discuss how best to approach the morgue window sequence. "Pushing Daisies" arrives Oct. 3 on ABC.
(Annie Wells / LAT)