Comcast timeline: Rise of a giant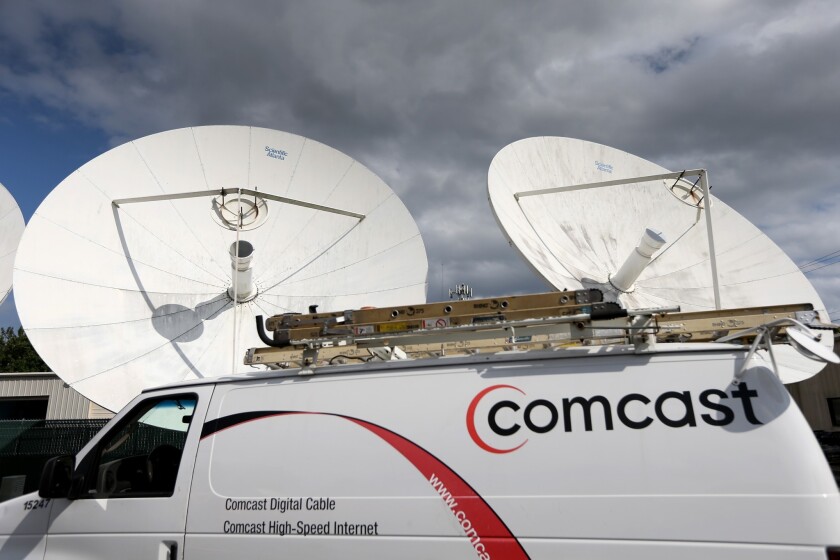 Comcast Corp.'s proposed takeover of Time Warner Cable would give the Philadelphia company nearly 30 million cable TV and high-speed Internet subscribers. The merger would consolidate Comcast's information pipeline serving the East and West coasts. Here are major milestones for the company:
1963: Comcast springs to life when Ralph Roberts buys American Cable Systems, a cable television provider with 1,200 customers in Tupelo, Miss.
1968: The company buys its first franchise of Muzak — the background music company — and begins adding franchises throughout the country.
1972: Comcast becomes a publicly traded company. Within a few years, its annual earnings top $3 million.
1981: Brian Roberts, who had previously worked as an intern at Comcast, joins the company full time after graduating from the Wharton School at the University of Pennsylvania.
1994: Comcast becomes the third-largest cable operator in the U.S. with the purchase of Maclean Hunter's U.S. cable operations. The company grows to 3.3 million customers.
1996: Comcast launches high-speed Internet service trials in Baltimore and Sarasota, Fla. The company also forms Comcast-Spectacor, owner of the NHL's Philadelphia Flyers. Comcast launches a regional sports channel in Philadelphia.
1997: Microsoft Corp. invests $1 billion in Comcast. Separately, Comcast launches digital TV service.
1998: Comcast continues buying smaller cable operators, including Jones Intercable.
2002: Comcast acquires AT&T Broadband in a deal valued at $47.5 billion. Comcast becomes the nation's largest cable operator with 22 million customers. Comcast separately launches a high-speed Internet service. Brian Roberts becomes chief executive.
2003: Comcast sells its 57% stake in home shopping network QVC for $7.7 billion (its initial investment was $380 million). Company introduces digital video recorders to subscribers.
2004: Comcast mounts an unsuccessful $54-billion hostile takeover of Walt Disney Co. Comcast launches a regional sports channel in Northern California.
2005: Comcast introduces "triple play" that includes TV channels, Internet and phone service. Comcast and Time Warner Inc. agree to jointly buy some Adelphia Communications systems; Time Warner takes over the Los Angeles market.
2009: Comcast becomes the nation's largest Internet service provider.
2011: Comcast acquires 51% of General Electric Co.'s NBCUniversal after a nearly yearlong process to win regulatory approval.
2013: Comcast buys the remaining 49% of NBCUniversal for $16.7 billion.
2014: Comcast announces a $45-billion takeover of Time Warner Cable. The merger would give Comcast 33 million subscribers nationwide, including 1.5 million homes in Los Angeles. The company said it would spinoff or divest about 4 million subscribers to Charter Communications and a new company tentatively called SpinCo. As part of that pact, Comcast also plans to pick up nearly 300,000 Charter homes in Los Angeles, making it the region's largest provider.
Source: Comcast Corp.
---
Must-read stories from the L.A. Times
Get the day's top news with our Today's Headlines newsletter, sent every weekday morning.
You may occasionally receive promotional content from the Los Angeles Times.