Selling Stardom: Aspiring actors are reeled in by talent listing firms
Rita Reimers, 54, runs a cat-sitting service in Charlotte, N.C. But what she really wants to do is act. Breaking into show business seemed nearly impossible, until she saw an online pitch for Explore Talent.
The company's website promises access to casting calls and audition opportunities, billing itself as the "world's largest talent resource." Reimers said she signed up for the service about a decade ago, but canceled her membership when the acting gigs didn't materialize.
Then last year, she said she got a call from an Explore representative, who said he could land her an audition for a Tom Cruise film — if she renewed her membership.
She paid $120 to get the company's services for six months, knowing that in Hollywood, nothing happens without a talent agent. And that's what she thought she was getting.
"Who else would have parts in movies for people?" Reimers said. "They would call and say, 'Oh, you're right for this.' That sounds like a talent agency."
In fact, Reimers had contacted a talent listing service. These firms operate in a cut-rate corner of Hollywood — one in which outsized aspirations and naiveté collide with companies touting a chance at a career in front of the camera.
Listing services provide databases of audition and employment opportunities. They also offer to promote their clients on a Web page with a photograph, resume, reel and portfolio.
There's one problem: Hardly anyone who is anyone in Hollywood takes these services seriously. Most working actors and their agents find out about auditions and casting calls through their own contacts or long-established casting services.
"They have convinced hundreds of thousands of wannabe actors that they are some kind of industry standard," said Billy DaMota, a longtime casting director who said he's never consulted a listing service in his 30 years in the business. "Not one reputable casting director I know uses those places to find talent."
Explore's owner, Ami Shafrir, said his Las Vegas-based company's research department works with casting directors to get information about job opportunities. He gave The Times the names of two professionals, but neither returned repeated phone calls and/or emails seeking comment.
Reimers, the aspiring actress, filed a complaint with the Better Business Bureau over the company's "sales pitch." In response, Explore disputed Reimers' account but apologized for "any confusion" over her membership and said it refunded her $120.
Shafrir pointed out that Explore's website includes a disclaimer that it is not a talent agency. He said disgruntled clients misrepresent their experiences with his firm.
"Once they spend the money and it's not what they wanted, for whatever reason, every story is made up to justify why their credit card was given to us," he said, speaking by phone from the Philippines, where he runs the business some of the time.
D'Jay Campbell, 59, of Grand Prairie, Texas, considers herself a satisfied customer. She has been cast in four independent films and a theatrical production through Explore. That work was unpaid, she said, but a commercial for a car insurance company she filmed in Dallas paid $50.
"If you don't pursue the opportunities that are put before you, then you are always ready to blame the other guy," she said.
Explore acknowledges on its website that it has been the subject of a "barrage of complaints and negative criticisms spread over the Internet."
"Let's clear the air: We made our site to fight talent exploitation and help give each talent a genuine opportunity to become a star," the site says.
Margo Simmons of Altamonte Springs, Fla., signed up with Explore in 2013 but said she was unable to secure any acting jobs and was left dissatisfied with the service.
"It was sloppy work," said Simmons, who severed her relationship with Explore in 2014 and was refunded the $120 she spent on the service. She is no longer pursuing a Hollywood career. "I put up so many photos, but I never got called for anything."
Talent listing firms often require an initial payment of as much as $600 and monthly fees in the range of $20 to $40. There are 10 such companies doing business out of Los Angeles County, according to the local branch of the Better Business Bureau, and several others that are based elsewhere and reach customers in L.A. via the Internet.
They are regulated in part by the Krekorian Talent Scam Prevention Act, which went into effect in 2010 and makes it illegal for listing services to charge clients for auditions and requires that they make clear — in written contracts that include boldface type — that they are not talent agencies, among other provisions.
Prosecutors have filed only two cases targeting this sort of company for violating the Krekorian Act. Those cases, both filed in 2011, are two of just six Krekorian Act cases that have been prosecuted statewide — each by the Los Angeles city attorney's office.
One of the cases was brought against Ricardo Macias, the owner of Los Angeles-based listing service ActorsOnSet.com. Macias was charged by the city attorney's office with 18 misdemeanor counts, including grand theft, false advertising and failing to file the required bond.
He pleaded guilty to two counts in 2011 and was sentenced to three years of probation and 45 days of community labor. He was also ordered to close his business and pay more than $4,000 in restitution. Macias could not be reached for comment.
Attorney Jeffrey Wilens of Yorba Linda has filed suits against talent listing services Explore and One Source Talent. The lawsuits allege that both have violated the Krekorian Act by using illegal contracts, among other claims. Both firms have denied the allegations.
Wilens is seeking class-action status for the cases, which could go to trial next year. In an interview, he said the companies capitalize on "wishful thinking."
"The odds are greatly against you if you think you're going to succeed based on paying them $500," he said.
Wilens' lawsuit against Explore alleges that the company's contracts did not follow Krekorian Act guidelines that specify how listing services must indicate they are not talent agencies. The case, filed against Explore parent company Primesites Inc. and others, also claims that the company was not bonded and did not maintain the required documentation showing it had permission to publicize specific audition opportunities.
The plaintiffs, Albert Winkler and Angela Hall, are seeking unspecified monetary damages and restitution for any members of the prospective class.
Shafrir declined to comment about the case, which was filed in 2013 in Alameda County Superior Court, except to say that Explore should not be subject to the Krekorian Act because his company is not based in California.
Wilens' lawsuit against One Source alleges that the listing service used a contract that did not have a Krekorian Act-complaint cancellation policy and did not follow rules stipulating how a listing service must make clear in a contract that it is not a talent agency.
Aspiring actress and model Briana Keen is the plaintiff in the case, which was filed in 2014 in U.S. District Court in Los Angeles. Last year, she signed a contract with One Source, but according to her complaint, she soon had second thoughts and tried to cancel her membership with the company. She claimed to have paid an initial $495 fee and agreed to make $40 monthly payments.
One Source refused to refund her money, she claimed in the lawsuit. Keen said that going without that money has led to hardships.
"Their lack of concern and action toward assisting and resolving this serious issue has made my experience with their business very unforgettable and quite unforgivable," she said.
In legal filings, Troy, Mich.-based One Source has denied the allegations. Owner Anthony Toma declined to comment on the case, citing advice from his legal counsel. According to court filings, the parties have been in settlement talks.
Until recently, One Source's West L.A. branch was housed in a ground-floor suite of a building with professional offices and the Consulate General of Finland.
This fall, that office was closed but later reopened as Nine9 The UnAgency. Kendria Moore, office director of Nine9's L.A. branch, said One Source had changed its name to Nine9. "We've rebranded," she said.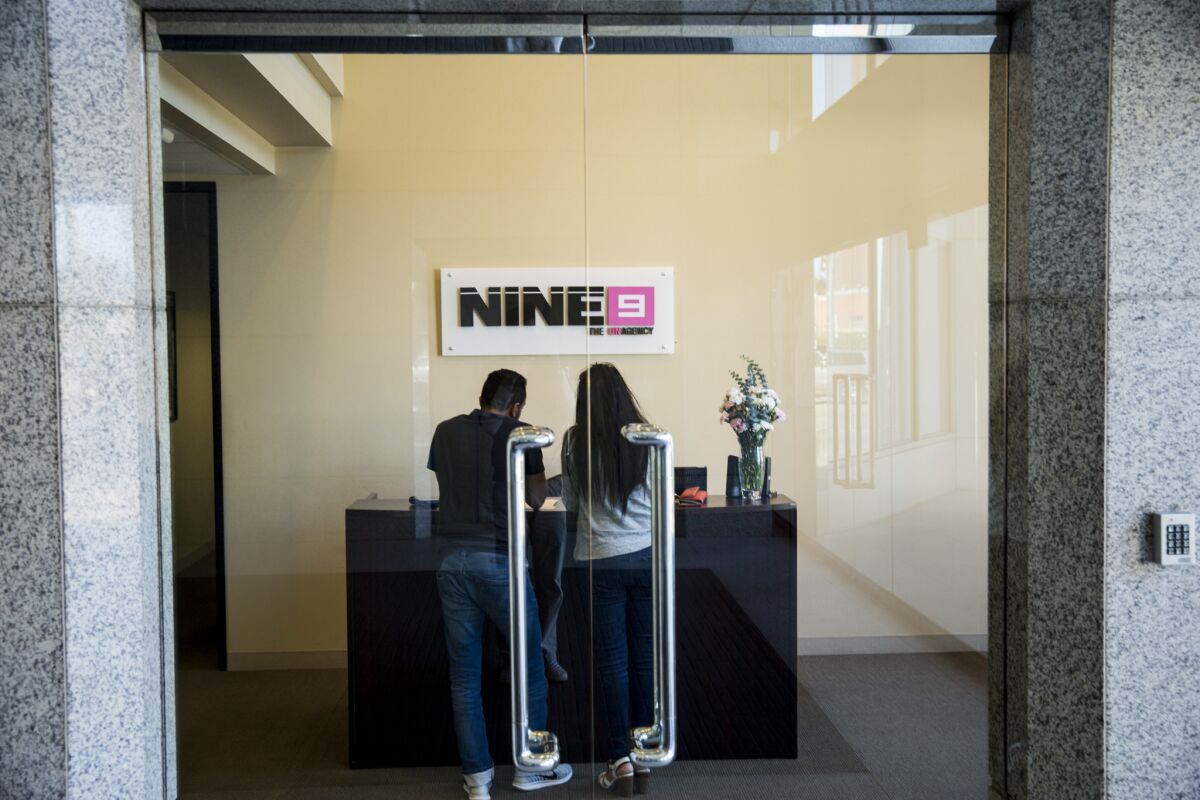 Aspiring actress Krupskaia Gutierrez, 32, of Glendale said she went to the One Source offices in February with her 23-year-old sister, Yareli Gutierrez, after scouring the Internet for talent agencies and coming across the company's website.
The Gutierrezes were called into an office where they read monologues in front of a woman who worked for One Source, Krupskaia Gutierrez said. After their performances, the woman offered them contracts and asked for $200 from each. Gutierrez said they didn't have the money, angering the One Source staffer.
"We need the money," Gutierrez recalls the woman saying. She then left the room and returned with a male employee, Gutierrez said.
"I found that intimidating," she said. "They looked like they wanted that money."
Gutierrez said they were then escorted out of the building.
Toma and his attorneys did not respond to requests for comment.
Debra Guzman said her teenage son Anthony asked her to allow him to attend a One Source talent screening last year, and she obliged.
The initial consultation went well, she said. But when they arrived at the firm's office for a second visit, Guzman said a company representative insisted on a $595 setup fee, $1,100 for head shots taken by a photographer she understood to be affiliated with One Source, and a monthly $40 fee. The Pico Rivera resident was tempted to walk away but was told a decision had to be made immediately or Anthony risked losing the opportunity.
"My son was holding back his tears because he is thinking: Mom, you are going to keep me from my ultimate dream over $600," Guzman said. "So I said, 'OK, I believe in you … I am going to pay this.'"
Guzman paid the setup and monthly fees but said she regretted the decision and eventually got a refund after appealing to the Better Business Bureau.
"They promise these visions of stardom, so you have to be very careful," said Steve McFarland, chief executive of the Better Business Bureau of Los Angeles and Silicon Valley, adding that aspiring actors should avoid making uninformed decisions about their careers. "These folks decide on their cellphone or iPad that they want to work with them. They should really do their research."
A Hollywood firm called Breakdown Services has provided a role similar to talent listing services since 1971. The company, which is endorsed by the Casting Society of America, maintains a database of more than 800,000 performers that agents, casting directors and others use for hiring actors.
The company gets its name from the fact that it provides synopses, or "breakdowns," of films and TV shows being cast. Owner Gary Marsh has sued several talent listing services for copyright infringement or other claims stemming from the unauthorized use of the company's breakdowns.
"These people, because of the money they can make, are very devious and very tenacious," he said.
Breakdown sued Explore, Shafrir and others in 2011 for copyright infringement, alleging that the company copied at least one of Breakdown's proprietary script analyses without permission.
The case, filed in U.S. District Court in Los Angeles, was settled out of court. Shafrir said Explore did not admit wrongdoing.
Twitter:@DanielNMiller
One in a series of articles about selling stardom in Hollywood.
---
Sign up for the California Politics newsletter to get exclusive analysis from our reporters.
You may occasionally receive promotional content from the Los Angeles Times.