Senate committee narrowly approves Acosta's nomination to be Labor secretary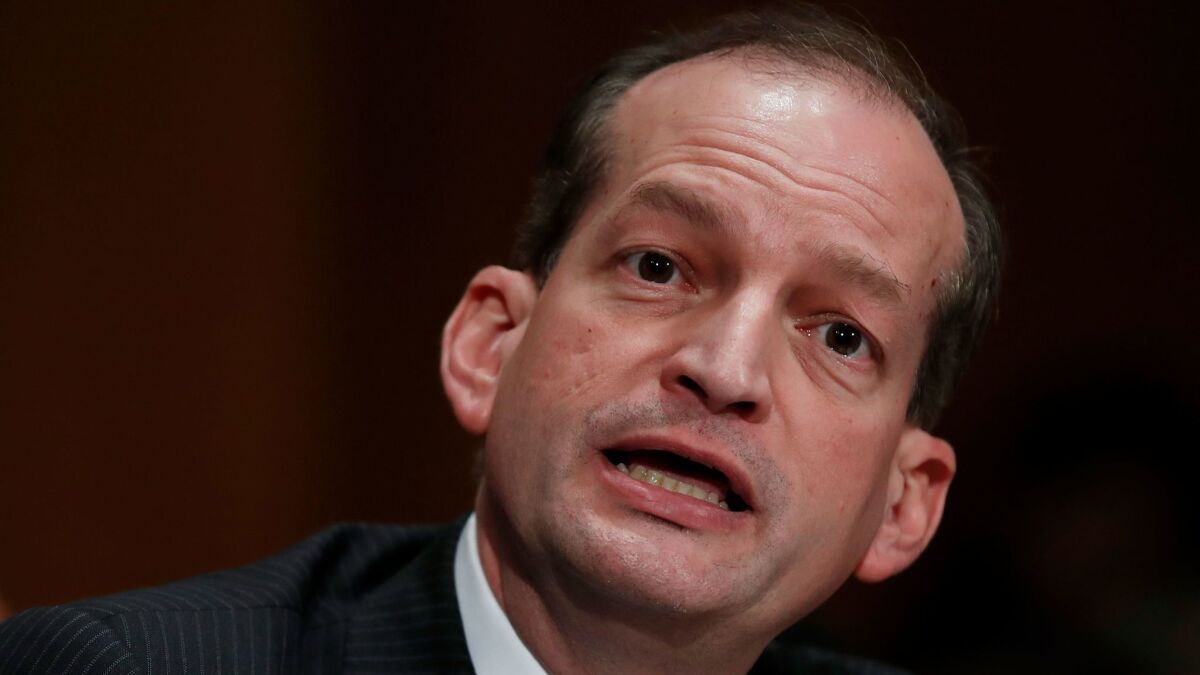 A Senate committee on Thursday narrowly approved R. Alexander Acosta to be Labor secretary, moving to fill one of President Trump's few remaining vacant Cabinet posts.
The nomination of Acosta, a law school dean and former Justice Department official, was approved by a 12-11 vote by the Senate Health, Education, Labor and Pensions Committee. All of the panel's Republicans supported the nomination; all of the Democrats were opposed.
If confirmed in a full Senate vote, which is expected soon, Acosta will be the only Latino in Trump's Cabinet. A date for the final vote hasn't been set.
The Labor secretary is one of two Cabinet department head positions yet to be filled. The other is Agriculture secretary, whose nominee, Sen. Sonny Perdue (R-Ga.), was confirmed Thursday by the Senate Agriculture committee.
In addition, Robert Lighthizer has yet to be confirmed for the Cabinet-level position of U.S. Trade Representative.
Acosta was Trump's second choice for Labor secretary. Trump tapped Acosta on Feb. 16 after the withdrawal of the initial nominee, Southern California fast-food executive Andy Puzder.
Puzder, the chief executive of Carl's Jr. and Hardee's parent company, CKE Restaurants Inc., withdrew a day before his Senate confirmation hearing after a series of controversies led to waning support from GOP senators.
Acosta was a more traditional choice than the outspoken Puzder, who this month stepped down from CKE in a move he said he had been planning for about a year.
But Democrats still had problems with the nomination.
"I'm glad this is not Andrew Puzder," Sen. Patty Murray (D-Wash.) told her committee colleagues before the vote. But she said she did not support his nomination because he had not shown a willingness to stand up to the Trump administration on workers' rights issues.
At his March 22 confirmation hearing, Acosta frustrated Democrats on the committee by dodging questions about how he would handle some key workplace rules.
Acosta would not commit to positions on Obama administration initiatives to expand overtime pay, place new requirements on retirement advisors and protect workers from exposure to potentially deadly silica dust.
The son of Cuban immigrants, Acosta has been dean of the law school at Florida International University in Miami since 2009.
Sen. Lamar Alexander (R-Tenn.), the committee chairman, said Acosta has had "an impressive career."
"We are fortunate to have a presidential nominee for Labor secretary who understands how a good-paying job is critical to helping workers realize the American dream for themselves and for their families," Alexander said. "He's been confirmed by the Senate three times — and I expect that we'll confirm him a fourth."
Acosta was a member of the National Labor Relations Board from 2002 to 2003. He then served as assistant attorney general for the Justice Department's Civil Rights Division under former President George W. Bush from 2003 to 2005.
Acosta was the first Latino to serve as an assistant attorney general. He left that job to become U.S. attorney for the Southern District of Florida, a position he held until 2009. All three jobs required Senate confirmation.
Twitter: @JimPuzzanghera
---
UPDATES:
9:05 a.m.: This article was updated with comment from Sen. Lamar Alexander, as well as noting that Sonny Perdue's nomination to be Agriculture secretary was approved by a Senate committee Thursday. It also clarifies that some Cabinet positions that are not the heads of executive departments are still vacant.
This article originally was published at 8:50 a.m.
---
Sign up for the California Politics newsletter to get exclusive analysis from our reporters.
You may occasionally receive promotional content from the Los Angeles Times.