As bombers and supersonic transports near the runway, aerospace hiring heats up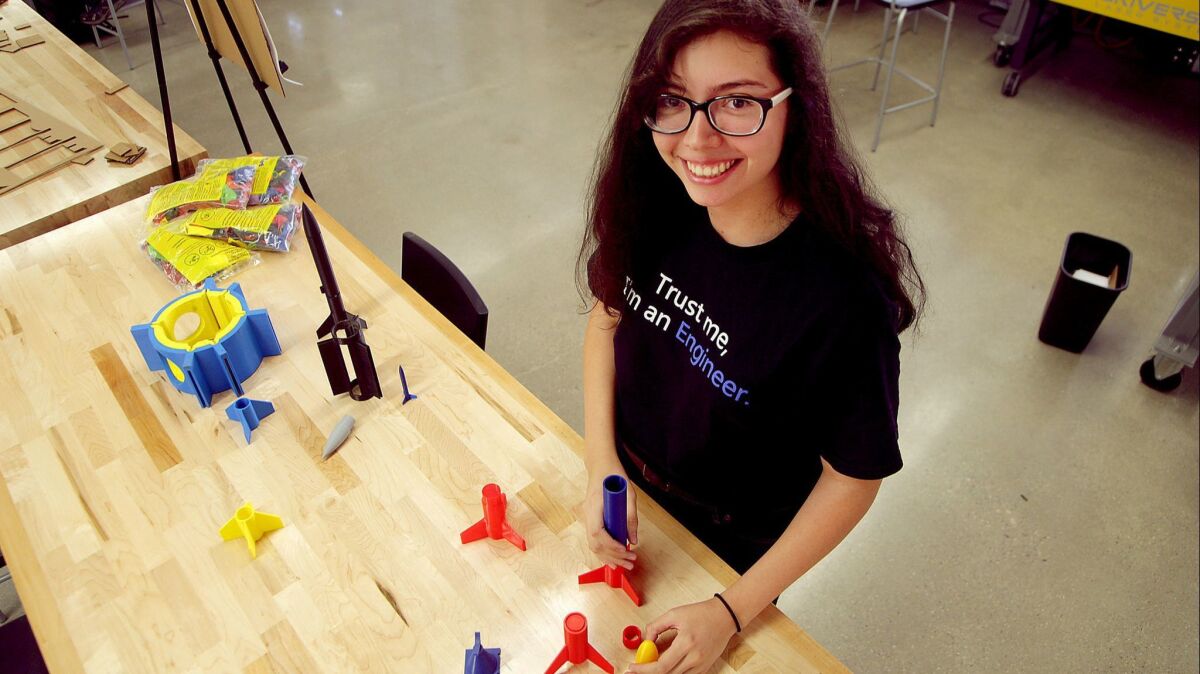 This summer, a Coolhaus ice cream truck rolled up to the edge of Northrop Grumman Corp.'s Redondo Beach Space Park campus. It offered free frosty treats — from Raytheon Co. recruiters.
That's just one hiring strategy employed by aerospace and defense companies these days. Lockheed Martin Corp. and Boeing Co. have Facebook or Twitter accounts tailored specifically for recruiting. A Northrop Grumman billboard towers over a major El Segundo thoroughfare, promoting careers at the company.
The increased U.S. defense budget, record orders for commercial aircraft and the launch of new, cutting-edge programs have aerospace and defense companies scrambling to hire engineers and other skilled workers. They're especially interested in those with experience in software, artificial intelligence and autonomy — pitting them against tech companies for the same pool of workers.
Historically, aerospace and defense firms "haven't had the Googles and Amazons and Yahoos to recruit against," said Harold Carter, director of engineering and technology at Lockheed Martin Skunk Works in Palmdale. "Quite frequently now, especially in software-related disciplines … we're certainly seeing it's much more competitive."
Next year, the aerospace and defense industry will probably hire 58,000 to 60,000 people across the country in a mix of new jobs and to account for attrition and retirements, said Carole Rickard Hedden, editorial director of Aviation Week Executive Intelligence, which produces a yearly report on the industry workforce. About one-third of those hires will be on the West Coast.
That's up from about 50,000 hires industrywide last year, said Frank Slazer, vice president for space systems and workforce at the Aerospace Industries Assn. trade group.
Many companies are looking to staff up after recent program wins, including the stealthy B-21 bomber, NASA's low-boom supersonic X-plane and hypersonic missile research.
Roy Azevedo, Raytheon's president of space and airborne systems, expects the hiring boom to continue for years.
"It rivals what we saw in the 1980s," he said. "The openings are roughly doubled from just about a year ago."
As of last month, Raytheon had about 1,000 job openings in California, including 600 in the South Bay. Lockheed Martin's careers page listed about 880 open positions last month in California, a "significant increase from anything in the past," Carter said.
Southern California's aerospace industry is notorious for its cyclical hiring. During the heyday of the 1960s space race, North American Aviation in Downey, which later became part of Boeing, staffed up to 25,000 to build the Apollo command module. In the 1980s, aerospace companies bulked up again as the U.S. bolstered its defenses amid increasing tension with the Soviet Union. By 1990, private aerospace industry employment totaled 273,000.
But as Pentagon spending slumped, the industry cut back. In 2016, the workforce was down to 90,100, according to the Los Angeles County Economic Development Corp.
Although it doesn't compare to the industrywide hiring numbers seen in the late '80s and early '90s, "we are in an uptick," said Jim Adams, principal of the aerospace and defense practice at KPMG.
This most recent spike is partially driven by the Trump administration's increased national defense budget, which totals $716 billion for fiscal year 2019-20. That's a 2.2% increase from the fiscal year 2018-19 budget, and comes off a 10.5% increase between fiscal year 2017-18 and 2018-19, said Todd Harrison, director of defense budget analysis at the Center for Strategic and International Studies.
Lockheed Martin's $247.5 million contract to build NASA's X-plane has boosted hiring at the company's secretive Skunk Works facility, along with accelerated technology development and other programs Carter declined to name.
A Northrop Grumman official has said the company plans to add more than 2,000 jobs by late next year at its top-secret aircraft plant in Palmdale, where the company plans to complete final assembly of the U.S. Air Force's B-21. The Pentagon plans to buy 100 of the bombers by the mid-2030s for at least $80 billion.
To attract young talent, aerospace firms are constant presences on college campuses. Last fall, Mia Reyes, 20, met Northrop Grumman recruiters through a resume workshop at a UCLA Society of Women Engineers event and took a tour of one of the company's local facilities through her involvement with the Society of Latino Engineers and Scientists.
Those meetings led to an internship this past summer at Northrop Grumman, where the third-year aerospace engineering student worked on stress analysis of aircraft structures. She'll be interning there again next summer.
Reyes has always been intrigued by aerospace engineering; her grandfather was an aerospace engineer at Rocketdyne and worked on aspects of the Apollo missions. But she hadn't heard of Northrop Grumman until she arrived at UCLA and saw company representatives on campus.
A major draw was Northrop Grumman's work on the James Webb Space Telescope, the successor to the Hubble Space Telescope that is set for launch in 2021.
"That telescope is the coolest thing in the world to me," Reyes said. "The science behind it … makes sense, but it sounds like sci-fi."
Aerospace and defense firms face an increasingly competitive market for talent, as tech companies also look for engineers with skills in software and artificial intelligence, said Adams of KPMG.
Entry-level electrical engineers earn $75,000 to $80,000. With 12 to 15 years of experience, that salary could increase to $146,000 to $150,000, according to Aviation Week data. Entry-level software engineers in aerospace and defense make about $76,000, according to Aviation Week; the national average for those workers is about $95,000, according to Glassdoor.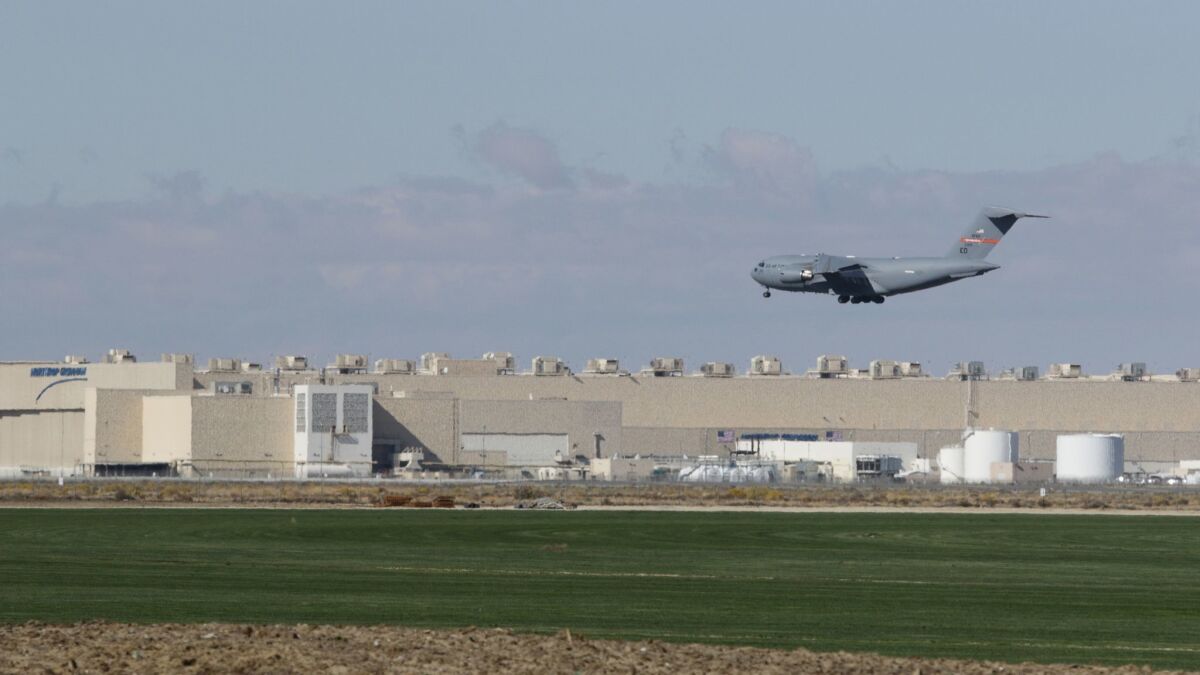 Companies are also looking for experience in cybersecurity, electric and rocket power systems, as well as data analytics. Ten years ago, highly coveted job skills included systems engineering and electrical engineering, according to a recent aerospace workforce report from Aviation Week.
Even when aerospace companies can compete for tech talent, they have the disadvantage of meeting requirements for classified programs. There is a significant backlog in conducting background investigations for government security clearances, according to a January report by the U.S. Government Accountability Office. As of September 2017, more than 700,000 investigations were still in the pipeline, though the backlog has declined since the last reporting, according to a GAO official.
The share of the aerospace workforce with "above a secret clearance" has increased to 12.3% in 2017 from 8.1% the previous year, according to the Aviation Week report. Many of the companies surveyed said it takes about five months to get top-secret clearances and more than a year to obtain higher clearance levels.
To cope, some companies try to clear employees before they're hired or poach security-cleared talent from other firms.
"You have to account for that in your workforce management process, which basically means you need a longer lead time," said Carter of Lockheed Martin. "It certainly takes longer now than it used to."
Adding to the recruitment pressure is the large number of baby boomers in the industry's workforce. Many of those who joined the industry toward the end of the space race are nearing retirement age. Retirement rates remain low for now — only 2.2% of the workforce retired last year. But in its survey of 559,000 aerospace workers at 35 U.S. companies, Aviation Week said the average age was 47, with about 30.5% over age of 50.
Companies are preparing for the inevitable turnover by making plans to transfer knowledge from older employees to newer hires.
Greg Caguimbal, 24, said he's sought mentorship from older experts in electronics, materials engineering and other areas at Lockheed Martin, where he works part time as a mechanical design and systems engineer. He's a graduate student at UCLA and plans to graduate next year with a master's degree in mechanical engineering.
"I try to talk to these people as much as I can," he said. "See what's been working and how it works and kind of just continue the legacy."
Twitter: @smasunaga
Sign up for the California Politics newsletter to get exclusive analysis from our reporters.
You may occasionally receive promotional content from the Los Angeles Times.