Airfares continue to drop even as jet fuel prices climb
The average domestic airline ticket cost $346 in the first three months of the year, an approximately 3.7% decline from the same period last year and the latest drop from an industry that has been facing rising jet fuel prices.
The airfares, reported Tuesday by the U.S. Bureau of Transportation Statistics, do not include optional passenger fees such as charges to check luggage, pay for entertainment or to upgrade to a roomier seat. But the airfares did include mandatory taxes and fees.
Airfares have been on a relatively steady decline since the end of 2014, and industry experts attribute the drop to lower jet fuel costs, the consolidation in the industry — thanks to a series of airline mergers and acquisitions — and competition from low-cost carriers including Spirit and Southwest Airlines.
The average domestic airfare of $346 for the first quarter compares with the inflation-adjusted average of $359 for the same period in 2017, according to the federal agency.
At Los Angeles International Airport, the average domestic airfare for the first quarter was $337, compared with the inflation-adjusted average of $350 during the same period last year, according to the bureau.
But experts have warned that airlines may be forced to raise airfares soon to adjust for fuel prices that have increased 50% in the last year. They say that such increases are usually delayed by several months, until the higher costs begin to eat into company profits.
"Rising airline costs are reducing the stimulus from lower airfares," Alexandre de Juniac, director general and chief executive of the International Air Transport Assn., the trade group for the world's airlines, said in a statement last week. "In particular, jet fuel prices are expected to be up nearly 26% this year compared to 2017."
But he noted that demand for air travel remains high — a sign that a hike in airfares probably won't chase away too many passengers.
In fact, on June 29 — the Friday before the Fourth of July holiday — the Transportation Security Administration reported that it screened 2.67 million travelers, the second highest number since the agency was created after the Sept. 11, 2001, terrorist attacks.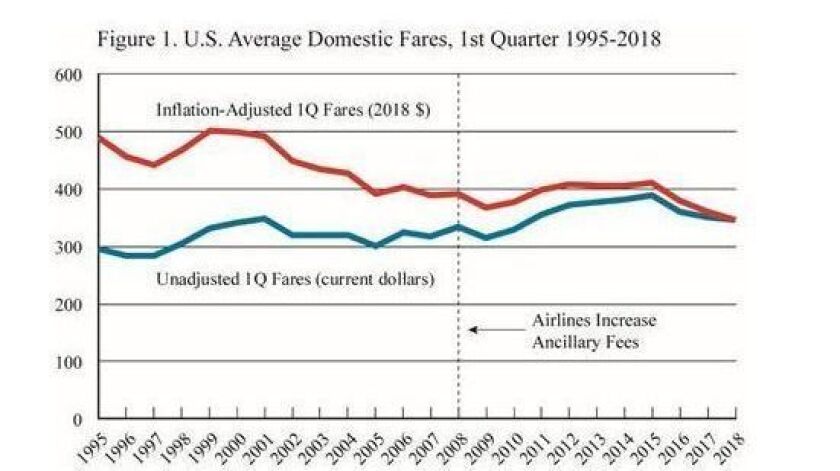 To read more about the travel and tourism industries, follow @hugomartin on Twitter.
---
Be your money's boss! Learn how to make a budget and take control of your finances with this eight-week newsletter course.
You may occasionally receive promotional content from the Los Angeles Times.