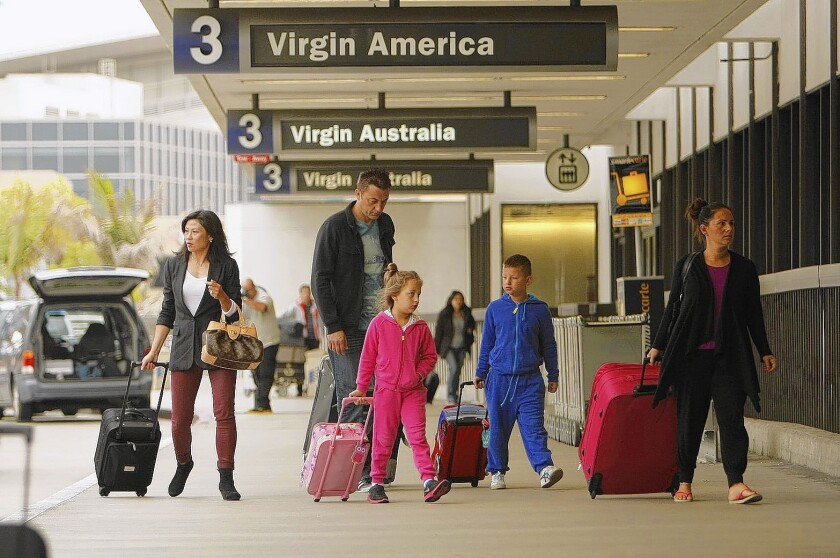 Airlines and travel agents would be required to clearly spell out baggage and other passenger fees under a rule proposed Wednesday.
U.S. Transportation Secretary Anthony Foxx proposed the rule requiring airlines and travel agents to disclose online and at other points of sale the cost of the first and second checked bag, a carry-on item and advance seat assignments.
The new rule would expand on several consumer protection regulations aimed at the airline industry and adopted by the Department of Transportation since 2009. The airline industry has pushed back, saying the rules are costly and unfair to carriers.
"We believe this proposal overreaches and limits how free markets work and will have negative consequences," said Airlines for America, the airline trade group.
Among the rules previously adopted is a requirement that airlines and travel agents disclose if bag fees are imposed and to inform customers where they can review those fees. But airlines and travel search sites usually display such fees among dozens of other charges in complicated charts.
The new rule would require that airlines and travel agents make it easier to find the charges for the specific flight a passenger is booking.
"Knowledge is power and our latest proposal helps ensure consumers have clear and accurate information when choosing among air transportation options," Foxx said in a statement.
The Department of Transportation is accepting public comment on the proposed rule for 90 days before deciding whether to adopt the changes.
The airline industry says the requirements are unfair because they are not imposed on other businesses.
"The government does not prescriptively tell other industries (hotels, computer makers, rental car companies) how they should sell their products, and we believe consumers are best served when the companies they do business with are able to tailor products and services to their customers," the airline trade group said.
Airlines are pushing back on other fronts. The industry is backing a bill awaiting a vote in Congress that would allow airlines and travel agents to advertise air fares without including taxes and fees. If adopted, the bill would invalidate a 2012 Department of Transportation rule requiring airlines and travel agents to disclose the full price of airline tickets.
But supporters of the DOT's get-tough rules point to several victories.
For example, the agency adopted a rule in 2010 that imposed hefty fines on airlines that leave passengers stranded on an airport tarmac aboard a domestic flight that is delayed for more than three hours. The DOT later extended the rule to include international flights.
In the 12 months after the law took effect, the DOT reported 20 tarmac delays of more than three hours for domestic flights, compared with 693 during the same period in 2009-2010.
"We need strong consumer protections, otherwise there is no discipline in the system to safeguard consumer interests," said Kevin Mitchell, chairman of the Business Travel Coalition, a passenger advocacy group.
Among other changes, the newest rule would also require smaller airlines to report on-time performance, the rates of lost bags and the number of passengers denied a seat because of overbooking problems.
The current rule requires airlines that carry at least 1% of all domestic passengers to report such information. The proposed rule would lower that threshold to 0.5% of domestic passengers, which includes smaller carriers such as Florida-based Spirit Airlines.
The proposed rule would also require large ticket agents to commit to consumer service guidelines, such as prompt response to complaints and requests for refunds.
---