After years of record profits, airlines face turbulence in 2017. Could higher airfares follow?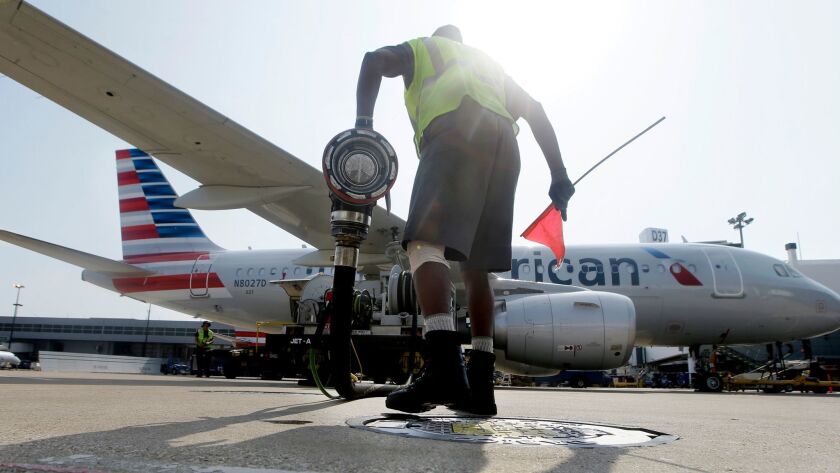 The U.S. airline industry has enjoyed three straight years of surging profits and has poured much of that windfall into buying shiny new planes, building swankier airport lounges for VIP customers and paying big dividends to investors.
At Los Angeles International Airport, some of that cash has been used on a renovated Alaska Airlines lounge with an automated pancake machine, an American Airlines lounge with a video-game-loaded kids room and a Delta lounge with a Starbucks espresso machine.
Although U.S. airlines are expected to remain profitable in the near future, industry watchers say 2017 could mark the end of the industry's financial nirvana.
An expected increase in fuel and labor costs is likely to be the biggest source of turbulence, along with uncertainty about the effect that the incoming Trump administration might have on travel from Mexico and the Middle East to the U.S.
As a result, airfares are more likely to rise this year, particularly for business travelers, experts say.
"We can expect that fares for business travelers will be trending up," said Henry Harteveldt, an industry analyst with Atmosphere Research Group. "Airlines are always trying to get a pound or more of flesh."
But price hikes are not guaranteed because increasingly popular low-cost airlines are sure to make larger carriers think twice before raising fares.
Following the terrorist attacks of 2001 and the economic recession of 2008, the nation's airlines reset the fundamentals of the industry, with major carriers filing for bankruptcy and merging with competitors to better withstand future turmoil.
More than 70% of the nation's domestic flights are now controlled by four carriers: American, Delta, United and Southwest. A steep drop in fuel costs, starting in 2014, helped push profit margins to record highs for the newly merged carriers.
By 2015, the country's top 25 airlines reported a combined net income of $26 billion, surpassing the combined net income for the previous three years.
But a dark cloud now hangs over the industry.
The latest evidence of trouble came Thursday when Delta Air Lines, the nation's second largest carrier, announced that its net profit for the quarter ended Dec. 31 fell 37% to $622 million from the same period in 2015.
"Fourth quarter saw a bit more cost escalation than we've been seeing so far this year," Delta Chief Financial Officer Paul Jacobson said in a conference call with analysts and investors. "In addition to the impact of the wage increases related to the ratified pilot agreement, there were timing issues in line items such as maintenance, contracted services and rent and landing fees that drove expense pressure in the fourth quarter."
American, United, Southwest and other major airlines will report their fourth quarter and 2016 annual earnings over the next few weeks.
Management consulting firm Oliver Wyman cautioned in a December report that airlines could see the end to years of robust profits.
"After several years of a successful comeback from the 2008-2009 global financial melt-down, carriers are facing stronger headwinds on both the cost and revenue sides of the ledger," the report said.
The International Air Transport Assn., the trade group for the world's airlines, last month revised its prediction for global airline profits for 2016 from $39.4 billion down to $35.6 billion, citing rising costs and slower economic growth worldwide.
The trade group released a report last week warning that "uncertainty lies ahead."
The threat of terrorism, questions over the durability of the economic upswing, rising oil prices and increasing protectionist rhetoric are among the concerns
— International Air Transport Assn. report
"The threat of terrorism, questions over the durability of the economic upswing, rising oil prices and increasing protectionist rhetoric are among the concerns," the report said.
The recent success of the nation's airlines has been attributed in part to fuel costs that have dropped by about 25% since 2014.
But the Organization of the Petroleum Countries and several non-OPEC nations announced plans in November to limit oil supplies, sparking worries that the move will lead to higher jet fuel prices.
Several major carriers also approved new, more generous labor contracts in the last few months, pushing overall labor costs by about 5%, according to the Oliver Wyman report.
"There is no question that there are some upward cost pressures," said John Heimlich, chief economist for Airlines for America, the trade group for the country's airlines.
But he said airlines may be able to turn to cash reserves built up over the last three years to weather any boost in fuel costs this year. Heimlich also noted that many of the new jets purchased with flush airline bank accounts are cheaper to operate and maintain.
"The carriers are in a much better position to deal with all of this," Heimlich said.
Another factor that can help keep fares low, experts say, is the growth of cheaper airlines such as Frontier and Spirit, which have become increasingly popular among leisure travelers.
No-frills carrier Frontier Airlines launched 42 new routes last year, with flights from Los Angeles; San Francisco; Portland, Ore.; Austin, Texas; and Charlotte, N.C., among others.
Florida-based Spirit announced 10 new routes last week, including flights from Houston, New Orleans, Baltimore and Detroit.
"So, I see budget airlines provide some price pressure on larger carriers," Harteveldt said.
To read more about the travel and tourism industries, follow @hugomartin on Twitter.
ALSO
American Apparel starts mass layoffs as company winds down operations
How to fight back when an insurer denies your healthcare claim
---
Must-read stories from the L.A. Times
Get the day's top news with our Today's Headlines newsletter, sent every weekday morning.
You may occasionally receive promotional content from the Los Angeles Times.