Big U.S. airlines' foreign buying spree raises competition questions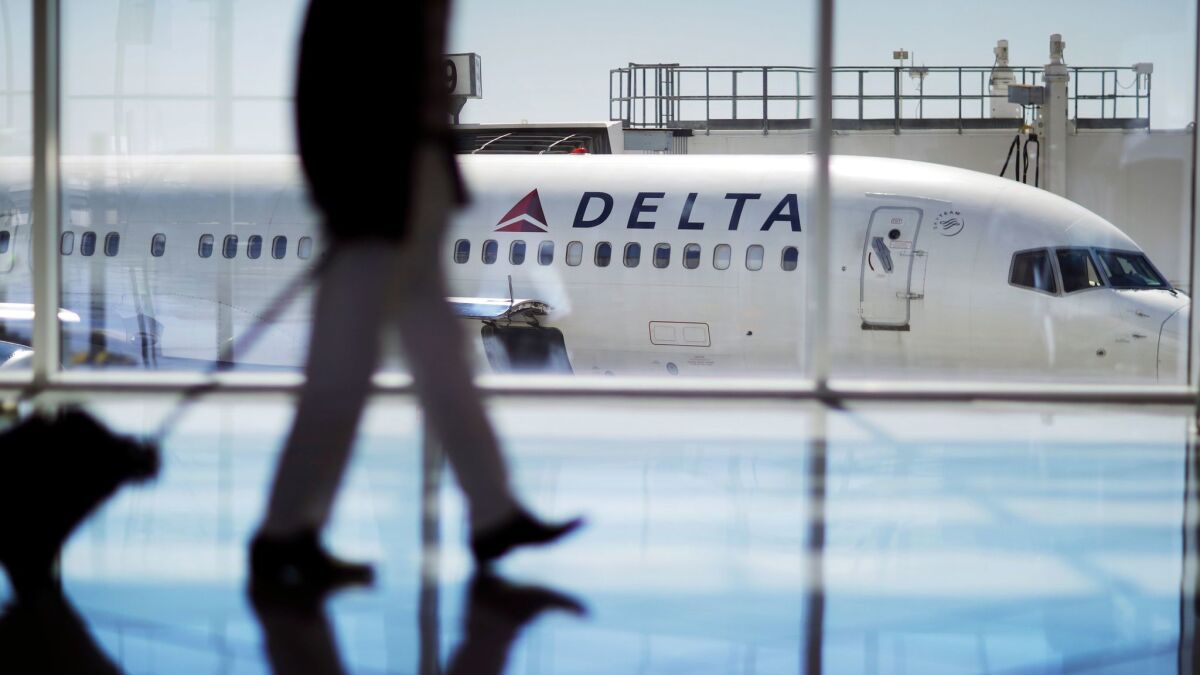 The nation's biggest airlines, having consolidated control over most domestic flights, are buying big stakes in foreign carriers, a push they say gives fliers access to more international destinations but critics say only makes it harder for smaller foreign rivals to compete.
"They see that as a way of solidifying their presence in these other markets," said Seth Kaplan, managing partner for the trade publication Airline Weekly and author of a book on Delta Air Lines.
For the big U.S. carriers, the strategy behind such deals has several benefits: The airlines can book passengers onto flights operated by their foreign partners and reap the profits when the partner carrier succeeds. In some cases, U.S. carriers have purchased such a large stake in foreign carriers that they can influence the routes and the services that foreign carriers launch to benefit their own interests, industry experts say.
Although U.S. carriers have owned shares in foreign carriers for many years, the practice has grown dramatically in the last five years.
In 2015, United Airlines spent $100 million to acquire a 5% stake in Azul, Brazil's third-largest airline. Two years later, American Airlines paid $200 million for a 2.7% stake in China Southern, one of the biggest carriers in China.
Atlanta-based Delta Air Lines has taken a lead in investing abroad due primarily to its strong financial footing in the U.S.
Starting in 2012, Delta began investing in shares of GOL Linhas Aéreas Inteligentes, one of the largest low-cost airlines in South America. It now owns 9% of the Brazilian airline company.
In 2013, Delta paid $360 million to purchase a 49% stake in Virgin Atlantic, the British carrier launched by Richard Branson. Two years later, Delta acquired 3% of China Eastern Airlines for $450 million.
Last year, Delta offered $448 million for a 10% stake in Air France/KLM. That deal is pending approval by regulators. Delta also paid an estimated $622 million last year to increase its stake in Groupo Aeromexico, the largest carrier in Mexico, to 49% from 17%.
Most of those deals came after a series of mergers and acquisitions that narrowed the number of major carriers in the U.S. to four — American, United, Delta and Southwest — that control 80% of the domestic market. Thanks to reduced competition, lower fuel costs and increased demand for travel, the four largest carriers in the U.S. have collected record or near-record profits over the last three years.
U.S. carriers have become such avid partners with foreign airlines that antitrust activists worry that smaller and lower-cost rivals are being squeezed out.
"From a competition standpoint, it is a clear move to entrench the U.S. legacy airlines' influence over foreign entry into the U.S.," said Diana Moss, president of the American Antitrust Institute, a Washington, D.C., nonprofit think tank that focuses on competition and consumer choice.
Moss said the financial ties between U.S. and foreign carriers reduce competition and make it more difficult for low-cost rivals such as Norwegian Air to compete on those routes dominated by the partnerships of bigger, established carriers.
Some industry experts disagree, saying there is still enough competition to keep the biggest carriers from charging exorbitantly high fares on specific routes.
"The world is a big place and there are still a lot of fair-sized airlines," said Philip Baggaley, a senior transportation analyst for Standard & Poor's.
U.S. and foreign carriers have four ways to cooperate with each other:
Alliances — such as Star Alliance, Oneworld and SkyTeam — enable the carriers to share airport facilities and offer rewards to members of alliance frequent flier programs.
So-called code-share agreements with foreign carriers let the partner airlines sell seats on each other's planes as long as they get antitrust immunity from federal regulators.
Joint ventures allow them to plan routes and fares together. One example of such a partnership is American Airlines and IAG, the parent company of British Airways and Iberia. Such deals must also get clearance from federal regulators. American Airlines filed an application Monday with the U.S. Department of Transportation to form a joint partnership with Qantas. The two carriers say the deal would generate as many as 180,000 new trips between the U.S. and Australia and New Zealand every year.
The closest partnerships take place when a U.S. carrier buys a stake in a foreign airline, which lets the U.S. carrier share in the success of the foreign carrier through stock ownership and earn seats on the airline's board of directors, where it can have a say on service and products offered by the foreign carrier.
"When you take a stake in another airline it's like getting engaged," said Henry Harteveldt, a travel industry analyst with Atmosphere Research Group.
By partnering with or buying into a foreign carrier, U.S. airlines expand access to destinations that had been previously closed or limited. It makes particular sense when the foreign carrier operates in China, Mexico and Europe, three of the biggest travel markets for the U.S.
American Airlines, through its partnership with British Airways, has long had an advantage over Delta when it comes to serving destinations in Britain.
But with its stake in Virgin Atlantic, Delta expanded its access to airports in Britain, particularly London's Heathrow Airport, where Delta had previously operated only one daily flight to the U.S. The two airlines now combine to offer 12 daily nonstop flights between Heathrow and New York airports.
The airlines say the investments make life easier for passengers by offering more travel options when fliers book with a U.S. carrier that has close ties with foreign partners.
The various deals are "a capital-efficient way to grow customer choice in international markets that we otherwise could not support," Delta spokesman Morgan Durrant said.
Starting last month, the deal between American Airlines and China Southern allowed American Airlines passengers to book flights to nine new Chinese destinations from Beijing Capital International Airport.
"American has the world's largest and best network, and we use partner carriers to complement our own robust flying," said Curtis Blessing, a spokesman for American Airlines.
Still, such investments can be dicey.
United and Delta spent heavily on Brazilian carriers Azul and Gol, respectively, starting when the Brazilian economy was growing and demand for travel from Brazil to the U.S. was surging. But the Brazilian economy fell into a steep recession starting in 2015 and is only now showing signs of a recovery.
Analysts say it is difficult to determine if the foreign investments have been profitable because some investments were made over several years and others involved carriers that were in private hands.
"The strategy has its risks," Standard & Poor's Baggaley said, "and it costs a lot of money."
To read more about the travel and tourism industries, follow @hugomartin on Twitter.
---
Sign up for the California Politics newsletter to get exclusive analysis from our reporters.
You may occasionally receive promotional content from the Los Angeles Times.