Alfred Angelo Bridal shuts all its stores. If your dress is inside, sorry
Alfred Angelo bridal stores closed without warning, leaving many brides and expectant families angry and frustrated.
Tasha French is getting married in December, but on Friday she was horrified to find her bridal store locked and the company headed for bankruptcy.
"This is very upsetting and inconvenient," said French, who drove from Lancaster to the Alfred Angelo Bridal shop in Los Angeles' Beverly Grove neighborhood only to find a sign that said, "STORE CLOSED."
For Yadira Castro, the time crunch is even worse. The 27-year-old bride-to-be is scheduled to walk down the aisle in a week, but her dress is still inside the Alfred Angelo store in Boynton Beach, Fla.
"I don't have the money to buy a new dress. I have no time to buy a new dress," said a misty-eyed Castro, showing a picture of the dress, inspired by the Disney character Jasmine, that she had purchased from Alfred Angelo for more than $800. With veil and accessories, she has nearly $1,250 invested in wedding attire at the store, she said.
French and Castro are among uncounted brides and bridesmaids across the country who are scrambling because of the apparent closing of the Florida-based wedding dress company. There were reports from multiple cities of brides appearing at stores to pick up their wedding gowns, only to find the locations shut down.
Sorry for the inconvenience.
— Sign at Alfred Angelo Bridal
Alfred Angelo is filing for Chapter 7 bankruptcy protection to liquidate the company's holdings, said Patricia Redmond, the Stearns Weaver Miller lawyer in Miami representing the company.
Redmond said she would ask the court-appointed trustee in the case to release dresses already in stores awaiting pickup, as well as a $1.2-million shipment for Alfred Angelo coming from China so brides can get the dresses they've ordered.
The company's top creditors are Check Asset Management, a portfolio company, which is owed $54 million, and Card Connect, a credit card processor, due $5 million. After that, there will probably be manufacturers in China filing claims, Redmond said. Unlucky bridal parties presumably would end up much farther down the line of those owed money.
The retailer operates at least 60 locations in the U.S., Canada, Europe and Japan. Its dresses are placed with 1,400 retailers worldwide.
In Boynton Beach, as Castro waited, a store manager showed up late Friday morning but declined to talk with the media, locking the door behind her.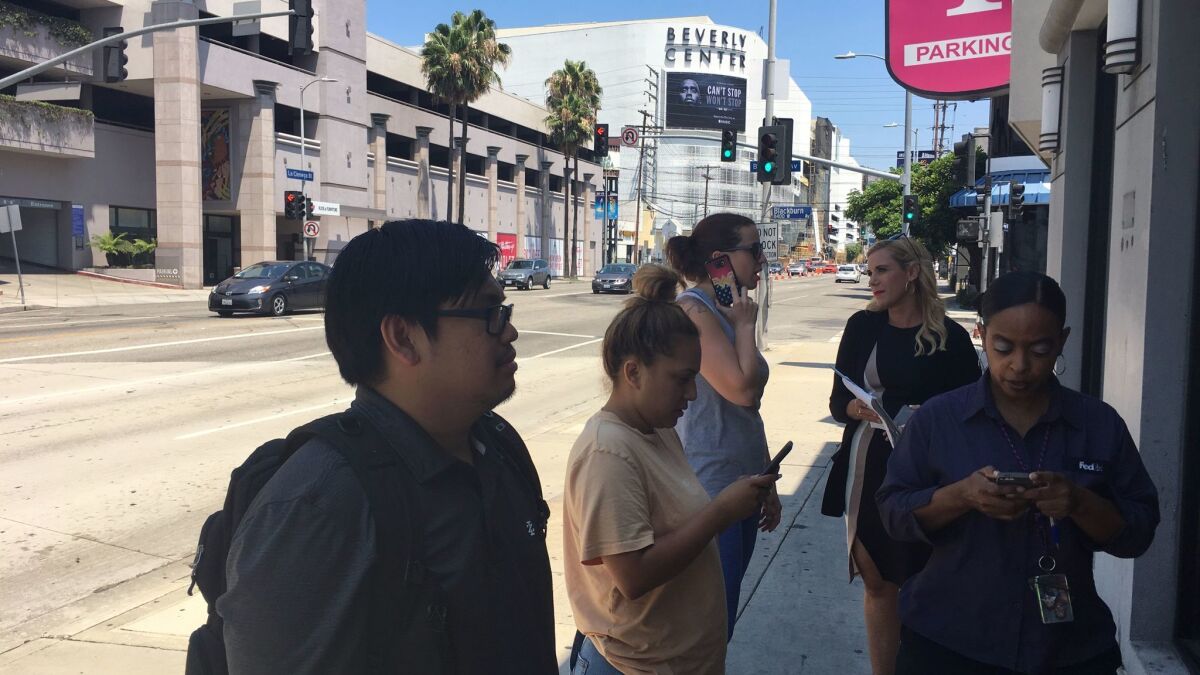 In Los Angeles, a small crowd of men and women gathered Friday in front of the Alfred Angelo store on La Cienega Boulevard. They stared at the closed doors as if they might be able to force them open by sheer force of will.
One sign apologized: "Sorry for the inconvenience."
Mark Anthony Cua, who paid $2,000 for his sister's bridal gown, had waited for hours, he said, "hoping someone would come."
Cua laughed bitterly over the small chance he thought he had in recovering the money he paid for the dress his sister was supposed to wear in January.
"This is not supposed to be happening," Cua said. There's going to be "no good luck getting a refund. They are going bankrupt."
Across the country, bride-to-be Jessica Ringler stood outside the Alfred Angelo score in Coral Gables, Fla., on Friday seeking any information about her Disney Belle dress, veil and belt inside. "I don't even understand what happened," said Ringler, 33, who ordered the $2,500 dress in March for her wedding in February. "It was supposed to be my dream dress," she said.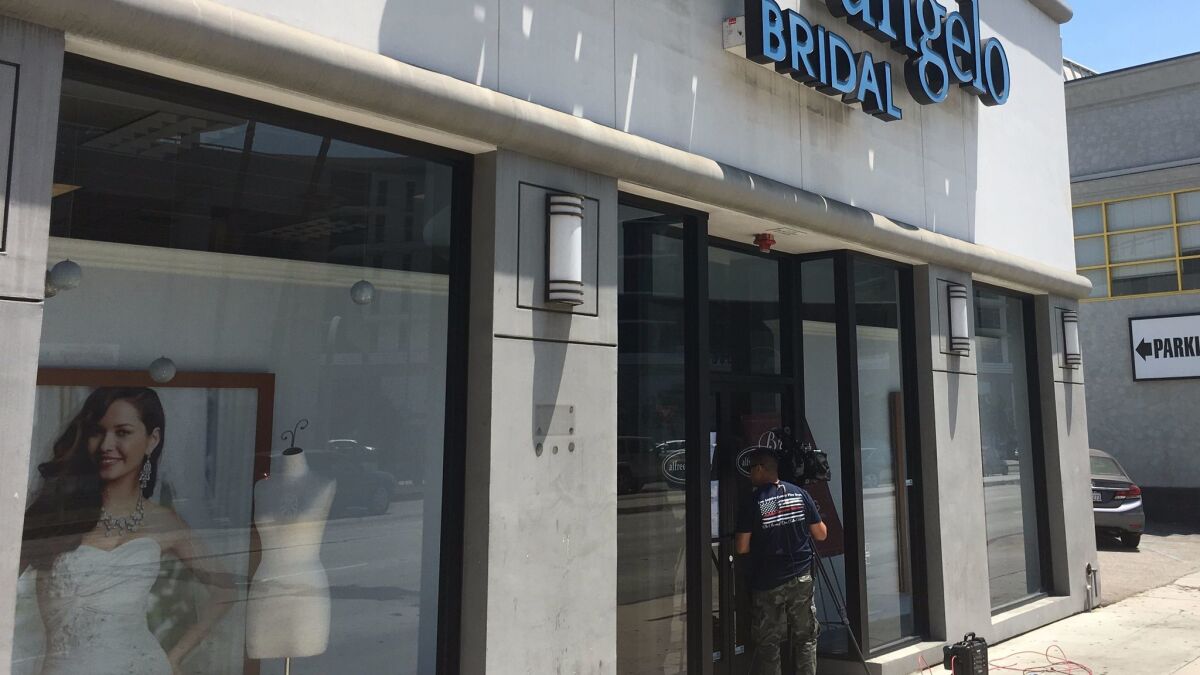 The Coral Gables store has been a prime destination for brides-to-be, even endorsed by competitors.
Nora Ares, an employee at nearby Bijou Bridal & Special Occasion store, said she would often refer customers to Alfred Angelo. "You would never think that something so drastic would happen to a chain like that," she said. "It's going to be devastating for those brides."
In San Antonio, Texas, police told television station WOAI that dispatchers had received 911 calls about the closure.
Competing national chain David's Bridal tweeted Friday that it was offering discounts to brides-to-be who have been affected by Alfredo Angelo closings. David's Bridal says it will offer a 30% discount on replacement wedding gowns to those with an Alfred Angelo receipt and a 20% discount for bridesmaid dresses. It also said it was waiving rush fees on alterations for those with wedding dates around the corner.
Clerks for the U.S. Bankruptcy Court for the Southern District of Florida said on Friday that no bankruptcy petition had been filed on the company's behalf. But the company is directing brides and other customers to email bankruptcy lawyer Redmond at predmond@stearnsweaver.com for more information.
At Alfred Angelo's corporate headquarters in Delray Beach, Fla., the elevator for the fourth floor, where the company's office is located, had been deactivated.
Richard Anders, who was appointed chief executive of Alfred Angelo Bridal in 2016, could not be reached for comment.
In Los Angeles, Gelina Bentley, a mother of a bride who is scheduled to be married in less than a month, slumped to the sidewalk when she saw that the Beverly Grove store was closed.
"This is bad. This is really bad," Bentley said. "They have our money and we have no dress."
Bentley had heard earlier in the month from a friend that the store was refusing to take new orders. She said she called the store and asked to speak to the chain's regional manager, who would not come on the phone to talk to her.
Worse than the presumably lost money, Bentley said, was missing out on the shared dress-fitting ritual with her daughter, Angelina.
"I was looking forward to the experience for her, standing up in the store in front of all the mirrors with her friends here to support her," Bentley said. "We paid to have that experience."
Times staff writer White reported from Los Angeles and Sun Sentinel staff writer Phillips from South Florida.
Sun Sentinel staff writers Marcia Heroux Pounds and Johnny Diaz and researcher Barbara Hijek contributed to this report.
Twitter: @RonWLATimes
MORE BUSINESS NEWS
It's hard to believe but a condo could be lost to squatters
Here are the hidden horrors in the Senate GOP's new Obamacare repeal bill
Airbnb host must pay $5,000 for canceling reservation based on race
---
Sign up for the California Politics newsletter to get exclusive analysis from our reporters.
You may occasionally receive promotional content from the Los Angeles Times.