Amazon Go store, with cameras instead of cashiers, is opening to the public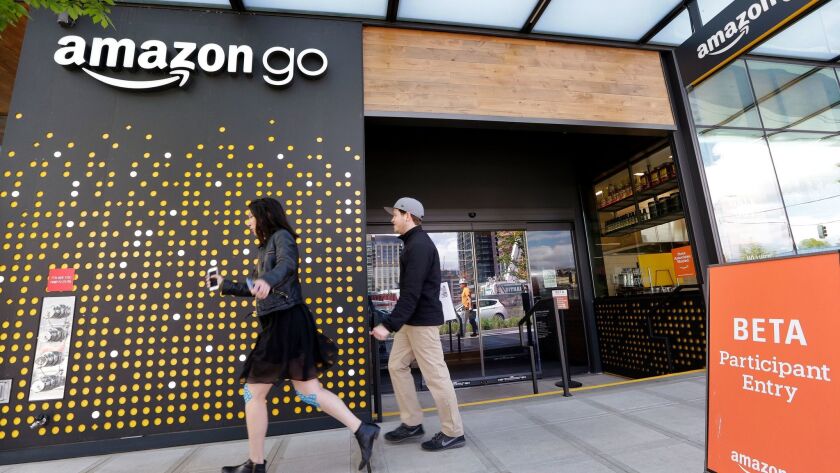 Bloomberg
You won't find a squeaking hot dog rotisserie in Amazon.com's Inc. cashier-less convenience store. Instead, you'll see Mediterranean lamb sandwiches, fresh salads and to-go containers of cubed pineapple and melon.
After more than a year of testing with an employee-only focus group, Amazon Go is opening to the public Monday in downtown Seattle, putting to the test the online retailer's technology that lets shoppers grab what they want and leave without paying a cashier. The inventory caters to health-conscious, affluent millennials rushing to their next meeting and could leave the stoner-slacker crowd searching aimlessly for the machine that gives out chili and cheese with the push of a button.
"We got a lot of feedback on selection," said Dilip Kumar, Amazon Go's technology vice president, adding that most changes over the last year involved the store's inventory. There's a preference for salad dressing on the side, for instance. And boxed meal kits to be cooked at home should be clearly labeled if they are vegan or gluten-free.
Amazon Go is the company's most ambitious effort to change the way people shop in stores and a play for the struggling $550-billion U.S. convenience store industry. Amazon hopes the cashier-less technology will help it stand out from the nation's 150,000 convenience stores where traffic jams can form at the checkout counter. It's all part of the company's larger bricks-and-mortar ambitions, which include a stepped-up push into groceries with the Whole Foods Market acquisition as well as the opening of about a dozen bookstores in such cities as Los Angeles, Chicago and New York.
To enter the Amazon Go store, customers download a smartphone app and scan a QR code to open a glass turnstile. Those shopping in a group scan the account holder's phone once for each person entering, and sensors will associate them with that account. From there, machines take over, watching the items plucked from shelves and adding them to a shopping cart. Shoppers are billed once they leave and if there are any mistakes or the customer isn't happy with an item, the customer pushes a "refund" button to have that item removed from the bill. Shoppers don't have to return an unwanted item to the store to get a refund.
The system is designed around the honor system, with an understanding that those looking to trick the system and steal things are in the minority. "The system is very accurate," Kumar said.
The 1,800-square-foot store is in the ground floor of Amazon's new Seattle headquarters complex. On a recent lunchtime tour, about 10 chefs were in a kitchen making salads and sandwiches, and several other employees restocked shelves. One employee monitored the small beer and wine section to manually check IDs.
There are typical convenience store staples such as peanut butter, milk, eggs and bread. Freshly made items get prominent shelf space, as do veggie chips and other products from Whole Foods' 365 Everyday Value brand.
The experiment will succeed only if the Amazon store offers good food at good prices, said Jeff Lenard, spokesman for the National Assn. of Convenience Stores.
"The coolness of the technology will undoubtedly get people to check it out," he said. "But the quality is what will get them to come back."
Soper writes for Bloomberg.
---
Your guide to our new economic reality.
Get our free business newsletter for insights and tips for getting by.
You may occasionally receive promotional content from the Los Angeles Times.