Amazon pulls some hoverboards from website as safety concerns mount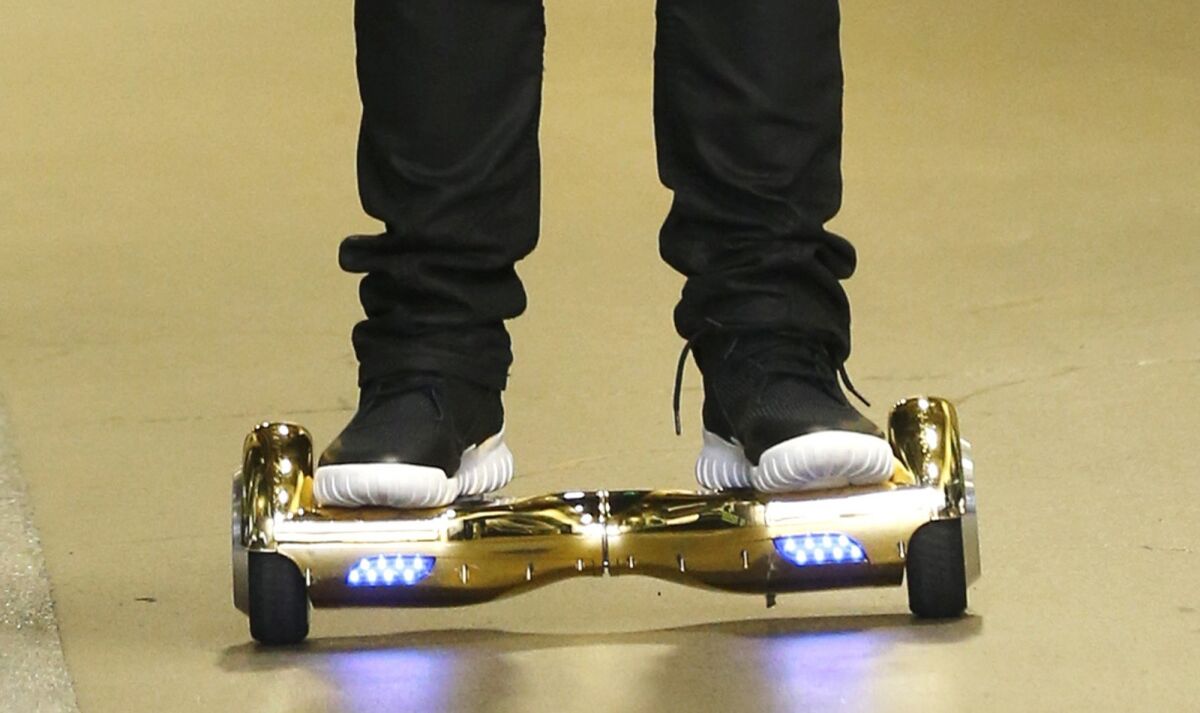 One of the hottest toys this holiday season is facing more scrutiny over potential safety concerns.
Hoverboard maker Swagway said it received a notice from Amazon.com Inc. on Friday asking for documentation that shows all of its hoverboards comply with safety standards, including the batteries and chargers.
The South Bend, Ind.-based company said the notice went out to all hoverboard sellers and that Swagway already meets all of those requirements and has sent the requested information to Amazon.
No Swagway products were listed on Amazon.com early Monday morning. In a statement, the company said the removal was not specific to Swagway, but also included "97%" of the other branded hoverboards that were sold on the site.
"As safety is on the forefront for Swagway, we applaud Amazon for taking these steps to weed out the low quality boards," the company said.
The removal of some hoverboards from Amazon was first reported by Best Reviews.
This news comes just a few days after online retailer Overstock.com said it would no longer sell any of the self-balancing electric scooters, citing "growing safety concerns."
The Salt Lake City-based company said it also individually contacted customers who already bought a hoverboard and offered to take the products back for a full refund.
Almost a dozen airlines, including Delta, American and United, have also banned hoverboards because of concerns that the products' lithium-ion batteries could overheat or catch fire.
The U.S. Consumer Product Safety Commission is also investigating at least 11 reports of hoverboard fires in 10 states, including California. The agency is testing hoverboards in its laboratory in the Washington, D.C., area, said Patty Davis, spokeswoman for the U.S. Consumer Product Safety Commission.
The agency has also received reports of 29 hoverboard injuries -- all related to falls -- that needed emergency room treatment, Davis said.
But the negative publicity might not hurt sales, analysts said.
"I think people who really want them are going to buy them, regardless," said Chris Byrne, executive vice president and content director for toy review website TTPM.
Davis said the U.S. Consumer Product Safety Commission recommends that consumers avoid buying hoverboards at mall kiosks and purchase only from reputable sellers.
She also said hoverboards should not be charged overnight or without someone present and recommended buying batteries and chargers that have been certified by a national testing laboratory.
To prevent injury from falls, Davis suggested that children wear safety gear and be supervised while riding hoverboards.
For more business news, follow @smasunaga.
ALSO
Has the Fed waited too long to raise interest rates?
How 'Star Wars' could become Disney's next cash cow
---
Sign up for the California Politics newsletter to get exclusive analysis from our reporters.
You may occasionally receive promotional content from the Los Angeles Times.