Amazon shareholders vote down facial recognition, climate change proposals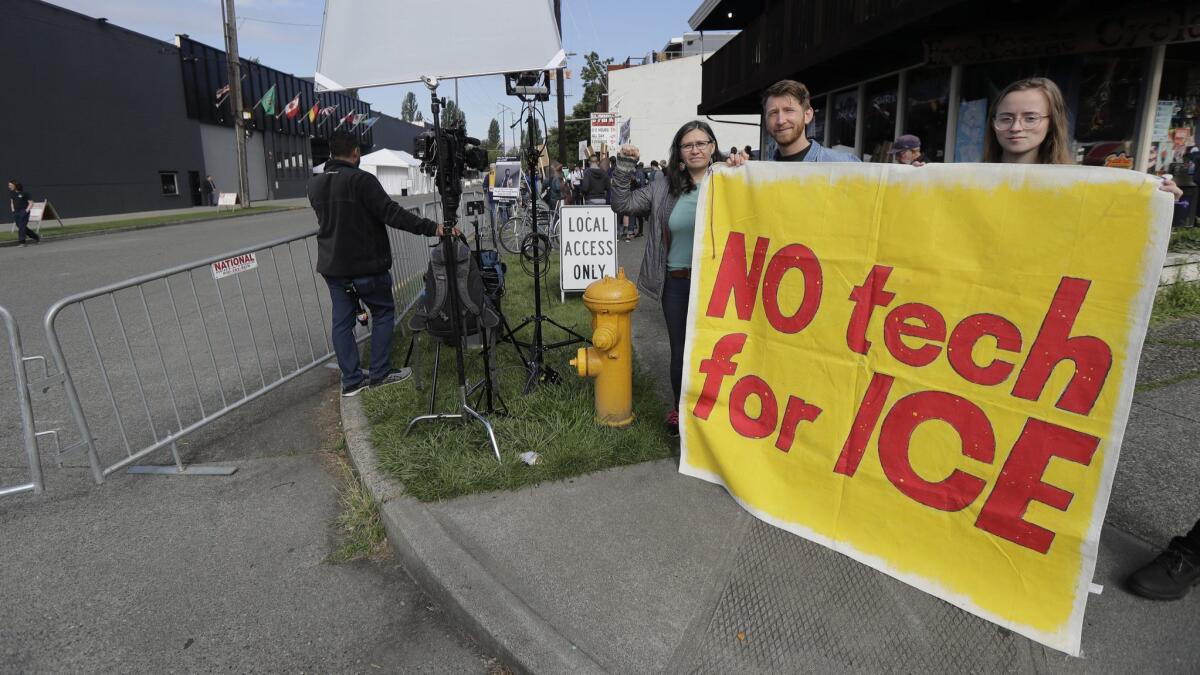 Amazon.com Inc. shareholders rejected a large slate of proposals at the company's annual meeting Wednesday, including one that would have restricted the use of controversial facial recognition technology.
Proposals calling for Amazon to end the sale of its Rekognition technology to governments and study its potential risks were defeated by a majority of voters, Amazon said. The software is being used by a sheriff's office in Oregon to identify suspects, but civil liberties groups have been critical of such technology, citing the possibility it could be abused.
Shareholders also voted down a proposal submitted by employees, and supported by more than 7,600 of them in an open letter, that called on the company to detail its strategy for coping with climate change and reducing its use of fossil fuels blamed for contributing to a warming Earth.
That proposal generated a dramatic moment during the meeting in Seattle, when dozens of employees and shareholders, many wearing white, stood up in support of the speaker advocating for the proposal. Emily Cunningham, an Amazon employee, asked for the opportunity to address her concerns directly to Chief Executive Jeff Bezos but was denied.
The company also elected its entire proposed slate of directors. Vote totals will be made available in a regulatory filing Friday, Amazon said.
The employee activism that has roiled Silicon Valley in recent years has arrived at Amazon. The company opposed the climate-change resolution, citing efforts to reduce the amount of packaging it ships to consumers as well as investments in wind, solar energy and other alternatives. Yet two months after the proposal was filed, the company disclosed an initiative to eliminate carbon output from half of its customer deliveries by 2030.
"I have no doubt that was because of us," says Weston Fribley, an Amazon software engineer who helped organize the resolution and like other employees is a shareholder by virtue of his stock grants. Fribley, however, says the company's response didn't go far enough to withdraw the proposal.
In the last two years, employee activism has forced tech giants to reverse course on corporate initiatives.
After employees at Google raised concerns about its bid for military contracts, the Alphabet Inc. search giant backed out of a U.S. Defense Department drone program and decided not to bid on a contract to build cloud services for the Pentagon. Employees of Microsoft Corp. and Salesforce.com Inc. pressured executives about their companies' dealings with U.S. Immigration and Customs Enforcement.
Emboldened Amazon employees have taken on other issues, including pushing for change on human resources issues such as benefits for transgender employees and backup daycare for parents. But the current climate-change campaign is the rare instance when workers at the technology giant's headquarters have taken a public stand for change inside the company.
Rebecca Sheppard, who works in Amazon's air cargo operations, said Amazon encourages employees to not be shy about proposing big, creative ideas. But if those proposals don't fit with top goals articulated by Bezos and his lieutenants, they aren't likely to become a priority.
Sheppard's hope is the employee groundswell causes Amazon executives to bump climate change up on their list of priorities.
"The enthusiasm is overwhelming," said Sheppard, who promised before the vote that if the proposal didn't pass it wouldn't fade away. "We'll be back."