Amazon rolls out free same-day delivery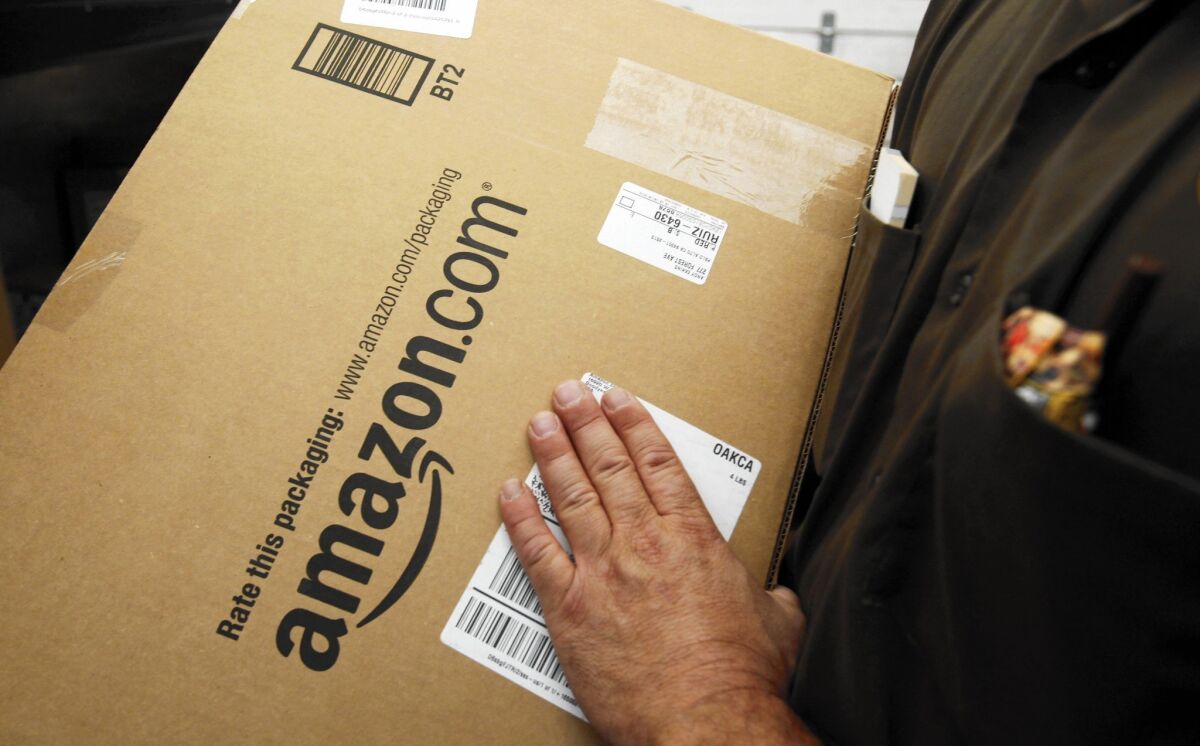 In another blow to bricks-and-mortar retail stores, Amazon.com is launching free same-day delivery for Prime members in 14 metropolitan areas, including Los Angeles.
Starting Thursday, shoppers who belong to Amazon's annual Prime membership program and make a purchase of $35 or more by noon will receive their items by 9 p.m. that day, seven days a week. The initial rollout includes more than 1 million items, such as books, cables and chargers, games, cooking tools and electronics.
Chris Rupp, Amazon's vice president of Prime, called the move "a real life-changer," particularly for shoppers who find themselves strapped for time and in need of a product quickly — baby supplies or a birthday gift, for instance.
"These things just pop up in life, and this is meant to simplify our customers' lives," she said in an interview. "Some of the feedback we've gotten from customers is it already feels like we're living in the future."
The same-day option will be available in much of the Southland, stretching from the San Fernando Valley in the north to Irvine in the south, to Redlands and Moreno Valley in the east.
Rupp said Amazon doesn't have plans to increase the price of Prime, which costs $99 a year and comes with additional benefits including free two-day delivery and instant streaming of movies and television shows.
As online shopping has become more prevalent, affordable same-day delivery was seen as the Holy Grail.
"It's that last bit of fruit that people want.... It would probably win over those last few holdouts that just gotta have stuff now," said Michael Pachter, an analyst at Wedbush Securities in Los Angeles. "The problem is it's a logistical hell."
Although every retailer would like to offer same-day delivery, few have the infrastructure in place to handle such a complex undertaking or the sales volume to make it worth it.
Amazon, the nation's largest e-commerce operation, is the rare exception. It began offering same-day delivery in select markets a few years ago and, before Thursday's announcement, charged a same-day delivery fee of $5.99 per order for Prime members; non-Prime members pay a higher $8.99 delivery fee plus a 99-cent-per-item fee for same-day service.
Going forward, Prime members with orders totaling less than $35 will still pay the $5.99 same-day delivery fee.
The service proved to be popular over the holidays, with Amazon announcing on the day after Christmas that its customers ordered more than 10 times as many items with same-day delivery as they did in 2013.
Now, the Seattle company is ready to make the option more mainstream by offering it free.
The decision, Rupp said, stemmed from customers' desire for the service and Amazon's improved ability to get a wide range of products to customers in just a few hours' time, thanks to a surge of new warehouses.
In the last four years, Amazon has added 50 fulfillment centers around the world; it has 109 warehouses total.
That means merchandise is housed closer to shoppers, making same-day delivery more feasible.
Amazon is touting the move as an increased benefit for its most loyal customers, but it was also facing stiff pressure to expand same-day turnaround as rivals — including giants Google Inc. and Wal-Mart Stores Inc. as well as start-ups such as Deliv — began seriously encroaching on the space.
At the same time, companies have gotten creative, experimenting with shipping goods to local lockers or physical stores where customers could pick up their items on the same day.
Amazon's biggest threat arguably comes from Google, which offers same-day delivery on eligible orders over $15 for members of its Google Express service. Membership is $10 a month or $95 a year. Participating retailers include Target, Barnes & Noble and Costco.
Speeding up delivery times has been a major goal for Amazon since its inception. In 2013, Chief Executive Jeff Bezos sparked intense interest after he revealed that Amazon planned to one day use drones to deliver products quickly.
For now, Amazon will rely on a fleet of trucks to deliver orders on the same day, although Rupp declined to name its delivery partners.
She also would not comment on how Amazon will absorb the costs of offering free same-day delivery or discuss other financial details of the move.
The other metro areas where Amazon is rolling out free same-day delivery are: Atlanta, Baltimore, Boston, Dallas-Fort Worth, Indianapolis, New York, Philadelphia, Phoenix, San Diego, the San Francisco Bay Area, Seattle-Tacoma, Tampa Bay and Washington, D.C. All told, more than 500 cities and towns are included at launch, with more regions to be added down the line.
The new free same-day delivery offering is separate from Amazon Fresh, the company's grocery delivery service.
Twitter: @byandreachang