Amazon second headquarters: L.A. mayor is in 'aggressive pursuit of this opportunity'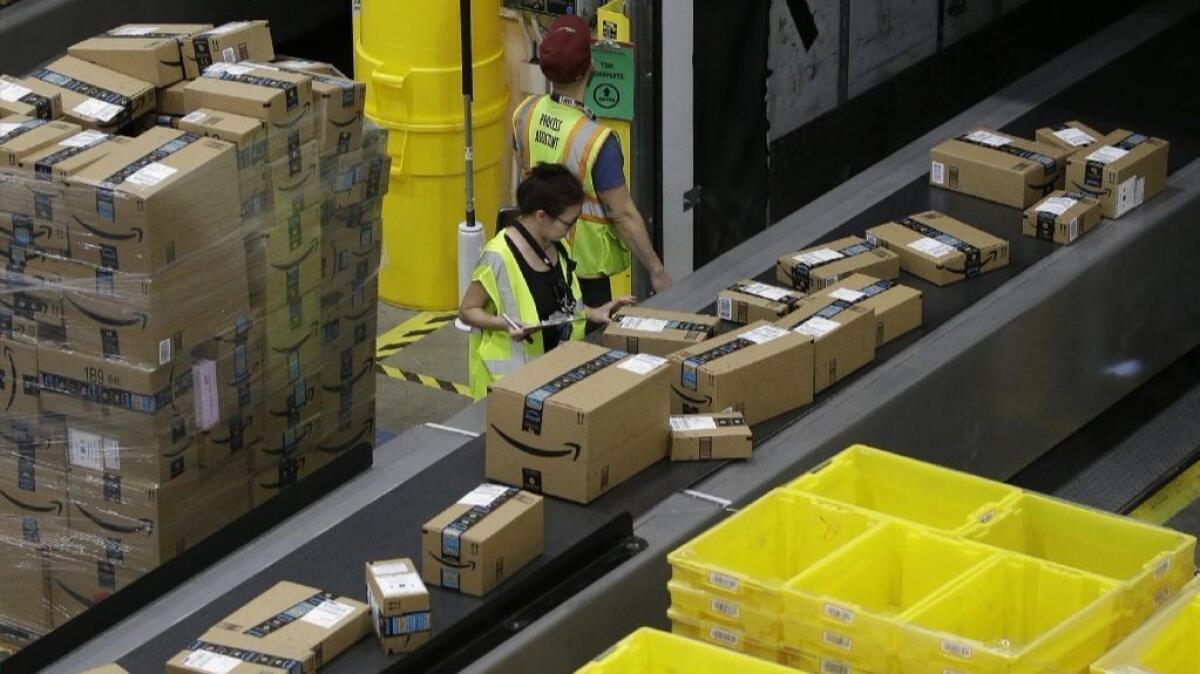 Amazon.com Inc. is holding regular talks with Los Angeles city and county officials about the region's bid to win the contest for Amazon's $5-billion second headquarters.
The online shopping giant said in January that it had narrowed the list of contending metro areas to 20 finalists, including Los Angeles, from 238 initial proposals to land the headquarters, which Amazon said will be home to "as many as 50,000 high-paying jobs."
Los Angeles Mayor Eric Garcetti previously has said Los Angeles is offering three sites to Amazon: two downtown and one at Warner Center in Woodland Hills.
The bid also offers six other sites in Los Angeles County, according to the Los Angeles County Economic Development Corp., a nonprofit aimed at promoting business expansion in the region. The sites weren't identified, but the Times has reported that Cal Poly Pomona and the Fairplex in Pomona are among those offering up land.
The unspoken factor in Amazon's search for a new home: Jeff Bezos' support for gay rights »
The other finalists include Atlanta; Austin, Texas; Boston; Chicago; Dallas; Denver; Indianapolis; Miami; New York; Philadelphia; Toronto; Washington, D.C.; Pittsburgh; Raleigh, N.C.; Nashville; Newark, N.J., and Columbus, Ohio. The list also includes northern Virginia and Maryland's Montgomery County, both near Washington.
Los Angeles is the only finalist west of the Rocky Mountains in competition for the second headquarters, dubbed HQ2. Amazon's existing headquarters is in Seattle, where it employs 40,000 workers spread among 33 buildings.
Amazon said it expects to make a decision this year but has not been more specific on when the winning metro area will be announced.
"We have been in consistent communication with Amazon about the details of our bid and we're making a strong case that the company ought to choose L.A.," Alex Comisar, a spokesman for Garcetti, said in a statement.
"Mayor Garcetti looks forward to continuing an aggressive pursuit of this opportunity as the process moves forward," Comisar said. He declined to elaborate on the details of the region's bid.
Amazon likewise declined comment on its conversations with Los Angeles officials but said in a statement that it is "working with each HQ2 candidate city to drive deeper on their proposals and share additional information about the company's plans."
Amazon executives in Southern California have not yet met personally with Garcetti but have held "several" meetings in person and by phone with various city and county agencies, according to one person familiar with the talks but not authorized to speak on the record.
The e-commerce titan also has not let officials know "whether they've winnowed the list yet or when they'll make a decision," the source said.
When Amazon issued its request for a proposal from bidders, the company said it would give priority to areas with more than 1 million people that are within 45 minutes of an international airport.
Amazon also said it was looking for an area that had a "highly educated labor pool" and a "strong university system" along with incentives, such as tax breaks, because "the initial cost and ongoing cost of doing business are critical decision drivers" in making its selection.
The Los Angeles area meets many of Amazon's criteria and provides access to major shipping ports in Los Angeles and Long Beach. Amazon also already has several distribution and fulfillment centers in Southern California and Amazon's billionaire chief executive, Jeff Bezos, has two homes in Beverly Hills.
But there also is widespread speculation that with three Washington, D.C.-area regions among the finalists, one of them is likely to win. Bezos has a home in Washington, as well, and he owns the Washington Post.
"I don't think Los Angeles is a player for this project simply because there are more strategic aims Amazon is looking for" with other areas, and that "directs you to Washington, northern Virginia and Maryland," said Thomas Stringer, a corporate location specialist and managing director at BDO International, an accounting and consulting firm.
The Washington area would afford Amazon "proximity to the [federal] regulators and potential customers," Stringer said.
Stringer also said it's likely Amazon "has in mind three or five locations that really hit its strategic aims and having the 20 [finalists] is more for show and posturing than anything else." By having added finalists to consider, "it's a chance to make everybody feel good and strengthen some relationships," he said.
Cities jumped at the chance to pitch themselves for Amazon's HQ2 because the new campus would deliver economic benefits well beyond the $5 billion in construction costs and added jobs. There also would be an indirect benefit for suppliers, nearby vendors and others serving the Amazon headquarters.
Amazon's arrival also could mean an even sharper jump in housing rents in the winning area, the real estate website Zillow said in analyzing rental trends in the 20 finalist regions.
Zillow calculated that the median rent covering Los Angeles and Orange counties currently is $2,746, the highest among the bidding metro areas. If Amazon chose the Los Angeles area and began hiring next year for its headquarters, that median rent in the area would rise in 2019 by an additional 1.9 percentage points, on top of a 3% rise that's already expected, Zillow estimated.
Twitter: @PeltzLATimes