Instacart says it's still on a quest to save grocery stores even as Amazon declares 'war'
Instacart plans to maintain its relationship with shareholder and business partner Whole Foods despite the upscale grocery chain's pending merger with Amazon.com.
Instacart, which offers an app to deliver groceries from a nearby store, has cast itself as a competitor to Amazon. It has persuaded grocers, including Whole Foods, to partner by warning them of the day Amazon would declare war on traditional grocery shopping.
Now that the long-awaited day has come, the San Francisco start-up — which has $500 million in the bank — is already seeing once-skittish grocers clamoring to strike a deal as soon as possible.
"From the beginning, we've been committed to helping grocers compete online," Instacart said in a statement. "That's more important than ever given Amazon just declared war on every supermarket and corner store in America. We already work with over 160 retailers across the country and look forward to partnering with many more."
The company declined an interview request, but a source not authorized to comment on the relationship between Instacart and Whole Foods shed light on deal terms.
Whole Foods acquired a tiny ownership stake last year in privately held Instacart. The companies also reached a five-year agreement whereby Instacart contractors and employees could quickly check out and get on their way to making deliveries.
Whole Foods now accounts for about 10% of Instacart sales.
Importing Whole Foods' catalog turned out to be a complex endeavor because its inventory varies by region. But developing the software has been a boon for Instacart because it streamlined the process of integrating smaller chains.
Instacart has doubled service area to 69 regions across the U.S. in the last six months and plans to be able to serve about 60% of U.S. homes by the end of the year.
Instacart doesn't disclose usage figures, but says subscribers, who don't have to pay one-time delivery fees, account for half of their orders. Subscribers place orders about four times a month.
Consumers have been skeptical about entrusting others with picking produce. Grocers, meanwhile, fear they'll lose out on impulse and seasonal purchases. Instacart is working through such issues by tweaking its user interface and adding more recommendations.
The company says the biggest challenge to its growth today is a lack of awareness of its service — especially in the middle of the country. It's hoping Amazon's $13.7-billion deal Friday might be an eye-opener.
Whole Foods' 440 stores gives Amazon access to refrigerated warehouses 'within 10 miles of probably 80% of population'
By acquiring Whole Foods, Amazon is buying not just an established, upscale supermarket brand, but also a vast distribution network of warehouses and more than 460 stores worldwide — replete with back rooms and cold storage — in some of the most affluent ZIP codes in America. That's a significant boost in numbers for the Seattle company, which currently operates fewer than 100 distribution centers in the U.S., a handful of them in the Inland Empire.
More hubs means quicker and fresher delivery, which will bolster Amazon's existing grocery delivery service, AmazonFresh. The service, which is offered to the company's subscription Prime members for a monthly fee of $14.99, is available only in about 20 U.S. cities. While the bid for Whole Foods may not bridge Amazon's "last mile," it certainly brings it closer, experts say.
In the U.S. "this adds 440 refrigerated warehouses within 10 miles of probably 80% of the population," said Michael Pachter, an analyst for Wedbush Securities. "More importantly, it puts refrigerated distribution within 10 miles of probably 95% of Prime members. That means we can rely upon Whole Foods' consistently high quality meat and produce, and can rely upon prompt delivery from the store as a distribution point."
What's changing more -- Amazon or the grocery industry?
Leave it to Amazon's Jeff Bezos to shake up multiple industries with a single blockbuster press release.
Friday's announcement that Amazon is buying grocery retailer Whole Foods Market for $13.7 billion in cash rattled grocery stocks, with Kroger, the owner of Ralphs and Food4Less, losing more than 9%; warehouse stores, which have expanded into grocery sales, were also down, Costco by more than 7% and Walmart by nearly 5%.
The entire eCommerce field similarly was thrown for a loop. As is often the case with Bezos' initiatives, his goals and endgame remain murky.
A Whole Foods shopper imagines what possibilities the Amazon deal may bring
I wouldn't mind being able to order my vegan doughnuts online and getting them flown to me by drone if that is an option with Amazon.
— Matt Conrod, 21, a shopper at Whole Foods in downtown Los Angeles
Tweets about the Amazon-Whole Foods deal that made us giggle
After Amazon announced it would buy high-end grocery chain Whole Foods Market in a $13.7-billion deal, Twitter users didn't miss a beat.
And there's one whose language isn't family-friendly but we don't have the heart to leave out, so here's a link.
Bad news for grocery chains and big-box stores
Shares of big-box retailers and grocery chains dived on news of the Amazon-Whole Foods deal.
If the deal goes through, it could also be a big blow to delivery start-ups such as Instacart, which has a partnership with Whole Foods.
Amazon's market value jumps $13.7 billion -- making the Whole Foods purchase kind of free
Investors on Friday effectively handed Amazon.com the $13.7 billion it agreed to pay for Whole Foods Market -- for the moment, at least.
After the companies announced the deal, Amazon's stock jumped $28.76 a share, to $992.93.
Amazon has about 478 million shares outstanding, according to FactSet Research Systems, so the stock's gain Friday added $13.7 billion to Amazon's total market value. (The jump brings Amazon's market value to $475 billion.)
Amazon-Whole Foods deal 'is an earthquake rattling through the grocery sector'
This is an earthquake rattling through the grocery sector.... We can only imagine the technology innovation that Amazon will bring to the purchasing experience.
— Mark Hamrick, Bankrate.com senior economic analyst
Amazon is buying Whole Foods Market in $13.7-billion deal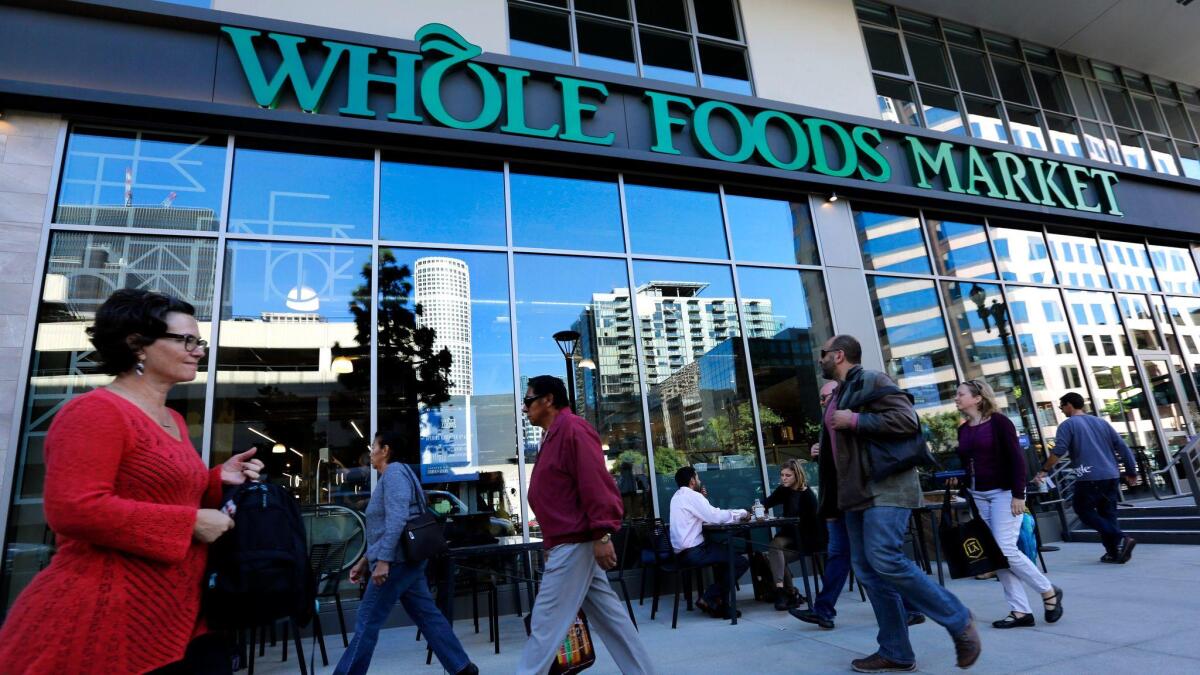 Dropping a bombshell on the U.S. grocery industry, online shopping giant Amazon.com said Friday that it agreed to buy Whole Foods Market for $13.7 billion in cash.
Amazon said it agreed to pay $42 a share for Austin, Texas-based Whole Foods, which operates 460 stores in the United States, Canada and Britain, including about 85 in California, its biggest market.