Amazon shakes up the grocery business with its $13.7-billion deal to buy Whole Foods
Amazon said it is buying Whole Foods Market in a deal valued at about $13.7 billion, including debt. (June 16, 2017) (Sign up for our free video newsletter here http://bit.ly/2n6VKPR)
Amazon revolutionized the sale of books, electronics and other products. Now the online shopping giant is threatening to transform how people buy their food.
Amazon.com Inc. dropped a bombshell Friday on the U.S. grocery industry by agreeing to buy Whole Foods Market Inc. for $13.7 billion, including net debt. The 465-store chain, which helped pioneer the large-scale selling of natural and organic groceries, often at a premium price, might seem like a niche player in the $611-billion U.S. grocery world.
But the potential ripple effects of Amazon's largest purchase ever immediately rattled the industry, sending stocks of supermarket companies tumbling. That's because Seattle-based Amazon already has aggressively used lower prices, technology and a vast network of distribution centers to transform other retail sectors.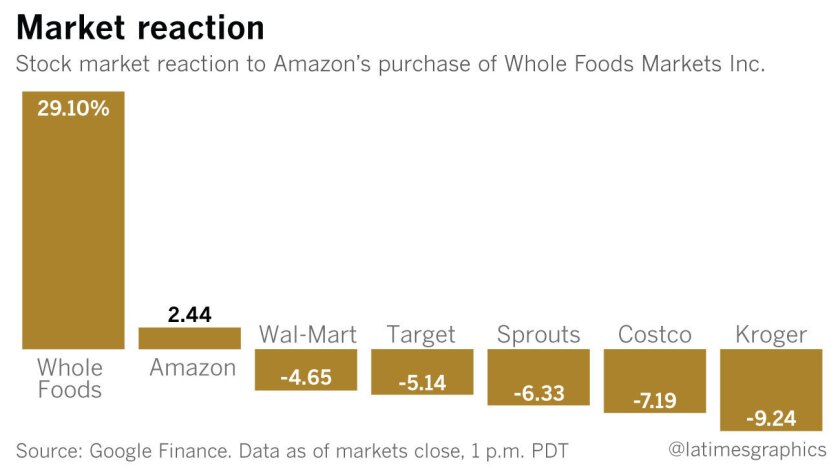 Whole Foods, in effect, would be a springboard for Amazon to make waves throughout the grocery business that could benefit consumers, analysts said.
For starters, Amazon probably will put added pressure on its rivals to lower prices at a time when grocers already are feeling pinched by price pressures and eking out profits of only a penny or two for every dollar of sales.
"Amazon will take a virtual sledgehammer to Whole Foods' pricing structure," Bankrate.com senior economic analyst Mark Hamrick said. "This is an earthquake rattling through the grocery sector."
Whole Foods would keep its name under the deal, which is subject to shareholder and regulatory approval and expected to be completed in the second half of this year.
The company also would maintain its Austin headquarters, and John Mackey would remain Whole Foods' chief executive.
One shopper, Matt Conrod, 21, said he hopes the sale doesn't result in changes in the goods stocked at the Whole Foods in downtown Los Angeles — particularly the vegan doughnuts he favors because of allergies.
"But I wouldn't mind being able to order my vegan doughnuts online and getting them flown to me by drone if that is an option with Amazon," he said.
Drones may not be on the drawing board at the moment, but Whole Foods could enable Amazon to use the technology it's developing for more grocery deliveries, a more seamless checkout experience and stronger customer tie-ins between its online presence and its bricks-and-mortar grocery stores.