American Airlines CEO to get $17-million severance package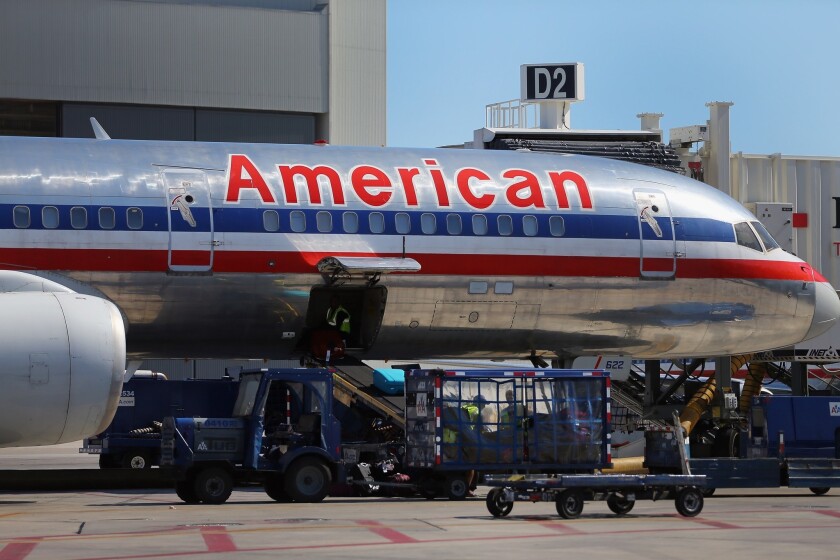 The chief executive who led American Airlines through bankruptcy and a major merger will get a severance package valued at about $17 million.
That was among the first decisions made by the new American Airlines after it emerged from bankruptcy Monday and joined with US Airways to form the world's largest airline.
Thomas Horton, who led American and its parent company, AMR Corp., since 2011, gave up the post of chief executive to Doug Parker, the former chief executive at US Airways. Horton will serve as chairman of the board of the new American Airlines Group Inc.
According to records filed with the U.S. Securities and Exchange Commission, the newly merged airline agreed to pay Horton $5.4 million in cash, an "alignment award" valued at $6.5 million and a performance bonus that could climb as high as $1.3 million. In addition, Horton will get 170,722 shares of stock, worth $4.4 million at Wednesday's closing price of $25.99.
Horton, his wife and his "eligible dependents" will also get lifetime "flight and other travel privileges," according to the filing.
While AMR was in bankruptcy, the airline tried to pay Horton a severance package worth about $20 million. But the amount was rejected by the bankruptcy judge, who said the payout could not be part of the bankruptcy process.
Meanwhile, Parker was awarded a retention bonus of 626,600 shares, worth about $16.3 million. But the shares won't begin to vest until the end of 2015, with payment of half tied to the company meeting certain merger targets, Parker said in a letter to employees.
Parker said the new board would establish his salary in January, but he promised that his total compensation would be at least 15% less than his peers at Delta and United airlines.
"You shouldn't have to guess about my compensation or be surprised to learn what I made," he said in the letter to his employees.
---
Your guide to our clean energy future
Get our Boiling Point newsletter for the latest on the power sector, water wars and more — and what they mean for California.
You may occasionally receive promotional content from the Los Angeles Times.