American Apparel fires CEO Dov Charney, hires replacement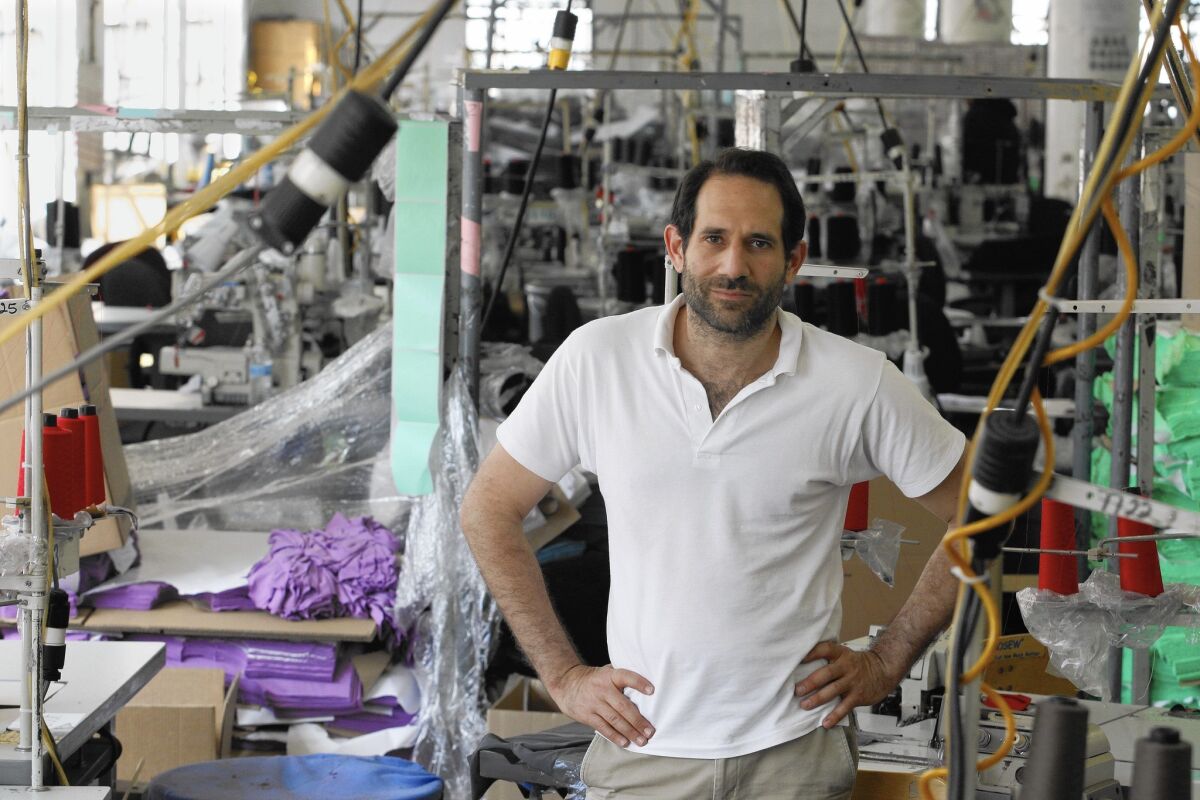 American Apparel Inc., which suffered a summer of upheaval after suspending Chief Executive Dov Charney, fired him Tuesday and announced a new CEO.
The Los Angeles company said the board terminated Charney "for cause in accordance with the terms of his employment agreement." Paula Schneider, a longtime fashion industry executive, will take over as CEO on Jan. 5. Interim Chief Executive Scott Brubaker will remain as a consultant to help with the transition.
"I'm very, very excited to be part of something that is such a big influence on pop culture and helps so many Americans," Schneider said in an interview. American Apparel is "the largest manufacturer of apparel in North America. There are a lot of jobs and a lot of people, and we want to keep that going."
Allan Mayer, co-chairman of American Apparel, said the board was confident that Schneider "has the skills and background to lead the company to long-term success."
"We're pleased that what we set out to do last spring — namely, to ensure that American Apparel had the right leadership — has been accomplished," Mayer said in a statement released after the stock market closed. American Apparel's shares ended the day at 58 cents, up 3 cents from Monday's close but down from the $1.45 peak of the last year.
The firing appeared to close a chapter in the saga of American Apparel's founder, who has been dogged by sexual harassment lawsuits and allegations of misconduct for years, but was considered an innovative and dedicated public face of the company.
Charney issued a statement saying he was "disappointed with the circumstances."
"I'm proud of what I created at American Apparel and am confident that, as its largest shareholder, I will have a strong relationship with the company in the years ahead," Charney said.
Charney wished the company "continued success," striking an elegiac tone by noting that "my over 25 years of deep passion and commitment for American Apparel will always be the core DNA of the company."
In mid-June, the board stripped Charney of his board chairman role and suspended him from his president and CEO jobs after an initial investigation found evidence of alleged misconduct and violations of company policy. Allegations included misuse of company apartments and allowing a blogger to post nude photos of a woman who was suing American Apparel.
On Tuesday, the company said the internal investigation into Charney, which was being handled by FTI Consulting, had been completed. Based on the findings, the company said, it "determined that it would not be appropriate for Mr. Charney to be reinstated as CEO or an officer or employee of the company."
American Apparel's second dive into Charney's behavior uncovered more examples of the founder's alleged misconduct, including "financial improprieties" and instances of verbal and physical abuse of employees, according to a person familiar with the matter. Charney was entitled to two meetings with a committee of directors before it made its final decision; Charney showed up for only one, the person said.
The firing came after months of negotiations between Charney and the committee, said the source, who requested anonymity because of the sensitivity of the matter. The two sides tried several times to hammer out an agreement so Charney could continue working as a consultant, the source said.
After Charney's suspension in June, his lawyer, Patricia Glaser, denied the allegations and filed an arbitration petition alleging wrongful termination, breach of contract and retaliation. She did not return calls or an email for comment Tuesday.
Charney spent months trying to get back inside his company; his next move remains unclear.
After his initial suspension, Charney entered into a cooperative buying arrangement this summer with New York investment firm Standard General in an effort to regain control of American Apparel. But Standard General — which eventually threw the retailer a financial lifeline of up to $25 million — later said its deal with Charney was not "an endorsement of him."
As part of the deal with Standard General, American Apparel's board was overhauled and Charney stepped down as a director.
Industry experts speculate that Charney may still have support from former lender Lion Capital, which holds warrants to buy 12% of American Apparel's stock and the power to nominate two directors.
In August, it appointed food executive Robert Mintz, who was schoolmates with Charney, to the board. Last week, Lion also designated Lucky Brand co-founder Gene Montesano as a board member.
Charney has also inspired the loyalty of some workers.
A group of executives and managers sent American Apparel's board a letter Tuesday in support of Charney and expressing disappointment at his ouster.
"We were alarmed to learn of the board's decision today to not reintegrate Dov into a leadership role in the company," the letter said. "This decision was made without consulting even one of us regarding the impact it could have on the company, its employees and shareholders."
The letter added that any chief executive should be a "supportive counterpart" to Charney, who should continue leading "the creative vision, growth and sales strategy of the company."
Charney drama aside, Schneider will face a long battle to turn around the company's fortunes.
The 56-year-old industry veteran has held executive positions at retailers such as BCBG Max Azria and Laundry by Shelli Segal. She is currently the president and chief operating officer of ESP Group, which makes clothing under its own brands as well as licensed names including Dockers and Catherine Maladrino.
Ilse Metchek, president of the California Fashion Assn., worked with Schneider when she served on the fashion group's board. She said Schneider would bring stability and decades of industry experience to the beleaguered retailer.
"She will come off as an adult," Metchek said. "It's going to be a challenge for her.... She's certainly not volatile, and that will be a change from Dov."
Experts said appointing a female CEO is a good public relations move for a company whose founder has been accused for years of inappropriate conduct with female employees.
"Whoever had a problem with Dov Charney and his behavior will give American Apparel a second look and understand it's not the same company anymore," said Ronnie Moas, founder of Standpoint Research, a market research firm.
But Moas said American Apparel's other problems remain: disappointing earnings, a heavy debt load and a failure to attract young shoppers as it once did.
Last month, the L.A.-based company reported a larger-than-expected loss in the third quarter. American Apparel said it lost $19.2 million, or 11 cents a share, in the three months that ended Sept. 30.
In comparison, the retailer reported a net loss of $1.5 million, or 1 cent, in the same period a year earlier.
Sales fell more than 5% to $155.9 million from $164.5 million a year earlier. U.S. sales at both the retail and wholesale segments dropped, and international sales also slid.
Moas said American Apparel has suffered as its youthful customers have flocked to fast-fashion companies such as Zara and H&M.
"Those dinosaurs are just not in favor with the new generation the same way they were in the 1990s and beginning half of the decade," Moas said.
Twitter: @ByShanLi
---
Sign up for the California Politics newsletter to get exclusive analysis from our reporters.
You may occasionally receive promotional content from the Los Angeles Times.