American Apparel's Garden Grove factory sold to Compton textile firm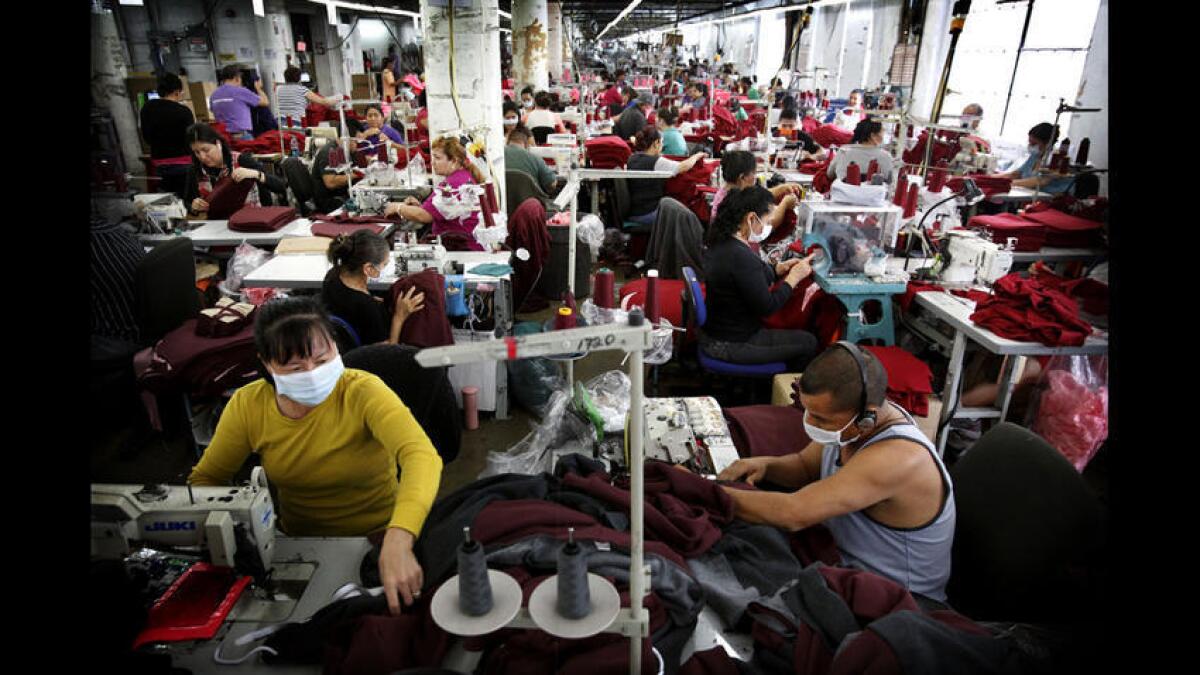 American Apparel has found a buyer for its Garden Grove manufacturing facility — potentially preserving the jobs of at least a portion of the 330 employees there.
The Los Angeles-based fashion brand, which is being sold to Canadian clothing maker Gildan Activewear, said Thursday that it had reached a preliminary agreement to sell the knitting and dyeing facility to Broncs Inc., a Compton textile manufacturer. The deal would be priced between $200,000 and $250,000, an American Apparel spokeswoman said.
Joel Chun, owner of Broncs, said he plans to hire about 200 American Apparel employees who work in knitting, dyeing and finishing. Since Broncs wasn't able to buy much of the equipment there, he said, the plant will be closed until new machines are delivered. Chun said he hopes to have the facility up and running by March, when Broncs assumes the lease.
Broncs has been in discussions to take over the Garden Grove facility since last year, but American Apparel ended up filing for bankruptcy before the deal closed, Chun said.
"We were disappointed but American Apparel tried to help me to save the jobs," he said.
Chun said he's been in contact with the human resources department at American Apparel to try to retain as many employees as possible. Experienced workers like those at American Apparel are crucial if California wants to compete with overseas rivals, he said. Broncs is also planning to break ground on a production facility in Perris later this year, and Garden Grove will be used to train employees for that plant.
"It is skilled labor in that location. We are hoping we won't lose them," Chun said. "We will try our best to get them working in two to three months."
The Garden Grove employees represent just a fraction of the nearly 3,500 factory workers that American Apparel has in Southern California. Gildan, which agreed to pay $88 million for the American Apparel brand and some manufacturing equipment, decided not to assume the leases on American Apparel's distribution center in La Mirada and two manufacturing facilities; it also had no interest in American Apparel's biggest factory in downtown Los Angeles.
Gildan said it is still deciding where to manufacture American Apparel products. The Montreal company makes the majority of its wares in its manufacturing hubs in Central American and the Caribbean. It does have some plants in the U.S., including yarn-spinning facilities in North Carolina and Georgia
In December, American Apparel notified 332 workers in the Garden Grove facility, along with 959 workers in South Gate and 2,166 workers in downtown Los Angeles, that they may lose their jobs this month. Layoffs could happen as early as next week, according to a source familiar with the situation but not authorized to speak publicly.
Follow Shan on Twitter @ByShanLi
ALSO
Exxon Mobil is ordered to hand over climate change research
Disneyland to add a digital Fastpass option for $10 a day
Leader of Wells Fargo criminal fraud ring sentenced to seven years in prison
---
Sign up for the California Politics newsletter to get exclusive analysis from our reporters.
You may occasionally receive promotional content from the Los Angeles Times.