California fines Anthem $5 million for failing to address consumer grievances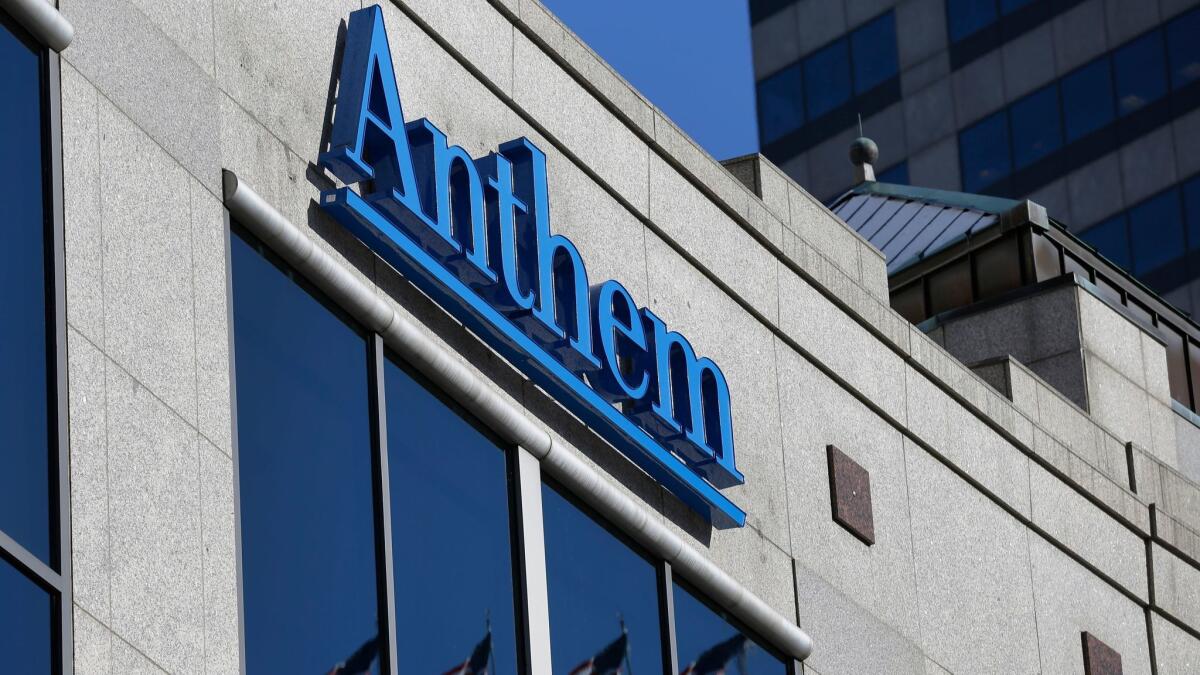 Kaiser Health News
California's managed-care regulator has fined insurance giant Anthem Blue Cross $5 million for repeatedly failing to resolve consumer grievances in a timely manner.
The state Department of Managed Health Care criticized Anthem, the nation's second-largest health insurer, for systemic violations and a long history of flouting the law in regard to consumer complaints.
"Anthem Blue Cross' failures to comply with the law surrounding grievance and appeals rights are longstanding, ongoing and unacceptable," said Shelley Rouillard, director of the Department of Managed Health Care. "Anthem knows this is a huge problem, but they haven't addressed it."
Before this latest action, California had already fined Anthem more than $6 million collectively for grievance-system violations since 2002.
The state said it identified 245 grievance-system violations during this latest investigation of consumer complaints at Anthem from 2013 to 2016.
Rouillard cited one example in which Anthem denied a submitted claim for an extensive surgical procedure, even though it had issued prior approval for the operation. Twenty-two calls contesting the denial — placed by the patient, the patient's spouse, the couple's insurance broker and the medical provider — failed to resolve the complaint.
It was not until the patient sought help from the managed-care agency, more than six months after the treatment, that Anthem paid the claim.
.
In a statement, Anthem Inc. acknowledged there are some legitimate findings in the audit, but it strongly disagreed with the state's assertion that the problems are "systemic and ongoing." The company said it will contest the fine.
"Anthem has taken responsibility for errors in the past and has made significant changes in our grievance and appeals process, as well as investments in system improvements," the company said. "We remain committed to putting the needs of our members first."
Anthem, based in Indianapolis, sells Blue Cross policies in California and 13 other states.
California is known for having tough consumer protection laws on health coverage and for assisting policyholders when they exhaust their appeals with insurers. In other actions, the state has fined insurers for overstating the extent of their doctor networks and for denying patients timely access to mental health treatment.
Jamie Court, president of Consumer Watchdog, an advocacy group in Santa Monica, said the regulatory response to these problems varies greatly by state. He singled out New York, Washington and Kansas as some of the states with good track records of holding health insurers accountable.
"The real problem is when states don't act there is not a great avenue for the consumer. It's very hard to bring legal action," Court said. "Anthem definitely needed a wake-up call. But this will also send a message to other insurers."
Nationally, consumers continue to express their displeasure with health insurers over a wide range of issues, including denials for treatment, billing disputes and the lack of in-network doctors.
Verified complaints related to health insurance and accident coverage rose 12% in 2016 compared with the previous year, totaling 53,680, according to data compiled by the National Assn. of Insurance Commissioners. The data include only incidents in which state regulators confirmed there was a violation or error by the insurer involved.
Court and other advocates welcomed the significant fine in California and said this is just the latest example of Anthem's failure to uphold basic consumer protections.
Overall, state officials said that calls to Anthem's customer service department often led to repeated transfers of calls and that the company failed to follow up with enrollees.
After previous fines, Anthem has pledged to provide more training to employees and to better track grievances and appeals in order to reduce delays.
"If you look at the history of Anthem and the penalties assessed over the years, they are definitely an outlier compared to other health plans," Rouillard said.
"All the plans have some issues with grievances, but nothing to the degree we are seeing with Anthem."
The managed-care department said a health plan's grievance program is crucial, so that consumers know they have the right to pursue an independent medical review or file a complaint with regulators if they are dissatisfied with the insurer's decision. The grievance system can also help insurers identify systemic problems and improve customer service, state officials said.
The state's independent medical review program allows consumers to have their case heard by doctors who are not tied to their health plan. The cases often arise when an insurer denies a patient's request for treatment or a prescription drug.
In 2016, insurance company denials were overturned in nearly 70% of medical review cases and patients received the requested treatment, according to state officials.
Terhune is a senior correspondent for Kaiser Health News, an editorially independent publication of the Kaiser Family Foundation.
cterhune@kff.org
---
UPDATES:
4:15 p.m.: This article has been updated with Anthem's response.
3:30 p.m.: This article was updated with additional details about insurance regulations and complaint resolution.
This article was originally published at 10:30 a.m.