Judge is asked to stop Anthem from ending out-of-network coverage for 500,000 Californians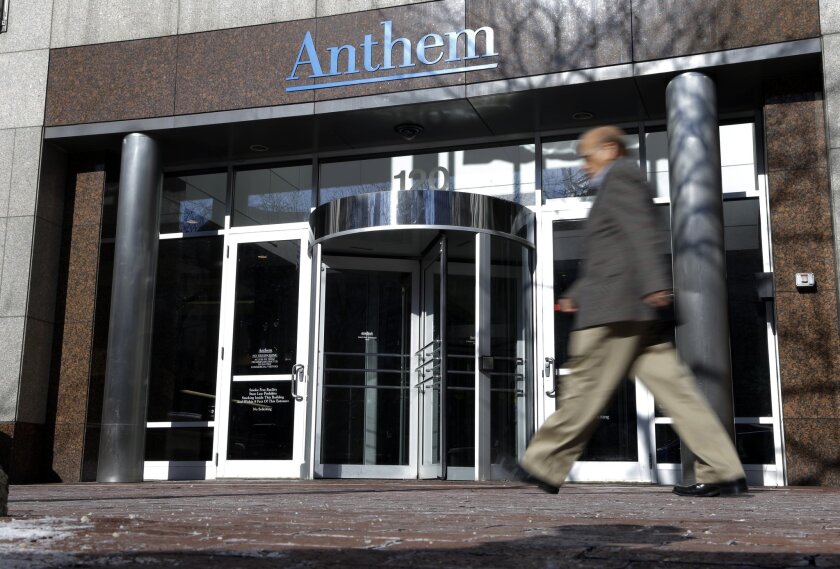 A consumer group has asked a judge to immediately stop Anthem Blue Cross from switching 500,000 Californians to health plans offering no coverage for out-of-network care.
The dispute is over a change Anthem made to its 2017 plans known as preferred provider organizations, or PPOs, throughout much of the state.
In court papers filed this week, Santa Monica-based Consumer Watchdog said that Anthem broke the law by not properly informing consumers that it had changed the plan to one that no longer pays for any portion of care provided by out-of-network doctors and hospitals.
Anthem told The Times on Friday the case is without merit.
The consumer group said the renewal notices the insurer sent over the summer were misleading and could result in people automatically renewing policies that they believed would be the same next year.
Many consumers may end up with surprise medical bills of thousands of dollars for care next year that they thought would be covered, the group said.
While reducing coverage, Anthem also raised the price of the plans. Los Angeles resident Paul Simon, one of the patients involved in the class-action lawsuit, would pay 33% more in premiums next year — $655.72 a month, up from $491.54, according to his renewal notice.
The group filed the lawsuit Nov. 1. This week it asked the judge for a temporary restraining order.
Judge John Shepard Wiley Jr. is scheduled to hear the group's request at 10:30 a.m. Tuesday in California Superior Court at 600 Commonwealth Ave. in Los Angeles.
Anthem changed the PPOs into exclusive provider organizations, or EPOs. The plans pay for out-of-network care only in an emergency.
The lawsuit relates to policies purchased by individuals through Anthem or on the state's online health insurance exchange, called Covered California. It does not involve employer or Medicare plans.
In a brief arguing against the restraining order, Anthem said it had explained the change to consumers in renewal letters.
The insurer said people still have time to switch to another insurer if they want to continue with coverage that pays part of their out-of-network bills. For coverage that begins Jan. 1, people must sign up by Dec. 15.
Anthem said state officials had approved changing the PPOs to EPOs.
The insurer said it was impossible to continue the PPOs into 2017 because it would require a detailed process to determine how much more the premium would cost.
Anthem's lawyers said continuing the PPOs would also affect the price of the other types of plans it offered. "This could potentially affect thousands more members," the lawyers wrote.
If the judge issued a restraining order, they said, it "will only create chaos and result in confusion for Anthem's members and, frankly, the marketplace in general.
"Anthem, like any health insurance provider, is entitled to adjust its rates as needed on a yearly basis," the company's lawyers wrote. They attributed the change in coverage "to the general rise of healthcare costs."
Last year, Anthem Inc. reported a profit of $2.6 billion.
Follow @melodypetersen on Twitter
ALSO
If the Obamacare law is repealed, could California keep it anyway?
Trump embraces the cool parts of Obamacare — but not the part that makes it work
More people signed up for Obamacare the day after Trump was elected than any day this enrollment period
---
UPDATES:
4:25 p.m.: This article was updated with a statement from Anthem.
This article was originally published at 4:15 p.m.
---
For reporting and exclusive analysis from bureau chief John Myers, get our California Politics newsletter.
You may occasionally receive promotional content from the Los Angeles Times.