Apple's former head of insider-trading policy is accused of insider trading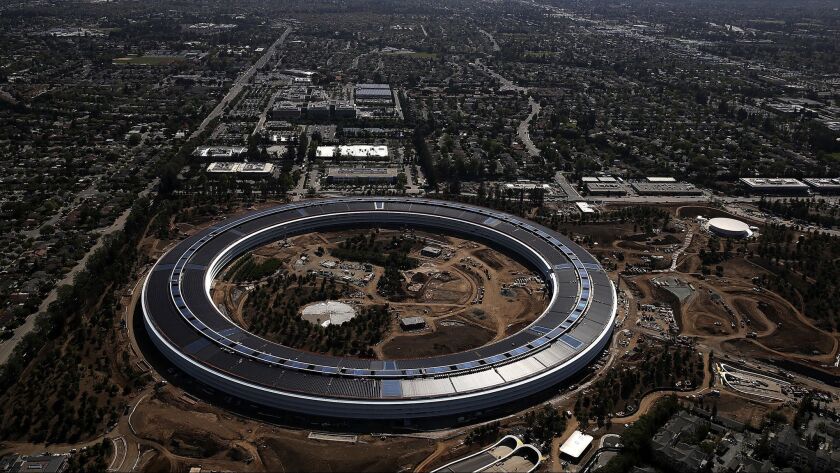 At Apple Inc., former top lawyer Gene Daniel Levoff was responsible for making sure employees didn't violate insider-trading laws. It turns out he was the one illegally buying and selling shares, according to U.S. authorities.
Levoff, who until last year was Apple's senior director of corporate law, traded on advance knowledge of revenue-and-earnings figures multiple times dating back to 2011, the Securities and Exchange Commission and federal prosecutors said Wednesday. The illegal investments led to about $227,000 in profits while enabling him to avoid $377,000 in losses, according to the U.S. attorney's office in Newark, N.J., which filed criminal charges against Levoff.
For instance, in July 2015, Levoff learned that Apple wouldn't meet analysts' third-quarter forecast for iPhone sales, the SEC said in a related civil complaint. That month, he sold about $10 million of Apple stock — virtually all of his holdings. When the company reported earnings, its shares dropped more than 4%. Levoff avoided losing about $345,000, the SEC said.
Levoff's attorney, Kevin Marino, said he is reviewing both the SEC's civil complaint and the criminal charges. He said Levoff is slated to appear in federal court next week.
"We look forward to defending him with respect to these allegations," Marino said.
The allegations are an embarrassment for Apple, which is now reviewing policies it has implemented to prevent illicit share transactions. The company has had a mostly clean record on financial reporting issues since allegations of options backdating in the mid-2000s.
For someone inclined to trade illegally, the SEC said, Levoff was well-placed. As a member of Apple's "disclosure committee," he got to review quarterly and annual reports and press statements before their public release. The alleged misconduct was relatively simple for someone who worked at a cutting-edge technology giant. Levoff would read through internal documents he obtained as a member of Apple's disclosure group and make trades in a TD Ameritrade brokerage account, prosecutors said.
"Levoff's alleged exploitation of his access to Apple's financial information was particularly egregious given his responsibility for implementing the company's insider-trading compliance policy," Antonia Chion, an associate director in the SEC's enforcement division, said in a statement.
Apple fired Levoff in September after placing him on leave two months earlier, according to the SEC's filing. Over his decadelong career at Apple, he was one of the company's most senior executives, reporting directly to the company's general counsel.
"After being contacted by authorities last summer, we conducted a thorough investigation with the help of outside legal experts," Apple spokesman Josh Rosenstock said in a Wednesday statement.
Levoff was responsible for ensuring that employees complied with Apple's insider-trading policy, and implemented an update of the procedures in 2015, the SEC said. He even sent an email to workers in 2011 reminding them in all capital letters that they weren't permitted to trade shares based on non-public information.
The SEC is seeking monetary penalties and a prohibition on Levoff serving as an officer or director of a public company.
---
For reporting and exclusive analysis from bureau chief John Myers, get our California Politics newsletter.
You may occasionally receive promotional content from the Los Angeles Times.