CVS, Rite Aid disable Apple Pay in drugstores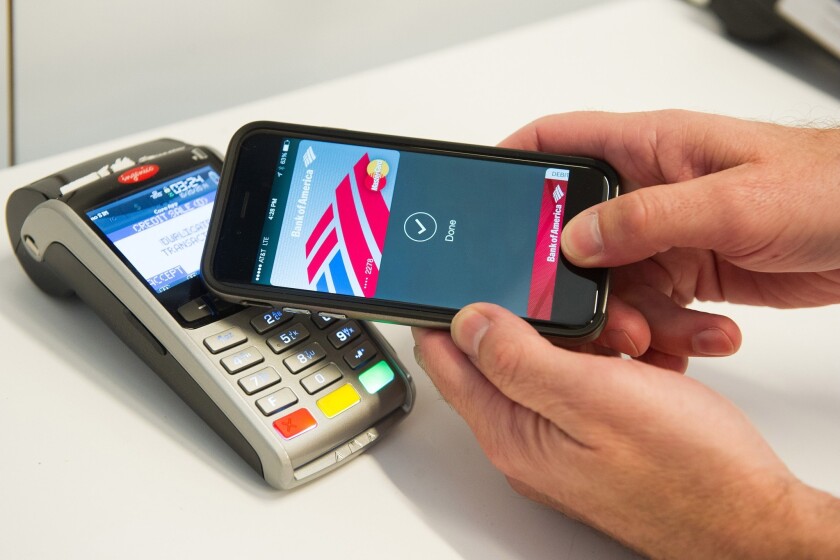 Apple Inc.'s mobile payment technology ran into a roadblock a week after its introduction after CVS Health Corp. and Rite Aid Corp., part of a consortium developing a competing system, disabled Apple Pay in their drugstores.
CVS and Rite Aid are among 220,000 U.S. merchants that have technology in place to read the short-range wireless signals that enable customers of Apple Pay or similar services to make a purchase by waving their smartphones.
"This act by CVS and Rite Aid heralds the advent of the imminent battle in the mobile pay system," said Anindya Ghose, a marketing and information-technology professor at New York University.
Spokesmen for CVS of Woonsocket, R.I., and Rite Aid of Camp Hill, Penn., didn't respond to requests for comment. CVS has about 7,700 retail pharmacies and Rite Aid has about 4,570.
"The feedback we are getting from customers and retailers about Apple Pay is overwhelmingly positive and enthusiastic," said Trudy Muller, a spokeswoman for Apple. "We are working to get as many merchants as possible to support this convenient, secure and private payment option."
At stake is a market that's projected to jump to $90 billion in 2017 from $12.8 billion in 2012, according to Forrester Research Inc. Apple's entry into mobile payments follows efforts by Square Inc., Google Inc. and Softcard — a wallet application backed by the three largest U.S. wireless carriers — that all failed to gain widespread appeal.
Apple Chief Executive Tim Cook is trying to push the Cupertino, Calif., company into new businesses that further immerse users in the Apple digital ecosystem, which encourages repeat purchases over time.
CVS and Rite Aid are part of a consortium of retailers called the Merchant Customer Exchange that has been working on its own mobile payment system to help bypass credit card companies. The group's system, called CurrentC, is in pilot tests in select locations across the country with plans for a national rollout next year. Network members include Wal-Mart Stores Inc., Lowe's Cos. and Target Corp., the website shows.
Apple's strategy is the opposite. It partnered with the major banks and credit card companies — Visa Inc., MasterCard Inc. and American Express Co. — that Apple says account for more than 80% of U.S. credit-card purchases, enabling the iPhone maker to piggyback on their checkout systems. Apple will also collect fees from the card issuers, according to three people familiar with the deals who weren't authorized to discuss them.
Apple Pay works on the company's new iPhone 6 and 6 Plus, which have so-called near-field communication technology built in. The big catch for Apple is that merchants have to upgrade their credit and debit card systems to read those short- wave signals.
Credit-card issuers are pushing U.S. merchants to upgrade their payment terminals within the next year to accept chip-based debit and credit cards, which are usually capable of handling near-field communications technology. The deadline for merchants to make the switch is October 2015; about 220,000 U.S. stores have done so, out of more than 10 million. The upgrade costs $500 to $1,000 per checkout terminal, according to Javelin Strategy & Research.
Apple shares fell 11 cents to $105.11.
---
Your guide to our new economic reality.
Get our free business newsletter for insights and tips for getting by.
You may occasionally receive promotional content from the Los Angeles Times.