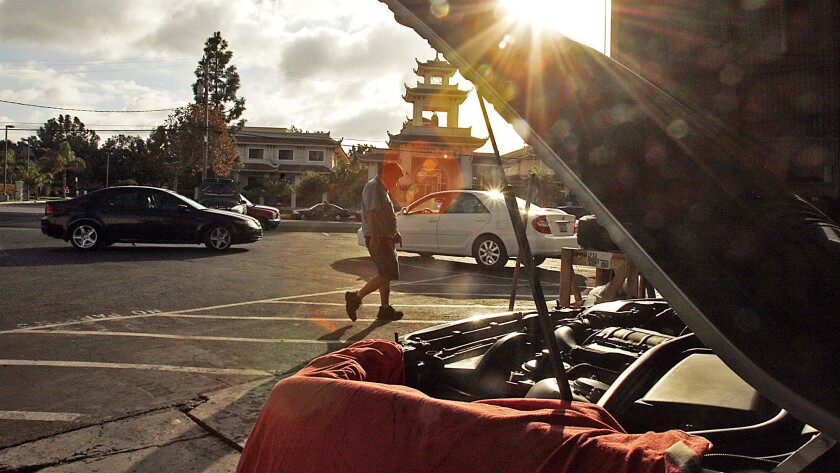 Question: We're a small HOA with limited parking. There's an owner who runs an auto-repair business from his unit. He also occupies more parking spots than those allotted to him — about four in all — and does mechanic work in those spots, including oil changes and transmission and brake repair.
The HOA is neither insured for this kind of activity, nor does it have the necessary permits. No one wants to get confrontational with this man because he's a big guy and unfriendly.
Our HOA consists mainly of blue-collar workers, so we don't have a lot of resources to be able to afford to hire legal assistance. How should we approach this situation?
Answer: The best way to deal with this problem is head-on because it is problematic for multiple reasons. The board has to find the courage to approach this owner, and while it need not be confrontational, it cannot be passive either.
Except for mixed-use developments, typically most covenants, conditions and restrictions prohibit owners and renters in common-interest developments from conducting any kind of business within their homes, even benign ones such as tax preparation.
Conducting an auto-repair business in a residential common-property parking lot — regardless of whether the mechanic is licensed — would be prohibited simply because it creates a huge liability risk for all owners. The association's insurance policy likely will not cover any injury caused by this owner's actions.
The board needs to send this man a written notice to cease his activity. Outline the issues regarding his automotive-repair business and the potential risks his actions create for the association. The letter should invite him to a board meeting to discuss the situation so that he feels like he has an opportunity to meaningfully participate in the process.
Be certain to request that he provide his permits, licenses and insurance for his business, and just because his papers are in order, does not mean his business doesn't violate the rules and the law.
If possible, try to diffuse the situation by having someone on the board who knows the mechanic deliver the letter in person while trying to provide some informal context so as not to threaten or shock him when he reads the notice. Depending on this owner's willingness to cooperate with the board and his response to receiving the notice, legal assistance may not be required.
There also is the issue of limited parking. Any owner exceeding his or her number of allocated parking spaces is violating the association's rules and setting a bad precedent for all owners — especially when that violation means that one owner is using more than his fair share of community resources.
And whether or not a business is being conducted, association governing documents typically prohibit owners from performing automotive repairs in common areas.
In California, used motor oil, brake fluid and transmission fluid are classified as hazardous waste and cannot simply be dumped in residential trash. They either must be taken to a hazardous waste disposal facility or picked up by a specially licensed waste-disposal contractor (Health and Safety Code section 25250.7(c)).
California's hazardous waste laws also are broader in scope than the federal program, and sometimes stricter, and do not make an exemption for persons who generate small quantities of hazardous wastes. That means if an agency fines the association for conducting this type of business in a residential setting, all HOA owners will be responsible for paying the fine, even if it means imposing a special assessment.
If this owner will not listen to reason and stop his unlawful conduct, then the board needs to impose fines as a deterrent for violating association rules and report his illegal activity to the proper authorities. City and state regulators may be interested to know about the potentially illegal operations of a mechanic who is conducting an auto-repair business in a residential parking lot.
One thing is certain: The board cannot ignore this situation.
Zachary Levine, a partner at Wolk & Levine, a business and intellectual property law firm, co-wrote this column. Vanitzian is an arbitrator and mediator. Send questions to Donie Vanitzian, JD, P.O. Box 10490, Marina del Rey, CA 90295 or noexit@mindspring.com.
---