$4.7-billion verdict against Johnson & Johnson may open floodgates to lawsuits linking baby powder to cancer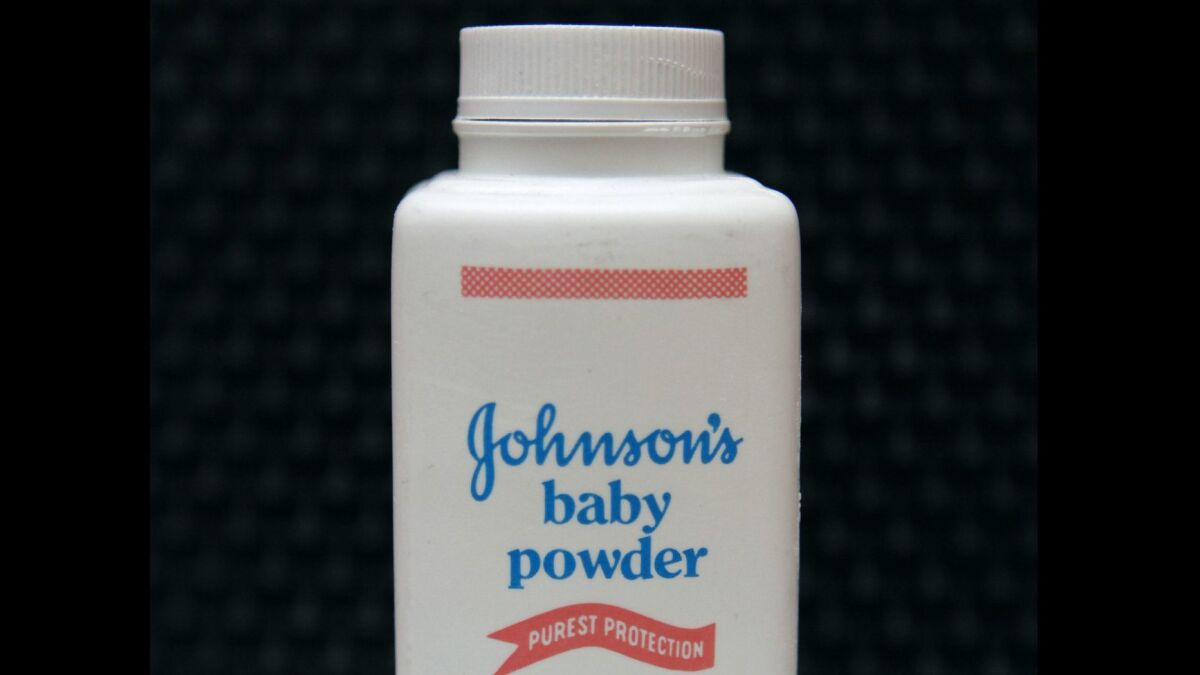 Bloomberg
Johnson & Johnson should ready itself for a flood of new lawsuits after a jury ordered the company Thursday to pay $4.69 billion to 22 women who blamed their ovarian cancer on asbestos in its talc products, legal experts said.
There are already more than 9,000 suits claiming talc-based baby powder causes ovarian and asbestos-specific cancers. That number is likely to jump in the wake of the Missouri jury's decision, said Elizabeth Burch, a University of Georgia law professor who teaches about mass-tort law.
It's not just because of the size of the award — the biggest of 2018 and the sixth-largest product-defect verdict in U.S. history. It's also because of the evidence presented at trial: internal documents showing company officials were aware for more than 30 years that there were at least trace amounts of asbestos found in different batches of the talc used in its baby powder.
"The floodgates were already open on this issue, but this verdict breaks the dam," Burch said Friday. "It's going to be difficult for J&J to say" now that there's no asbestos in its talc products, she added.
Although J&J has fought suits blaming cancer on its iconic baby powder in the past, investors haven't reacted to courtroom losses. Given the size of the award and that it came out of the first trial test of claims of an asbestos-ovarian cancer link, investors are likely to increase their focus on the talc cases on the heels of the large award for the plaintiffs, according to Credit Suisse analyst Vamil Divan, who has an "outperform" rating on the company's shares. Divan said he is confident J&J can absorb "even relatively large payments" to resolve the cases.
Even so, the company's shares fell 1.4% to $125.93 on Friday.
The women contend they were exposed to asbestos by inhaling the powder or using it on their genitals. More than 20,000 ovarian cancer cases are reported annually in the United States, according to the National Cancer Institute. More of those cases are likely to be translated into suits given the headline-grabbing nature of the latest J&J verdict, Burch said.
The company issued a statement Thursday faulting the jurisdiction and pointing out that many of the 22 women weren't from Missouri, so they shouldn't have been allowed to join the St. Louis case. J&J said it plans to appeal.
The products don't contain asbestos and don't cause ovarian cancer, J&J spokeswoman Carol Goodrich said, and predicted that the verdict will be reversed. "The multiple errors present in this trial were worse than those in the prior trials, which have been reversed," she said.
J&J "will appeal till the cows come home, or until all the plaintiffs die," plaintiffs' lawyer Mark Lanier said Thursday. J&J should pull its talc-based products from the market or "mark it with a serious warning," he said.
In May, a California jury asked a judge in another talc case whether it could force J&J to add a warning to its white baby-powder bottles that the product may contain asbestos. The judge said that wasn't in their power.
"This was a new theory, and the jury lined up behind it," said Jean Eggen, a Widener University law professor who teaches about mass-tort cases. "That may be a harbinger of things to come, and there are many more ovarian cancer cases than asbestos cases tied to the powder."
The verdict could spur J&J to start thinking about settling the talc cases, Holly Froum, a Bloomberg Intelligence analyst, said in a report to clients. She said the settlement value of the cases could reach as much as $20 billion.
J&J traditionally has been loath to settle big cases without letting the appellate courts have their say. That has helped in St. Louis, where the company has faced multiple trials over ovarian cancer claims. It lost four of the first five to go to trial, but overturned two on jurisdictional grounds that a U.S. Supreme Court ruling barred the women from suing somewhere where they have no ties. The other two are on appeal on the same grounds.
The company also has had a better record with judges than juries in the ovarian cancer cases. A separate plaintiffs' award — for $417 million by a Los Angeles jury in August — was reversed by the trial judge, who decided evidence didn't support the verdict. A New Jersey judge in 2016 stalled lawsuits in that state by tossing two cases set for trial, also finding a lack of scientific evidence.
Feeley and Fisk write for Bloomberg.
---
Sign up for the California Politics newsletter to get exclusive analysis from our reporters.
You may occasionally receive promotional content from the Los Angeles Times.