Bitcoin prices drop as South Korea considers banning cryptocurrency exchanges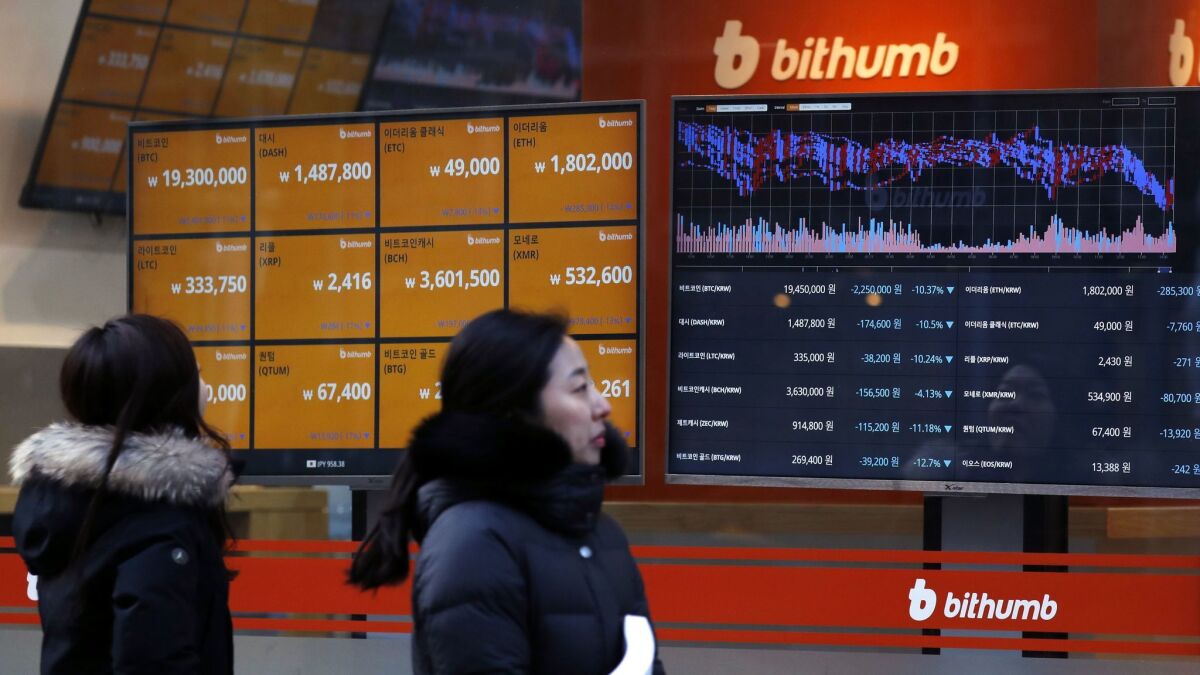 Bloomberg
Bitcoin slumped to its lowest level since Christmas Day as South Korea's justice minister reiterated his proposal to ban local cryptocurrency exchanges, fueling concern that a crackdown will erode demand for digital coins in one of the world's biggest markets.
The minister's comments to reporters Thursday were later downplayed by a spokesman for President Moon Jae-in, who said that the proposal is one among several and that nothing has been finalized. Korea's government unveiled multiple options for cryptocurrency exchange regulation Dec. 28, including allowing trading to continue under tighter supervision.
Governments around the world are increasing scrutiny of cryptocurrencies as soaring prices attract everyone from mom-and-pop investors to Wall Street banks. Korea emerged as something of a ground zero for the speculative mania, playing host to several of the world's most active exchanges. Bitcoin prices in the country are persistently higher than those in the U.S.
The boom has alarmed Korean authorities. The country's prime minister has said that cryptocurrencies might corrupt the nation's youth, and the government warned in December that it would conduct on-site investigations of exchanges. The finance ministry is studying a potential cryptocurrency tax.
"For the last few months the Korean government has been making it very clear they want to bring this speculative activity under control," said Thomas Glucksmann, Hong Kong-based head of APAC business development with cryptocurrency exchange Gatecoin Ltd. "This isn't really too much of a surprise."
Bitcoin dropped as much as 12% to $12,801, before paring the loss to about 5% at 6:10 a.m. Pacific time, according to data compiled by Bloomberg. Ripple trimmed its 21% tumble to a 14% drop. Ethereum slumped 5%.
One of Korea's biggest digital currency venues, Bithumb, said Thursday that it met briefly with tax officials this week. The exchange disputed a Reuters report that its offices had been raided by tax and police agents. When contacted by Bloomberg, Korea's tax authority said it doesn't comment on investigations due to privacy laws.
Coinone, another exchange mentioned in the Reuters report, didn't reply to requests for comment. An unnamed spokesman told the Financial Times: "They asked for some data such as cryptocurrency trading volume, our exchange's sales and whether we are paying corporate tax well."
Police have been investigating Coinone's margin-trading service since last year, according to an official who asked not to be named, citing policy. He added that no other large exchanges are under police investigation.
Negative comments
A variety of negative comments from investors and governments have undercut the market this week. Ripple, for example, is down for a fourth successive day, something it hadn't done since October. The market was "reeling" Thursday over comments by Warren Buffett, EToro senior market analyst Mati Greenspan said in a note. Buffett said crypto gains would be fleeting.
There have also been reports that China's government is discouraging cryptocurrency mining in the country, which is home to the majority of that process.
"Some interpreted these announcements to mean China will completely shut down mining operations," Bloomberg New Energy Finance China analyst Sophie Lu said. "Others feel that regulators are only tightening enforcement" on a process that, in any event, can move to other countries without threatening bitcoin's future.
At the same time, buying interest seems to swell unabated. The world's biggest cryptocurrency exchange, Hong Kong-based Binance.com, said it's adding "a couple of million" registered users every week, with 240,000 people signing up in just an hour Wednesday. Russia's Finance Ministry wants to allow trading cryptocurrencies on "official" exchanges, but Bank of Russia is currently against any trading, Deputy Finance Minister Alexey Moiseev said Thursday.
In Korea, it's unclear whether the justice ministry's proposal will be approved by other government ministries and parliament. The plan has spurred a backlash on social media, and a petition opposing the measure on the president's website has attracted more than 54,000 names.
Work-around
Even if lawmakers push forward with the exchange ban, local investors are likely to find ways to keep buying cryptocurrencies, said Mike Kayamori, head of Tokyo-based exchange Quoine, which counts Koreans among its customers.
"There are always underground exchanges" and over-the-counter platforms, he said. "They'll probably convert their money into bitcoin there, and then start trading offshore."
Lam, Kang and White write for Bloomberg.
Sign up for the California Politics newsletter to get exclusive analysis from our reporters.
You may occasionally receive promotional content from the Los Angeles Times.