Bitcoin dives after SEC says cryptocurrency platforms must be registered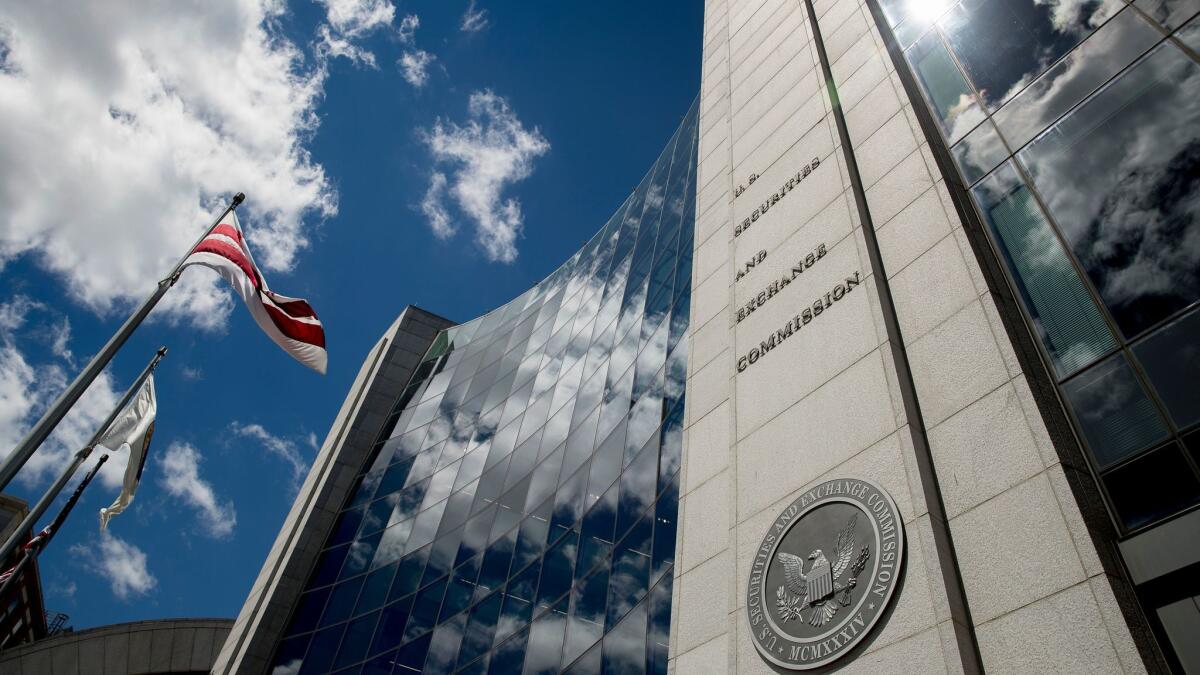 Bitcoin slumped back below $10,000 after the U.S. Securities and Exchange Commission reiterated that many online trading platforms for digital assets should register with the agency as exchanges.
The largest cryptocurrency dropped as much as 13% to $9,416 after the SEC statement boosted concern that tightening regulation may limit trading. As of 3:30 Pacific time, it was valued at $9,856, according to CoinDesk.
Bitcoin is down about 50% from its high of almost $20,000 in December in part because regulators worldwide have clamped down on trading, mining and initial coin offerings. Adding to concern is speculation that Asia-based Binance, one of the largest exchanges, has been hacked.
"If a platform offers trading of digital assets that are securities and operates as an 'exchange,' as defined by the federal securities laws, then the platform must register with the SEC as a national securities exchange or be exempt from registration," the SEC said in the statement Wednesday.
Some of the largest cryptocurrency trading platforms, like Coinbase Inc.'s GDAX, aren't registered as exchanges with the SEC and instead have money transmission licenses with separate states. In the case of the platform Gemini, it's regulated by the New York State Department of Financial Services as a trust company, according to its website. Templum LLC is an affiliate to Liquid M Capital, which is registered as an alternative trading system with the SEC. Overstock.com Inc.'s tZero says it aims to be a fully compliant trading platform.
Many platforms are referring to themselves as "exchanges," which can give the "misimpression" to investors that they are regulated or meet the regulatory standards of a national securities exchange, the SEC said in its statement, warning that it doesn't review the trading protocols used by these platforms and that access to a platform's trading services may not be the same for all users.
The SEC statement was issued by its trading and markets unit and its enforcement division, which investigates misconduct and fines firms for violating securities rules. The enforcement division's involvement shows the potential pitfalls for digital-coin platforms that don't heed the SEC's warning to register with the agency: They could be sued and shut down.
Exchanges that register with the agency have a high compliance burden, including being subject to inspections. They are also required to police their markets and follow SEC rules designed to ensure fair trading.
Users of Binance complained online that their accounts were hacked. Binance users on social networks Reddit and Twitter said hackers sold their smaller coins and bought a cryptocurrency called Viacoin, which was up 28% Wednesday, according to CoinMarketCap.
"All funds are safe," wrote Zhao Changpeng, chief executive of Binance, in a tweet Wednesday. "There were irregularities in trading activity, automatic alarms triggered. Some accounts may have been compromised by phishing from before. We are still investigating."